On September 22, 1994,Ross, Chandler,Phoebe,Monica,Joey and Rachel, were introduced to America on the sitcom Friends.The Manhattan-based show centered on the lives, loves, and laughs of six 20-somethings,and it wasn't long before the show became a TV hit.The commercial success, and cultural phenomenon earned 62 Emmy Awards nominations and won six. With more than 200 episodes that aired for 10 years we saw the grand finale aired on May 6, 2004
Jenifer Aniston
Aniston played spoiled yet likeable waitress Rachel Green . She became a runaway bride-turned-waitress-turned-fashion executive who had a tumultuous love affair with Ross Gellar. She won the audience over with her , rollercoaster love life and penchant for shopping,and signature hairdo's
Aniston catapulted her career by playing Rachel Green, and became the biggest tabloid target during the show's run. She arguably found the most success since the show's finale. Aniston has starred in at least 39 movies ,and has some already in the making.
At times, her personal life has overshadowed her integrity as an actress,because of her high-profile divorce from Brad Pitt. She was constantly being hounded by the press,but she managed to keep her dignity and rise above all the negativity surrounding her . Aniston also became co-owner of Living Proof hair care. The actress married actorJustin Theroux in August 2015 . In August 2012, she received her star on the Hollywood Walk of Fame. She is now aged 48
Courtney Cox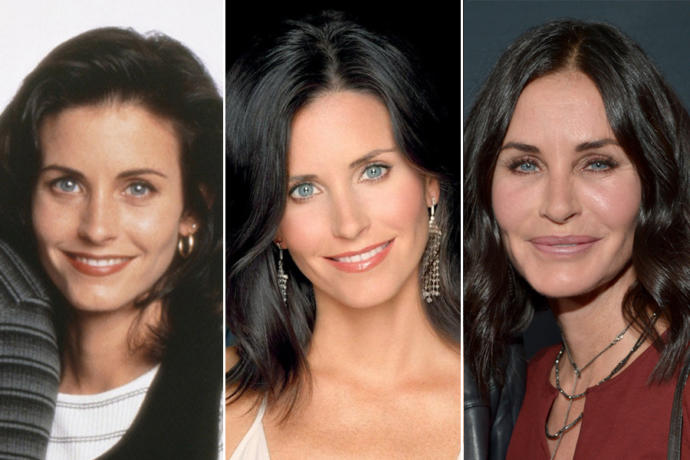 Cox played bossy Head Chef Monica Geller who thrived on order and schedules .She was a neat freak and was comically obsessive about the state of her apartment and was always cleaning.
In 2009 Cox became a T.V executive producer and star of "Cougar Town", a sitcom about a divorcee and her 40-something friends. She met future husband and co-star David Arquette on the set of Wes Craven's horror/comedy "Scream" ,where she played Gale Weathers ,a bitchy and smug TV reporter . They have a daughter together , Coco ,but the couple divorced in 2011.
In 2001, Cox received an actual acting Razzie nomination for Worst Supporting Actress for the film 3000 Miles to Graceland . She was the only Friends cast member not to be nominated for either an Emmy nomination or a Golden Globe nomination for her work on the show Friends ,but in 2010 she won her first Golden Globe nomination for "Cougar Town"
Recently she has been hitting the headlines for her drastic change in her appearance. She has succumbed to the industry's overwhelming pressure to look younger. She has admitted to using Botox in the past ,but lately her cheeks are looking puffier, which could be a sign of cheek implants . Her eyes look smaller than usual, making it appear as if she had some work done to her face. She is now aged 52
Lisa Kudrow
Kudrow played impulsive Phoebe Buffay,who had a great imagination and came up with many abstract ideas and theories .One of her impulsive moments was when she briefly changed her name to "Princess Consuela Bananahammock".She got her energy through talking a lot and singing,and wrote her own song called " Smelly Cat"
In 2009, she reunited with Courtney Cox for an episode of "Cougar Town" where she played a Dermatologist. Kudrow produced, wrote and starred in the a dark comedy series ,"Web Therapy" She's one of the executive producers of the genealogy show" Who Do You Think You Are." She's now aged 53
Mathew Perry
Perry played outspoken, quick witted , sarcastic Chandler . His humour made him fun to be around, and he constantly joked around and poked fun of his friends. Chandler worked for a large corporation doing statistical analysis and data reconfiguration, so he usually made decisions based on logic or reason
Perry has taken on a range of roles since Friends ended .He starred in the 2006 television movie "The Ron Clark Story",and also In 2006, he began filming" Numb", a film based on a man suffering from depersonalization disorder.In 2010, he expanded his résumé to include both video games and voiceover work when he voiced Benny in the role-playing game Fallout: New Vegas.Perry was the co-creator, co-writer, executive producer and star of the ABC sitcom" Mr. Sunshine "which ran from February to April 2011. Perry made his directorial debut in an episode of the 4th season of the American comedy-drama "Scrubs". In 2015, Perry stars in, co-writes, and is an executive producer of the sitcom "The Odd Couple"
Perry has battled with a serious addiction to drugs and alcohol for over 10 years . In 2011, as a celebrity spokesperson for the National Association of Drug Court Professionals ,he went to Capitol Hill to lobby members of Congress in support of funding for "Dug Courts"
Perry received a Champion of Recovery award in May 2013 from the White House Office of National Drug Control Policy for opening" Perry House"- a sober living home situated in his former mansion in Malibu, California.He is now aged 47
David Schwimmer
Paleontologist Ross Gellar was the only introverted character of the group. .He was a compulsive liar to avoid arguments or situations with conflict,but he was compassionate , and generous. He'd compromise his own personal interests for those of others.
After Friends Schwimmer starred in the 2005 independent drama "Duane Hopwood" as the title character, who is an alcoholic whose life is spiralling downward . Unfortunately it only had a limited release. He is also the voice of the panicky skittish giraffe Melman, in the kids movie "Madagascar". He made his feature film directorial debut with the 2007 comedy "Run Fatboy Run".Since then he's directed a number of films and TV episodes.
In between his regular acting and directing gigs, Schwimmer has popped up a few times in cameo roles,but he has mainly focused on directing , including various segments of" Walliams "and "Lucas's Little Britain USA ".He has become a respected director.
Schwimmer is to star in his first audio series , Gimlet Media's podcast , "Homecoming" ,a psychological thriller. It will begin airing on November 16, 2017.He is now aged 50
Matt LeBlanc
Actor Joey Tribbiani was the extrovert of the group ,and the life and soul of a party . He constantly thrusted himself into new social situation,because he thrived on human interaction, whether it was on stage or in the "Central Perk" coffee house.
After Friends LeBlanc made his spin-off series "Joey" which aired from 2004-2006, but it was eventually cancelled . After Joey's run came to an end he made appearances on Lisa Kudrow's show "Web Therapy".His feature films include" Lost in Space", and" Charlie's Angels: Full Throttle".
Following the cancellation of Joey, LeBlanc announced that he would be taking a one-year hiatus from acting, which later turned into a five-year hiatus from acting,between 2006–2011 .
In 2011, LeBlanc began appearing as a fictional version of himself in "Episodes". He also starred in CBS' new sitcom "Man with a Plan", which premiered on October 24, 2016. LeBlanc hosted U.K's " BBC Top Gear" show , and has signed a new two-year deal to continue hosting the car show" Top Gear".He is now aged 49
---