2015 was a year of awesome, a year of bad news...and the weirdest fashion trends to date. At times you wonder how these fashion trends came to be. Did one guy just decided to wear a shirt made of leaves and then began the rise of the shirts? Well, that was a good idea, but some of the trends that came out of 2015 need to stay there forever. You know why? Because some of them are just plain weird. Let's take a look at some of the weirdest fashion trends from last year.
1. Muslim Lolitas
A trend that started in mid 2015 that got it's start when muslim fans of the lolita fashion trend decided that it would be a good idea to mash the two cultures together. The ladies have created a unique style of pairing modernized Victorian or Rococo-style dresses with a hijab which has the Japanese lolitas falling in love.
The trend's kickstarters, Alyssa of The Hijabi Lolita, and Noor of Edible Rainbows have made the trend fairly popular, all while looking fabulous in the process.
Souce: boredpanda.com
2. Heart-Shaped Bangs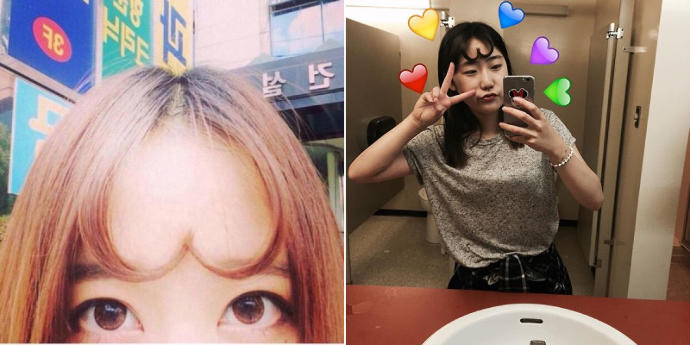 Girls of South Korea have fell in love with this do. It has been dubbed hateu aapmuhri, which means "heart-bangs".
The trend became very popular when girls in their teens and early twenties started uploading pictures of their weird dos to Twitter and Instagram. You have to be a wizard with a curling iron and hairspray to pull this look off and the reactions are well worth the pain.
Source: kotaku.com
3. Bubble Nails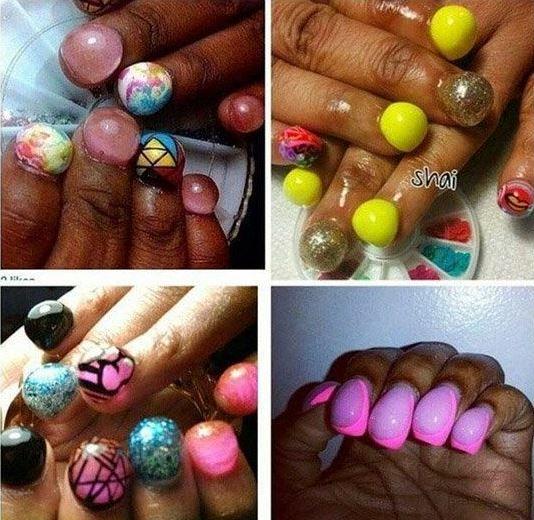 Some of these are just... plain weird. Then again, where did this trend of wearing round acylics painted in a wide range of colors even come from? Turns out, this trend wasn't recent. It has actually been around since 2009. The trend then exploded again in mid to late 2015 when a series of photos were posted to Instagram under the hashtag #bubblenails.
Due to popular demand, nail technicians then begun teaching themselves how to do this technique. How do they even do this? I bet you're wondering. So, they start by placing a ball (or multiple balls) of acrylic at the center of the nail and then they add layers by adding layers to it. Then, they paint it as the customer wishes.
Thinking of getting it done? Well, it isn't cheap. Some salons charge an extra $10 to $15 over a normal acrylic treatment for the bubble effect.
Source: odditiycentral.com
4. Glitter Beard
You may have thought these outrageous fashion trends were only for women, eh? Turns out men are jumping on the hype train for new trends as well. For the holidays, a handful of men put glitter in their whiskers for a festive touch.
Yes, bearded guys all over the country uploaded sparkly photos of themselves on Instagram using the hashtag #glitterbeard. The new coinage already has close to 4,000 associated posts.
Source: today.com
5. Merman Hair
It's not over for the dudes. A fashion trend that surfaced in mid 2015 had men dying their locks a variety of different colors. The trend, dubbed "merman hair", had men all accross the world willingly transforming their luscious mane into bold and daring new styles. While some may mimic the gleaming curls of a merman's locks, this particular hair trend focuses primarily on the colors. Each guy's vivid, new look features any number of beautiful, aqueous color combinations of blues, greens, purples, and pinks.
Women had been doing this for ages, but the trend had only recently caught on with men. this one affects more than just head hair; these outlandish men are adding splashes of color to their facial hair, too! Somehow, this additional flourish of color completes the look, re-emphasizing their visually electrifying fashion statement while heightening the surreality of flowing underwater. Ultimately, these guys are just injecting a bit of fun into their lives.
Source: mymodernmet.com
6. Flower Beard
This trend isn't new, having it's start in the summer of 2014, but it is still fairly popular. Men are putting flowers in their facial hair, posting the pictures to Instagram under the hashtag #flowerbeards. It is still fairly popular, because men are putting a variety of different things in their beards to go with the changing months!
Source: brostick.com
7. Pixelated Hair
Natural colored highlights are so last season. This new do is futuristic and digitally inspired--say hello to pixelated hair!
According to the Madrid-based hair research company Xpresion, the new coloring technique allows for a "new chromatic dimension and color, while playing with movement and transforming the textures into the appearance of the pixel effect".
The different sections of hair look like a pixelated image with the help of a contrasting color. The dye is applied in bright blocks (just like Tetris ) small or larger divisions of the head. So, if you ever have the yearning to make your head resemble a computer game, then this color trend might be right for you!
This innovative hair trend was created by Spanish colorists Jose Luis Almendral, Marco Antonio Restrepo, and Jorge Cancer. It has been officially dubbed "xpresionpixel," and now has its own hashtag on social media with the same name (#xpresionpixel).
Source: independent.com
8. Hangover Makeup
Being drunk or hungover isn't usually regarded as a great beauty look, but all that is changing thanks to a new Asian trend.
"Hangover makeup" is the latest look to hit social media, with girls in Japan and Korea uploading photos of themselves on Instagram, intentionally looking like they've just come home from a big night out.
Eye bags are traditionally seen as something to try to hide, cover up or zap in the West, but puffy peepers form an integral part of this hot new look, with some women going so far as to contour their under eye area to make it appear bigger. This is proving particularly popular in Korea, where puffiness is seen as pretty, and you can easily pick up products such as this double-ended eye pen by Etude House ($13) to help you get "cute eyes."
Source: canoe.com
9. Aquarium Nails
Bubble fingernails aren't the only manicure trend that has hit the mark in 2015. I now introduce you to aquarium nails, the next step in fingernail technology! Why go to the beach when you could have the sea literally at your fingertips? To get this look, manicurists create a miniature aquarium on each fingernail—not literally of course. Two artificial nails are placed together with water or baby oil and sparkles in between to create the effect of a sparkly sea. On the top nail, rhinestones and other jewels are carefully placed into a seascape that is painted for a more traditionally aquatic look.
Source: today.com
10. Lego Beards and Masks
Okay, so it's not really a beard--it's a mask. I just thought that the beard looked the least creepy.
For London's menswear AW 15 show, designers Agi & Sam asked the UK makeup artist and beauty editor of ID-Magazine Isamaya French to create LEGO(c) masks like weird outgrowths on the models' faces. In homage to the designer's childhood vision, the coats were presented in color-blocking primary colors and were seemingly deconstructed and fastened with velcro. Agi Mdumulla and Sam Cotton, collectively known as Agi & Sam won the emerging talent award.
Let's hope this trend stays locked in 2015...k?
Source: designboom.com
11. Crochet Body Suits for Men
Onesies aren't only for babies, they can be for men, too!
Described by the same Etsy artist who brought you the crochet shorts, comes this body suit:
Body-suit, jump-suit, "ONESIE"–call it what you will, this is a full body sweater made from recycled vintage crochets and custom fit to your body!!!
Yeah, can't get any weirder than that? Am I right? No? Okay.
Source: craftgossip.com
12. Get Someone's Face on Your Skull
Jimmy Fallon is in everything these days. He's a great actor and comedian, and his show has very high ratings. He breaks every boundary he can, with fun unique skits. The Selfie became ever so popular through celebrities, so why not do something a bit different in the way of filming?
I introduce you to the Jimmy Fallon-inspired buzzcut. Some people can't get enough of the comedian, so why not plaster his face to your head?
Source: giveitlove.com

---
So, which trend was the freakiest to you? Which did you abosolutely love? Let me know! Thanks for reading and have a fantastic rest of your day! <3
~R.F.G
---