Some people don't have to be taught the importance of looking presentable, because they are perfectly aware of the power that a well-put-together look has on others. We are visual creatures and perceive others, whether we would like to admit it or not, by how they present themselves. Everyone will eventually attract a partner for themselves, will nail that top job or move into the "right" circles, but the astute amongst us do not leave that to chance. They realize the importance of being earnest in what they wear and prepare accordingly.
If you do not subscribe to that worldview, this article probably isn't for you and you are welcome to move onto something else. Those who want to get some ideas on how to spend your budget for clothes should stay on. We cannot assume lightly that everyone has an unlimited budget these days, so the selection below is suitable for all pockets and it does not matter whether you are 18, 28 or 38: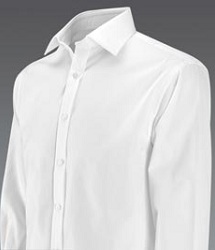 (1)
A smart crisp cotton white shirt
You can take this item very far, because of its innate flexibility. You can rock it with a pair of denims, you can wear it with a suit, and you will look good in it in daytime and in the evenings. Opt for the most reliable brand you can afford – it will serve you well.
(2)
A madly-polished pair of smart black shoes
Toe caps went down with the 90's(though some men still seem to sport them 20 years later), the pointy toes made a brief appearance in the 90's, and now is the time for the classics. They also make a better investment, because they have a look that does not date – think of the classics like the Oxford, the Derby, the brogue or even the black chukka boot. Much like the crisp white shirt, you can combine them with just about anything, from jeans to formal attire.
(3)
A reliable pair of jeans
If you pick them out too skinny, they will look dated in a couple of years; if they are too baggy, they might not look that flattering on you. Your best bet is something with a straight leg and stone washed. The rest of the detailing (like that torn patch they make on them at the factory or a slightly longer trouser leg so that you can turn it up) is up to you. Jeans have held their own for over a century and will get you in on most events and occasions.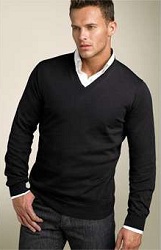 (4)
A V-neck sweater
A stylish piece that is enjoying something of a revival. What color would suit you best will depend on your complexion and other personal traits, but it is almost impossible to go wrong with black, burgundy or bright yellow. It's the type of item that will combine with pretty much everything else on this list.
(5)
A black suit
This is one item that you are guaranteed to look good in whenever you wear it, be it at work, for that job interview, at a formal occasion or just a night out. Your one concern should be that it fits you well at the shoulders and around your waist. These days, the sartorially-correct look has narrow flat-front trousers, two buttons, and peaked lapels. If you can, get it cut by a proper tailor. You'll know why when you walk out of his shop wearing it.
(6)
A covert coat
"Covert" here rhymes with "over" – either charcoal or fawn. The same rules apply as for the suit: it must fit well at the shoulders and around the waist. Only skip this item unless it will be useless to you if you live in a climate that renders it unnecessary or inadequate.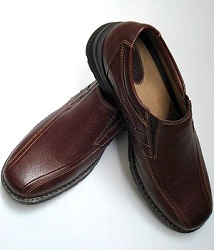 (7)
A pair of more casual brown shoes
You can go for leather or for suede, it will probably not matter that much unless where you live often gets very wet and you might be out walking the street in such weather, which will ruin the soft suede fabric. Moccasins, loafers, brogues – get the pair that best works for you.
(8)
A pair of tailored chinos
yet another classic making it back onto the list of stylish items. Stone, tan, and light grey will combine with most (if not all) items on this list. If you want to go a bit more daring, lime green and wine red are very in these days. It is an item you can wear as a replacement for jeans pretty much at all times.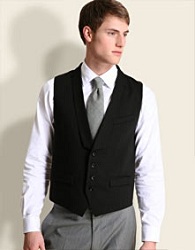 (9)
A navy suit
this is you back-up brother in arms, who will serve you as a substitute for when you have to wear a suit more often, except possibly to go to a funeral. Just to be more flexible, try this one with flat-front trousers, two buttons, but notch lapels.
(10)
A waistcoat (or a vest, if you live in North America)
Somewhat underrated, but having too many applications to mention. If you pick it out in black or navy, it can work with possibly all items in this list.
This is how it all works, assuming that the weather is not bitterly cold or oppressively hot:
First date with her (daytime) – (1) + (7) + (8). Adding (4) is optional.


Meeting her folks (at their house, like casual supper) – (1) + (2) + (3) + (4) + (6).


Night about town (depending on where you're going) – (1) + (2) + (3) + (10) or (1) + (2) + (5)


Campus – (1) + (2) + (7). Substitute (2) for (8) if you want the prep look. Add (4) and/or (6) for when it's cooler outside.


Formal dinner or event or appearing before court on a charge – (1) + (2) + (5) and add a conservative tie.


Office or job interview – (1) + (2) or (7) + (9) and add a conservative tie. (7) will work if they are not too casual (like moccasins) and if you do not work in Britain or countries where British culture prevails – despite what they say, the British uphold the "no brown in town" rule and you will look unreliable if you do not wear black shoes.


Casual Friday – (1) + (3) + (7) + the jacket from (9). People see casual Friday as some sort of a license for ill-fitting jeans and naff T-shirts. Stand out from your co-workers and impress you superiors with a slightly smarter look.


Party at your friend's house – (1) + (2) + (3) + (10).
Everything else which you have owned until now makes you one of the boys. Having the above will make you the man.
---