Ok, so this is just my opinion on what I have seen so far.
Bikini styles for different body types
If your boobs are far apart
You should avoid plunge, t-shirt or triangle bras, they will cover your boobs and draw attention to the center of your chest where there isn't much to see. So they will make your boobs look weird and small. Great options are:
Underwired balconette bras
This look good on anyone. They lift the boobs, and only cover the bottom part, so it doesn't matter if they are close or far apart, naturally perky or saggy. They also give enough support to big boobs.
Bandeau bras
These aren't very practical if there are waves, but they tend to be more comfortable as they usually have no underwire. Many come with pads that you can take off to give extra volume and coverage. These work best with small boobs as they give very little support.
Bralette style
These are similar to bandeau, but give a bit more support. They are also safer for swimming. Some can give enough support for big breasted women.
If your boobs are not far apart
Demi and triangle bras will highlight your cleavage.
Triangle bras
These usually don't have underwire, so women with very big boobs may not get enough support.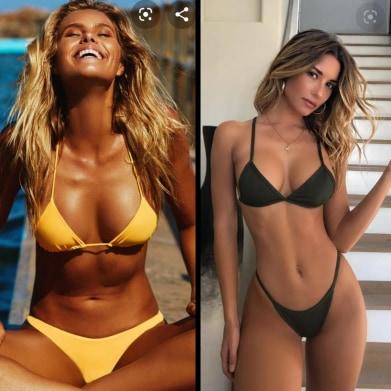 Plunge/T-shirt style
This usually have underwire and give more support and lift the breasts more. This isn't great for boobs that are far apart because you'll end up with space in between and boobs leaking out on the sides. Or your boobs will disappear in the bra.
Bottoms
If you have a big butt, but don't want do wear a thong, then brazilians may come in handy. They also work for people who have medium sized butts. Avoid wearing them too high though as they can make you butt look long and/or saggy. These are also great because you won't have to worry about your buttocks leaking and getting a double butt. Avoid these if you have a saggy ass. These will work fine even if you don't have the most curvy waistline.
For most ass shapes and sizes classic bikini style works great. They don't cover your behind completely, but you won't have to worry about looking indecent. These are great for most situations and will cover some cellulite. Also, these work fine for most waistlines (straight or curvy).
If you have a bit of cellulite, tummy fat, your ass is a bit saggy or you want to look modest, the vintage style could work for you. These can also come in a more classic bikini or slighly brazilian style, yet still give more coverage on the upper side if you have something to cover there. Avoid these if you have a big ass, you'll look like you're wearing a diaper. Also, avoid these if your waistline looks mostly straight, these work better with small waist-to-hip ratios.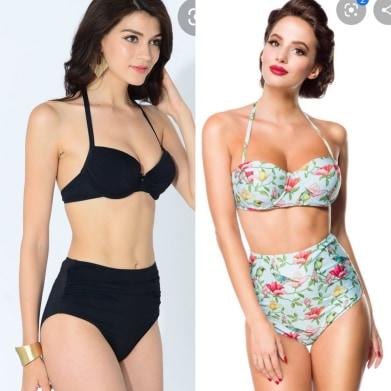 If you have a small butt and want to give the impression it is bigger then get some high waisted bikinis in brazilian style. However, if your waistline is very straight it's better to stay away from these. Avoid these if you have a big/saggy/very flat butt.
If you want some coverage but you don't like vintage bottoms, then hipster bikinies may be an option. These work well on people with small asses or who don't have a very curvy waistline. People with big butts may not look good in these(they can look like you are wearing a diaper or your buttocks can leak and you'll get a double butt), same for those with small waists and hide hips.