There seems to be a double standard where guys can get away with wearing cruddy boxers and tighty whities while girls are wearing cute bikinis and thongs. It's kind of a turn off when I'm being intimate with a guy and he pulls down his pants and I find ripped up shorts or ill fitting boxer briefs. Guys why don't you consider wearing something different? Like some sleek looking briefs, James bond style trunks or even a jockstrap? Would any guys ever consider switching if their girlfriend asked?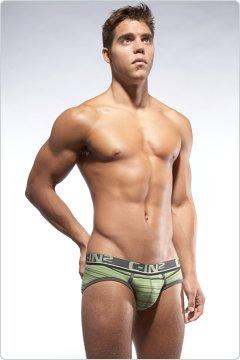 Select a gender to cast your vote:
Updates:
While the majority of comments were negative, there were positive responses from women to my pole. With that said, it's obvious there are women out there (including me) who like to see men in a sexy pair of briefs. We are just in the minority. And there are guys who are straight and do wear these various styles of underwear. They are just in the minority. Hopefully I find one of these guys!
---
Most Helpful Guy
Because it doesn't look sexy on men. Period.

I'd wear it if lots of people would find it sexy... but even the majority of girls don't wanna see it, so nope. I'll stay with my boxer briefs... if I should ever have a girlfriend who wants me to wear them, sure I'd do it but else not