Using them as top?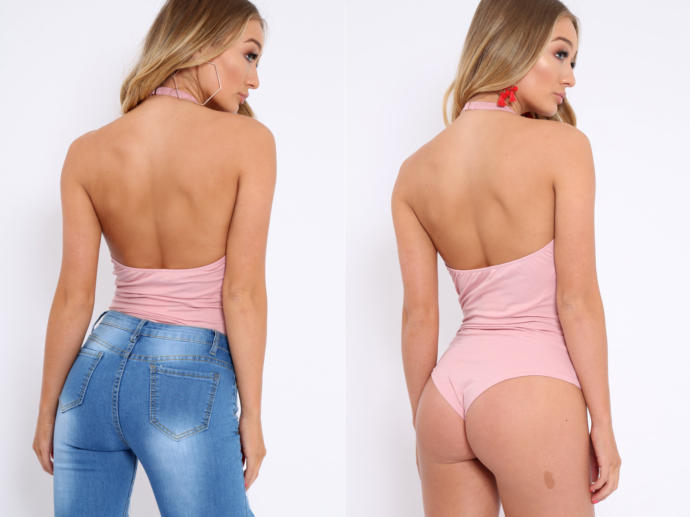 Select age and gender to cast your vote:
Updates:
---
Most Helpful Guys
I am an absolute fanatical 'ass man' and one of my first girlfriends was gifted with one of the most ideal big long round posteriors that I ever seen. So I used to buy her clothes to accentuate that precious caliphagian delight, and one time I bought her a snug little black bodysuit.

When I gave it to her she went into the bedroom and changed, and when she came out she was wearing the bodysuit as a top and had pulled on my favorite pair of high waist jeans over it. The bodysuit was sleeveless and very form fitting and came up to a black lace turtleneck that kind of looked like a wide choker, which went perfectly with how she had put her hair up while changing. Just her uper body and face alone were already stirring me, but then I followed the contours of her body from her face down to her sweet little nothing in front which ended in just a hint of a camel toe, she was positively delicious looking and I was starting to think about how I would never let her go outside wearing that.

But then she began to turn around in slow circles so I could see the outfit from all angles. An important detail to explain is that the thong portion of the bodysuit was kind of thick cotton material and a bit wide, so when she had it on, there was a lot of material bunched up between those lovely jello globes of hers, and it kind of spread those big perfect buns apart a little, which allowed her butt to gobble up those jeans in just such a way that her mouthwatering heart shaped derriere was held up and out in such a way that it seemed to 'pop', this caused the physics of the universe to become concentrated to exert a powerful gravitational force on my eyes, heart and other related organs. I was trapped.

But then she did something that exponentially intensified the force of attraction; She had noticed how my eyes had become caught in her orbit, so she smiled and arched her back to stick her bum out and wiggle it at me. Well folks, I am normally as cool as the proverbial cucumber and immune to any feminine whiles before bedtime, but these were conditions and forces I had never before faced.

The sight of that perfectly displayed ''super moon' of hers had called out the wolf, and my Apollo 11 was already igniting the thrusters. Almost faster than thought I scooped her up and nearly sprinted to the bedroom, tossed her on the bed and peeled her like a banana. Fortunately the snap open crotch prevented me from destroying the bodysuit, but within seconds of that teasing little wiggle she did, she was face down in a pillow taking a hot rough ride through poundtown. After that we knew that the high waisted jeans/bodysuit combo was like a matador's cape, only to be worn when ready to deal with serious horns.

So the moral of the story is; if you wear thong bodysuits, there is a high risk that your boyfriend will suddenly become a enormous pain in the ass.
Most Helpful Girls
I would wear bodysuits, but the only issue is I can't see myself constantly having to take them off every time I need to go to the bathroom. Also it kinda sucks when most stores don't even carry cute tops anymore. Anything with a cute neckline or pattern is a bodysuit and there are no other alternatives to that.
I dislike some of them because not all of them have poppers at the bottom to open for peeing.

You have to take the whole thing off.