Are you on a diet and you have snack craving? Don't worry. I've got your back ;)
Healthy Apples
Core a crisp apple (such as Granny Smith or Fuji) and put the wedges in a microwave-safe bowl. Sprinkle with a teaspoon of brown sugar and a pinch of cinnamon and nutmeg, then toss to cover. Cover the bowl with a microwave-safe plate and cook for 3 to 4 minutes on high. Carbonell will sometimes add raisins or a dollop of nut butter after the apples cook.
Healthy Chocolate Snack
Skewer 1 strawberry, 2 blueberries, 1 piece each kiwi, cantaloupe, pineapple, and then drizzling with 1 teaspoon Hershey's chocolate syrup for a filling, fruit dessert that quenches a chocolate craving too.
Healthy Cheese Snack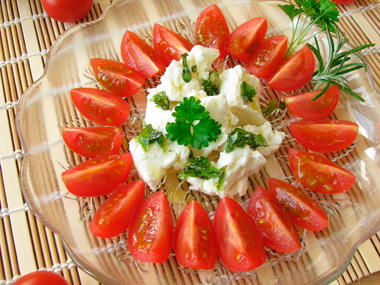 Top 5 halved cherry tomatoes with 2 tablespoons fresh goat cheese, then sprinkle with chopped herbs (chives, basil, or parsley).
Healthy Nuts
Mix 1 1/2 teaspoons ground cinnamon, 1 teaspoon ground ginger, 1 1/2 teaspoons vanilla extract, and 1 1/2 teaspoons extra-virgin olive in a large bowl. Add 4 ounces shelled raw walnut halves, 4 ounces shelled raw pecan halves, and 4 ounces raw cashews. Massage in the spices well, then place on baking sheet and bake for 10-12 minutes. Store in an airtight container once cooled.
Healthy Hummus

Healthy, Fun Fruit
Toss 2 cups of watermelon cubes with 1 tablespoon fresh lime juice and ½ teaspoon grated lime zest, then sprinkle with cayenne pepper and 2 teaspoons chopped unsalted roasted pistachios.
Healthy, Tasty Tapas
Stuff mini whole wheat pitas (about 2 inches in diameter) with different tastes, such as salsa; cashew butter; low-fat cheese; or hummus with cucumber and tomato.
Healthy Greek Yogurt Snacks
Use a toothpick to dunk individual blueberries one at a time into a container of Greek yogurt; a second toothpick helps push the berry off onto a baking sheet. Freeze for one hour, and store any leftovers in the freezer.
Healthy, Creamy Snacks

Grab a spoon and just eat it. Nothing more filling and good than a great avocado.
Healthy, Sweet Snacks
Combine 2 medium ripe bananas, mashed, 1 cup uncooked quick oats in a bowl, then fold in ¼ cup crushed walnuts. Place tablespoon-sized scoops on a baking sheet and bake for 15 minutes in a 350-degree oven.
Healthy, Salty Snacks

A half-cup of boiled or steamed shelled young soybeans are rich in protein and antioxidants and are only 100 calories. Splitting the pods open to nibble on the beans helps you eat more mindfully, which can reduce overall calorie consumption.
---