Lets get real here, we all love food. Food is such a basic need that I figure anyone who says they don't like eating is lying. So in honor of the upcoming Fourth of July here are four of my favorite meals from American Cuisine.
10: Chili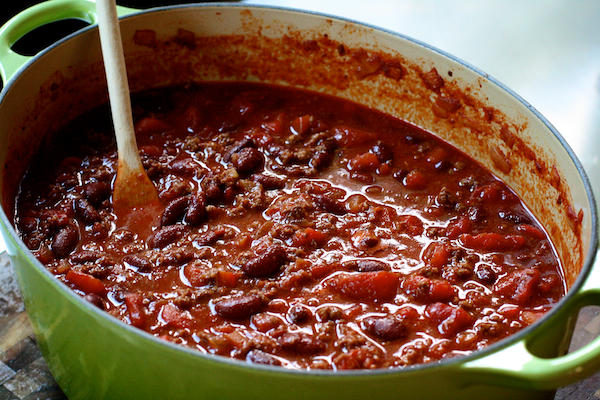 Ah, a good steaming bowl of Chili. You mix Spices, Beef, Chili peppers, Tomatoes, and Beans and some water (The first chili recipe known is from 1850 and while it did not include beans. It was only a little while after that they got added around the time of the civil war or a little after. So Beans have been included in Chili for well over a hundred years, so yeah, they can be officially included.) and you let it simmer and you get this marvelous spicy and delicious stew. A true classic of Southwestern and Tex-Mex Cuisine.
9: Breakfast Burrito
If you are notice a pattern with these first two recipes I'm just going to put this out there. My parents were stationed in San Antonio, then my dad got stationed in New Mexico after my mom got out. They really loved the food and took note of the recipes.
Now I love a good breakfast burrito. eggs, chorizo, potatoes then add salsa and roll it up. They are just so so good though if you don't like spicy food these aren't going to be your thing.
8. BBQ Pulled Pork Sandwich
I love BBQ and Pulled Pork is just a great meal. My family has a smoker so we go to the butcher and buy a pork butt on occasion, we use a dry rub, smoke it till its ready to be pulled apart and then we put it on the sandwich with some BBQ sauce. Its to die for.
7. BBQ Ribs
Another classic BBQ food. I love these things. I can easily eat 12 of them in a sitting. They are truly American.
6. Jambalaya
I love Jambalaya it is actually one of my favorite foods. I like mine to be have just the right amount of spiciness. The best Jambalaya I ever made was just spicy enough but it didn't sacrifice flavor for heat and that is much harder to do than it sounds.
5. Gumbo
This is another dish from Louisiana that is one of my favorite foods. There really isn't much better than a steaming hot bowl of gumbo in the brutally cold winters we get up here.
4. Bison Burger
I don't know there is just something about a good bison burger that makes it even better than a regular hamburger. A bonus for this is the fact that they are generally healthier as well.
3. Apple Pie
Apple Pie is my favorite dessert. A good warm apple pie is just so incredibly good.
2. Soft Serve Ice Cream
On a hot summer day a good soft serve ice cream is just amazing. It was also invented right in New York.
1. The Grilled Cheese Sandwich
This is one of my own personal comfort foods. If I have had a really long and stressful day when I get home I usually make myself two of them and eat then just decompress. They are quick, easy, and taste good.
---