Buckwheat-and-Chocolate Torte
ingredients
1 stick unsalted butter, cut into pieces, plus more, room temperature, for pan
1/4 cup blanched almonds
170 grams (6 ounces) bittersweet chocolate (61 percent cacao), coarsely chopped
1/3 cup buckwheat flour
1/4 teaspoon coarse salt
1/4 teaspoon ground cinnamon
4 large eggs, room temperature
1/2 cup packed light-brown sugar
directions
1. Preheat oven to 175 degrees C (350 degrees F). Butter a 22 cm (9 inch) spring form pan. Line with parchment. Spread almonds in a single layer on a baking sheet. Bake, stirring occasionally, until fragrant and golden brown, about 15 minutes. Let cool completely. Meanwhile, in a heatproof bowl set over (not in) a pan of simmering water, melt butter and chocolate together. Let cool.
2. In a food processor, process almonds until coarse. Add buckwheat flour, salt, and cinnamon; process until fine.
3. In a mixer fitted with the whisk attachment, whisk eggs and brown sugar on high speed until thick and pale, about 6 minutes. Fold in chocolate mixture, then flour mixture. Transfer batter to prepared pan. Bake until cake is puffed and a tester inserted in center comes out clean, about 25 minutes.
4. Let cool 10 minutes on a wire rack. Release sides of pan and remove cake; let cool completely on rack. Serve, with ice cream.
Brioche Loaves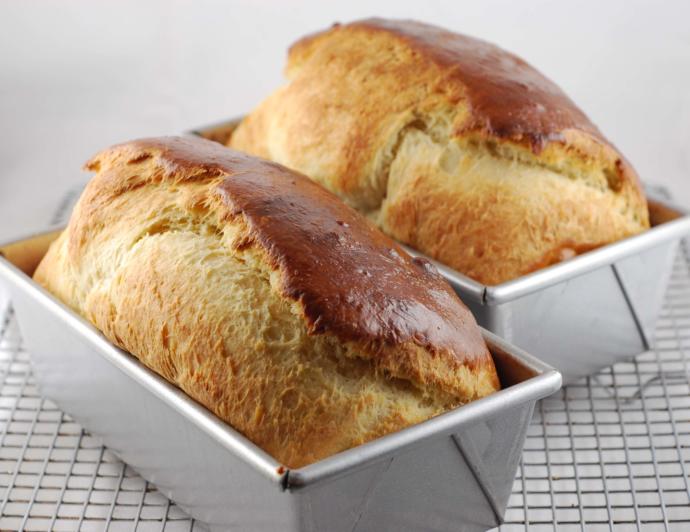 ingredients
5 tablespoons lukewarm milk (38 - 46 degrees C or 100 - 115 degrees F), plus 1 tablespoon cool milk
14 grams (1/2 ounce) fresh yeast
510 grams (1 pound 2 ounces) all-purpose flour, plus more for forming dough
1 tablespoon coarse salt
6 large eggs
1 1/2 cups (3 sticks) unsalted butter, slightly softened, plus more for molds
1/4 cup superfine sugar
1 large egg yolk
1 tablespoon milk
directions
1. Place lukewarm milk and yeast in a small bowl; stir to dissolve.
2. Place flour, salt, and eggs in the bowl of an electric mixer fitted with the dough hook attachment; add yeast mixture and mix on low speed to combine and knead, about 5 minutes. Scrape down sides of bowl with a spatula; knead on medium speed until smooth and elastic, about 10 minutes.
3. In a large bowl, mix together butter and sugar. Add a few small pieces of butter mixture to dough; with the mixer on low, add remaining butter mixture, a little bit at a time. When all the butter mixture has been added, increase speed and continue mixing until smooth, shiny, comes away from the sides of the bowl, and is elastic, 6 to 10 minutes.
4. Butter a large bowl, transfer dough to prepared bowl, and cover with plastic wrap; let stand in a warm place until doubled in volume, about 2 hours.
5. Lift dough from bowl and drop back into bowl to deflate; repeat process once or twice. Cover bowl and transfer to refrigerator to chill for at least 8 hours and up to overnight.
6. Butter two loaf pans whose bases measure 8 1/2-by-4 1/2 inches on top and 7 1/2-by-3 1/2 inches at base. Divide dough into 2 equal pieces. Divide each piece into 8 equal pieces; form each piece into a ball. Place 8 balls of dough in each loaf pan, side by side.
7. In a small bowl, whisk together egg yolk and remaining 1 tablespoon milk. Brush dough with egg yolk mixture, reserving remaining. Spray two pieces of plastic wrap with nonstick cooking spray; cover dough in both pans, cooking spray-side down, and let stand in a warm place until doubled in volume, 1 1/2 to 2 hours.
8. Preheat a convection oven to 205 degrees C (400 degrees F).
9. Brush each loaf very lightly with reserved egg yolk mixture. Transfer pans to oven and bake until brioche just begins to turn golden, about 15 minutes. Reduce temperature to 175 degrees C (350 degrees F) and continue baking until deep golden-brown and internal temperature reaches 205 degrees on an instant-read thermometer, 20 to 25 minutes more.
10. Remove from oven and let brioche cool in pans for 5 minutes. Unmold onto a wire rack and let cool completely.
Frozen Chocolate-Mousse Trifles
ingredients
2 cups (5 ounces) crumbled chocolate angel-food cake
1 tablespoon brandy (optional)
4 large egg whites
1/2 cup sugar
1/3 cup unsweetened cocoa powder, sifted
1/2 cup cold heavy cream
15 grams (1/2 ounce) bittersweet chocolate
directions
1. In a medium bowl, toss together cake and brandy, if desired. In another medium bowl, using an electric mixer, beat egg whites on high until foamy. With mixer on medium, gradually add sugar. Increase speed to high and beat until stiff, glossy peaks form, 2 minutes. With a rubber spatula, gently fold cocoa powder into egg white mixture.
2. In another medium bowl, beat cream on high until stiff peaks form, 3 minutes. Gently fold whipped cream into egg white mixture.
3. Fill each of 4 small glasses with 1/4 cup cake and top with heaping 1/4 cup mousse. Repeat to make a second layer with remaining cake and mousse. Freeze until firm, 3 hours (or up to overnight). Let sit 10 minutes at room temperature, then finely grate chocolate over tops to serve.
---