When i have kids, I hope to have little Mini-Mes. But today I'm going to talk about the Many Mes. Well not really haha. I did that before in a past mytake where i mentioned im DizzyDesii, used to be DesiDoo, occasionally let out DirtyDesii, and well yea i like a whole bunch of different D's. I mean its not like i care too much about if the D is long, short, a little thicc but not too thick…
Anyways, let me stay on topic haha. So today, I'm going to list a few celebs and tv characters who remind me of myself. Maybe i was influenced by them or maybe they're inspired by me. Ha, who knows 🤷‍♀️ But all i can say is that I am me, I am she, I am the one and only.. okay sorry having a Dr Suess moment. Focus, dammit, Focus.
I want to see what you think of these characters because if you liked them then i wouldn't be surprised if you find me intriguing as well :) And if you like me then I'd be surprised if you didn't like them. And if you dont like them then you probably won't like me. Or if you dont like me then you probably won't like we aka us and well so be it, you can go jump in front of a… Welp, I'll shush and get to the point now lol.
So yea, Here are the female characters who remind me of myself and not exactly in any particular order… And yes almost all are goofy af mfs who are wild, rhythmic or boy crazy haha

RAVEN SYMONE
Okay if you've seen Thats So Raven, College Road Trip, Cheetah Girls, Kim Possible, Princess Diaries 2 then you've practically seen me lol. I act exactly like her in those shows/movies. I've just always been a natural goofball like that. And I've had several psychic abilities believe it or not. She kinda annoyed me on the Cosby Show but based off this preschool home video of myself, I guess I acted like Olivia's ass too. Lol
ANNE HATHAWAY
If you've seen Bride Wars, Ella Enchanted, Devil Wears Prada, or Princess Diaries… Hi 👋
CAMERON DIAZ
She's so bubbly and I just can't help but to be myself. I loved her in What Happens in Vegas, The Mask, Charlies Angels, there's Something About Mary, and Knight & Day.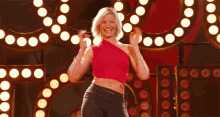 GINA RODRIGUEZ
If you've seen Miss Bala or Jane the Virgin, Mmhmm… and Dont even get me started on the love triangles Jane dealt with haha
TIA AND TAMARA MOWRY
If you've seen Sister Sister, Twitches, or The Game… yeppers— The way Tia and Tyreke bickered, The way Melanie and Derwin were toxic as a couple, and The way Tamera and Jordan were an awesomely silly ass couple... Yep *points at myself*
REESE WITHERSPOON
My southern twang isn't as strong as hers but its close enough haha. She reminds me of myself in Man in the Moon, Home Again, This Means War, Legally Blonde, and Monsters vs Aliens. She's just so ditzy haha
NICKI MINAJ
I know a lot of y'all don't like Nicki Minaj, Nicki Lewinsky, Nicki the Harajuka Barbie but I meeeean… I dont even know why you hoes bother at this point. Lol lmao real talk, she's awesome. She's the epitome of goofy and she's nasty and she's got baaaarz.. Lmao you do not want to see me sing her songs in karaoke. I'm so over the top haha

MEGAN THEE STALLION
I love the girl but she cannot rap in my opinion. But still thats my daaawg. Her personality is awesome! We're both Aquarius' and she's nasty af! So we can both talk about the D and the P and the C and da *sticks tongue out and twerks*

GABRIELLE UNION
Now when I'm sweet, I'm sweet. But i admit, there are times i can be bossy and aggressive when I go into serious mode. Ever seen the boss chick in Bring It On, Deliver Us From Eva, The Perfect Holiday, and Cradle 2 Da Grave?
Okay, so i got tired of talking about myself for once. Yea dont get too happy, this doesn't happen often lol. So im gonna sum up the rest.
Jasmine Guy in Different World
Sandra Bullock in The Proposal, Miss Congeniality, All About Steve, Hope Floats, and Speed/Speed 2
Alexa Vega in Sleepover and Spy Kids
Amanda Bynes in Amanda Show, She's the Man, Big Fat Liar, Lovewrecked, and What a Girl Wants
Lindsay Lohan in Just My Luck, Freaky Friday, and Lifesize
Zendaya in Shake It Up and Spiderman
Tracee Ellis Ross in Blackish and Girlfriends
Katherine Heigl in Killers, Life as We Know It, and 27 Dresses
Jennifer Anniston in Friends and the Bounty Hunter
Yara Shahidi in Grownish and The Sun Is Also A Star
ALSO, FEEL FREE TO LIST BELOW WHAT CHARACTERS FROM MOVIES/SHOWS REMIND YOU OF YOURSELF!!! (IM NOT SAYING TO CHOOSE FROM MY LIST LOL… But just in general.)