Women's day has got a special importance, wishes and tributes to women everywhere. Explaining greatness of women everywhere. When it comes to men's day, no women cares. Does women feel men means nothing?
Is Feminism is at peaks?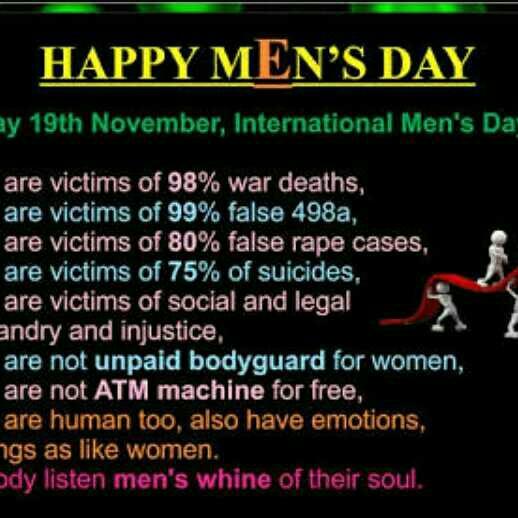 Updates:
---
Most Helpful Girl
Happy men's day!

Your photo mentions some really skewed statistics though, and I don't care if I get hate for this but as an egalitarian and a scientist I think it's important to point it out:

"Men account for 98% of war deaths"
Yeah. That includes all wars that women were barred from service. MEN made the draft rules and rules excluding women from military duty.

498a only exists in India to prevent women from being abused by their husbands and husband's family. Why was such a harsh law made? Because women were systematically abused for so long. Now it's a flawed law, but don't blame women for the rules MEN put in place because MEN were abusing them.

Men account for 80% of false rape cases. Wow! It's almost as if men commit 96% of rapes! And that's JUST in first world countries. Men and women are EQUAL victims of rape but men are almost exclusive perpetrators. Happy men's day!

Men are victims of 75% of suicides. Because apparently seeking mental help is a sign of weakness.
Most Helpful Guy
Dunno, most of those *insert something here* Days feel so pointless and sounds so counter-intuitive.