On GirlsAskGuys, many people ask questions with a common theme, and there is usually a common, correct answer to these questions. This is a major generalization, but if any of your questions appear to be this way, my answer to them is likely true.
1. Am I overreacting?
In this type of question, the person's partner did something really bad that crossed the line. The sheer fact that the question asker (QA) is questioning his/her sanity and emotional reaction shows that QA is likely a reasonable person, and that this partner did something way too inappropriate or wrong. Likely, QA tolerated a lot of questionable behavior from the partner in the past, and the partner kept pushing boundaries. In a few cases, the QA may actually be overreacting.
2. Am I pretty/handsome/okay?
This also counts toward questions about intimate body parts. 9 times out of 10, you're probably fine. Chances are that the general population thinks you're fine, and if not, there's bound to be a niche that is into whatever you are.
3. Do guys/girls like ____ body types?
Everyone has their own preference regarding fat, muscle, cone structure size, eye color, hair color, etc. Some people like skinny, others like muscular. Some like curvy, some like athletic. Some people even like overweight partners because of the softness and extra curves, or stockiness.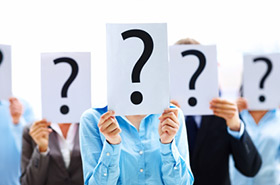 4. What does it mean when a person says _____ ?
Generally, a person should take people who say things at their word. Sometimes, some decoding has to be done in order to figure out the deeper meaning, in case a statement is especially lame, vague, or weird. A person who says mean, hurtful things is not right for anyone.
5. He/she hit me and/or emotionally abused me (name calling, manipulation, controlling tendencies, etc.). Should I leave him/her?
YES, QA, should leave that person NOW. QA should call the National Domestic Violence hotline (1-800-799-SAFE(7233) or TTY 1-800-787-3224 ) for help escaping if QA suspects the person to be one to retaliate. Also, Lundy Bancroft, Patricia Evans, and other authors write excellent books about abuse, how to spot it, and how to walk away.
If the person does not seem obviously abusive, but QA feels bad about him/herself around the partner, something does not feel right, etc., LoveIsRespect.org is a perfect place to go to analyze your relationship and figure out what a healthy relationship should be.
6. Should I subscribe to programs like 'Catch Him and Keep Him' or 'Have the Relationship You Want?'
QA should know that although some advice from Rori Raye's $20 eBook is good (about being yourself and not being afraid to show your feelings) is good, those two programs are extremely expensive and give vague, sometimes harmful advice. Who wants to spend 100+ dollars on a program that is not scientific or necessarily effective? It is much better to read works by Dr. Bethany Marshall, and Natalie Lue. Natalie Lue's blog is excellent and full of wonderful dating advice that cuts through all the dating nonsense out there that you see in magazines, cheap websites, quizzes, etc.
"

Generally, a person should take people who say things at their word.

"
7. Was I raped or taken advantage of?
If QA said no, hesitated and said yes after lots of bugging and pressuring, gave negative body signals, was under the influence of a substance, crying (not in the happy way), sleep-deprived, going through a traumatic time in life (e.g. a death) that rendered QA grieving/emotionally exhausted, etc., QA was definitely taken advantage of, and possibly raped. Consensual sex is always met with enthusiasm, and if someone tries to convince QA to do something sexual after they agreed ahead of time not to, the person is wrong.
8. Is this outfit too racy?
This question is asked by girls, mainly. QA should only show off one feature at a time. Cleavage, booty shorts/miniskirt, skin-tight clothes, and a midriff all at once will make QA look cheap and trashy. Choosing one of those clothing articles, while wearing tasteful clothing for the other body parts, is fine. Underwear showing is always trashy, and revealing anything is not appropriate in a professional/work setting.
9. How should I do my hair/makeup?
QA should forget the "trends" and go with what is the most flattering for him/her. Styling hair in a way that works with its natural texture will flatter QA better than beating it into submission with hot tools, and it will keep the hair healthier. When dying hair, QA should keep it somehow within his/her color family ("cool" if QA has a cool skin tone and "warm" if QA has a warm skin tone).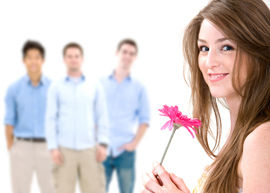 When in doubt, makeup is best when it looks natural (even skin tone via tinted moisturizer and concealer for blemishes) and lightly enhances your look (nude eyeshadow, light eyeliner, mascara and slightly tinted lip gloss). If QA wishes to go dramatic, choose ONE feature. If QA must have red lips, QA should go light on the eye makeup. If QA wants smoky eyes, QA should wear a nude, subtle lip color.
Again, determine whether your skin is warm or cool. People with light or dark skin can be either, so do not be fooled by magazine tips that claim "fair-skinned people look best in a watermelon color" and what have you.
Warm tones look better in gold than silver, ivory than white, and brown than black. Warm tones have greenish veins rather than blue veins on the wrists. Cool tones are the exact opposite. Warms generally look best in oranges, peaches, yellows, greens, and corals (think "sunset," Spring/Autumn tones). Reds, blues, pinks, and greens must be more "warm" (having more yellow). Cools generally look best in blues, purples, pinks, etc. ("jewel," Summer/Winter tones). A more thorough analysis can be done via reading about the season palettes, especially the new 4x4 Color Analysis seen on PrettyYourWorld.com.
I hope this helped the many folks on GAG with their questions on life. I take questions all the time, so please feel free to ask me anything here in the comments, my wall, and my inbox. Cheers!
---