Because nothing says love like a red pickup truck and yellow sneakers. :-)
All brides want to sparkle and shine — this lovely lady made it happen for two.
Let's face it. Put kids in any wedding photos & it's adorable.
I've always loved the Autumn theme — it's my favorite time of year. The vivid colors here make for one magical photo.
There's some cheesiness going on, but that's pretty hard to escape with wedding photos. Cute, creative idea if done well.
Retro lovin'. Too adorable.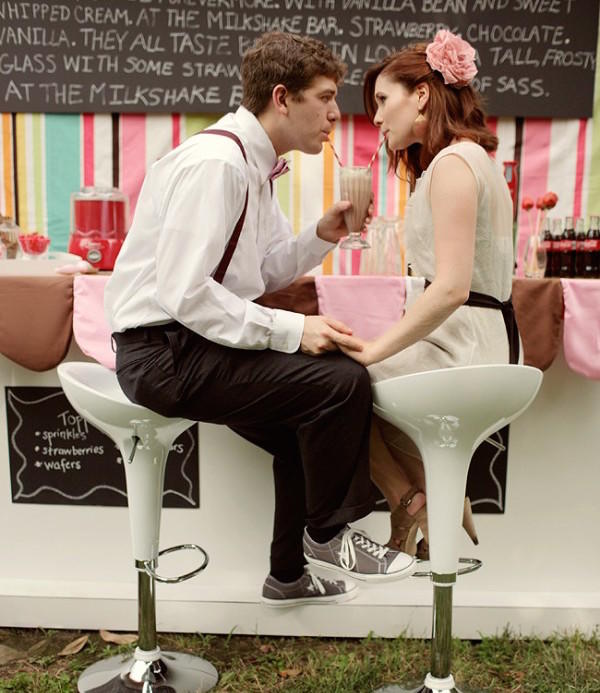 Little touches of red offset the white ensembles, and the Ferris wheel adds a bit of nostalgia to a special and memorable day.
This photo is outdoorsy, adventuous, and FUN, adding extra thrill to an already exciting day!
Supercalifragilisticexpialidocious!
So cute and sort of implies they've been sweethearts since childhood. Even if that's not true, it's such a sweet idea.
A dapper gentleman and his lovely dame — the photo adds a touch of "Old Hollywood" glamour, drawing references to stars like Marilyn Monroe and tales of The Great Gatsby.
SPARKLES! 'Nuff said.
This is very cool and actually kind of trippy. It also makes good, practical sense — everyone gets to feel special (and actually hear!) from the first few rows.
Photos are fun and a big part of weddings. (Let's face it — most are insanely expensive and you better well have good photos, dammit!)
But in the end, it's about the couples who love each other and are "soul mates." (Okay, I hate the term, but some of these couples just plain look "meant to be.")
So no matter what your photos look like, just be sure not to stress — enjoy the day! Pop open a bottle of champagne, throw some confetti, and party 'til the break of dawn!
---