Ever saw someones photos online and thought to yourself, "Wow, this person is hot" only to meet them and be sadly disappointed?
I will tell all of you viewers that a contoured face, photo editing, room lighting, and camera angles are a persons best friend.
They can go instantly from a 2 to a 7 in a matter of seconds.
Don't believe me? by the end of this article I will prove this theory.
Category 1
The cropping feature is a persons best friend.
Isn't the crop feature amazing? These women will showcase only what they want you to see, so you can hit them up!
I know the men are flocking to these photos....like "Damn, who's that cute chic?"
If they ever meet these women in person, they will do a ton of double takes!
Sorry for the disappointment fellas!
Category 2

Who said you have to do squats to have a big butt?
A secret to a big butt isn't always squatting exercises!
The right camera angle can make the girls who aren't as blessed look bootylicious!
Ask the camera man to kneel down and aim the camera at your ass,
it will appear much larger than it is in actuality.
Category 3
From big to small in the blink of an eye.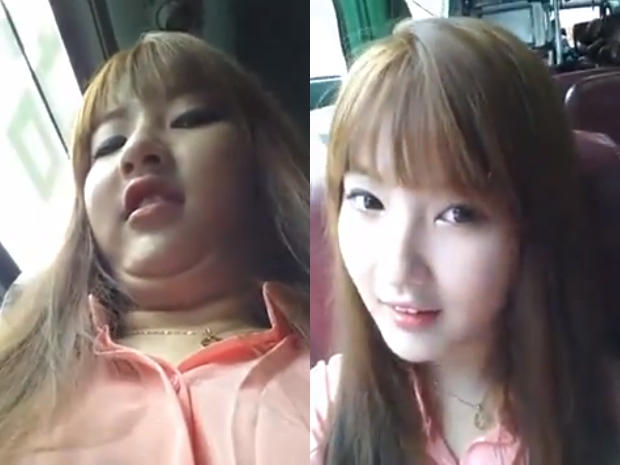 The first woman decided to apply a face load of make up and point the camera straight forward.
That angle and the head tilt was very forgiving to her double chin of course.
The second woman originally used a very unforgiving angle which also displayed a double chin. I admit no one looks good when a camera is pointed that way. But in all honesty, it does not create a double chin! We know the truth that she is hiding!
The third woman held the camera upwards and slanted it down, which helped cut out a numerous amount of her figure. The photo on the left which she is displaying makes her look proportionate and in shape.
Very deceiving indeed!
Category 4
Do I have a big belly?
Laying flat on your back will make almost any stomach look toned or defined.
Even if you have a significant amount of fat on your stomach it will protrude far less when you lie down versus standing up.
The people that ask the above question, are looking to be complimented on their stomach based on their photos false advertisement.
Who does that?
If you want the truth, show a less deceiving angle.
When you walk in every day life, are you floating on your back or are you walking forward?
Come on people!
Live better, do better!
Category 5
The art of photo shop.
When you use photo shop you can take on an appearance you've always wanted whether that's physically more enhanced or appearing many years younger.
Category 6
She's so hot!
Who knew that girl who appears sexy on the left, could be an awkward looking nerd? She gives you a totally different vibe than the first pic doesn't she?
Sometimes receiving several photos still doesn't do any justice, because some of these people practically become professionals at angles that compliment them.
So, people what you see isn't always what you get!
Stop placing such high accuracy in online photos.
Lets not act like we haven't heard personal horror stories!
I'd rather see someone in the flesh, that gives me a far better idea of who I am meeting!
---