Many people know Japan as one of the most modern and developed countries in the world, a nation where gleaming skyscrapers stand tall and proud over the urban skyline and people make use of technology in very innovative, very creative ways, all while walking over very clean, very spotless streets.

Japan also has the third largest economy in the world.

But the fact is, Japan, like any other country has slum areas, poverty, and homeless people.
These are things travelers might not necessarily see during their trips to Japan.

What Do Slum Areas in Japan Look Like?

Slum areas are often characterized by the blue waterproof tarpaulin that drapes makeshift homes.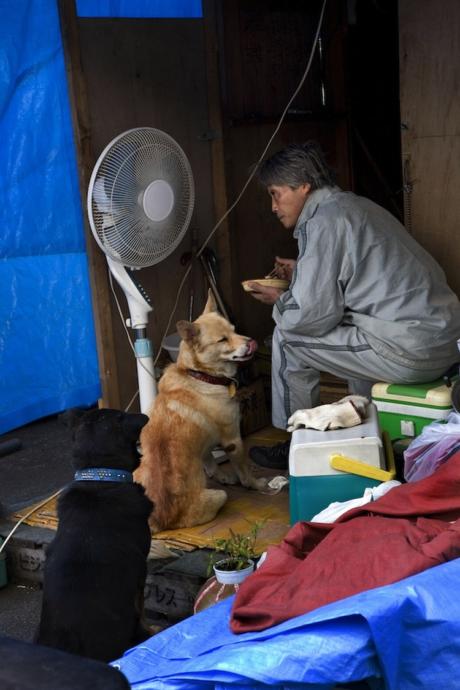 Despite the unkempt and dirty appearance of these slum areas, they are generally safe, and crime is very minimal.
Most people who live in such slum areas do so because the company they worked for went bankrupt, or there was restructuring, which meant they were let go, or they have some other physical (or mental) condition that makes them undesirable to employers.

But still, many do try to get by, doing whatever they can to scrounge up money for themselves.
In many ways, it is like living in a small village or town and having a sense of community is still considered important.
Travelers to Japan will almost always NOT get to see slum areas because these areas are located on the outskirts of most cities, like way in the suburbs – where, naturally, many travelers do not go.
Cultural Note: Because of cultural reasons, poor people in Japan do not beg AND people do not give to beggars. It is just not the thing to do. They will resort to searching in garbage bins and trying to get food and shelter and other necessities from charities, but no one will resort to begging.


How Bad is Poverty and Homelessness in Japan?

According to the Japanese Government's figures in 2017, about 5,800 people or so are still considered homeless.

Japan has a population of about 127 million.
Which means the percentage of homeless people is about 0.0045%
Which is 45 out of every 1,000,000 people.

By right, every Japanese who is unable to physically work should be entitled to 生活保護 (Seikatsu Hogo) or Livelihood Protection, which entitles them to about 130,000 Yen a month (about $ 1300 a month). This amount is not enough to lead to a life of luxury, given Japan's high cost of living, but it should at least help with putting a roof over one's head and getting three square meals a day.

But, some homeless people do not know about Livelihood Protection.
Some apply but get rejected.
And some just refuse to apply for it.

98% of the homeless population in Japan are men.

Why is this so?

Japanese society is still quite patriarchal. Men are expected to be independent and be able to eke out a living with their own two hands, while women are not expected to be independent. A homeless woman shocks many municipality officers, and the shock is bigger if she has kids with her. Generally, people are far more sympathetic to homeless women, especially those with children.

Most homeless women or single mothers who are struggling will be given enough assistance to get by, and with accommodation, that comes in the form of 団地 (Danchi) or Government Housing, many of which are earmarked for single mothers.

Government Housing in Japan look like this:
For those unable to qualify for Livelihood Protection – or who refuse to apply for it – they may decide to sleep out in the open.

For example, if you are in Ueno in Tokyo, at the bridge between the park and the station, you'll see some homeless people. Or if you go to Shinjuku Chuo Park.
If you can find some low-paying job and manage to scrounge up a bit of moolah for rent, you may be able to afford a tiny and cramped 110-square feet apartment.
ドヤ街 (Doya-gai) or flophouses are often a last-resort refuge if you want to rent a cheap room but, for whatever reason, don't want to pay a deposit, "key money", or provide evidence of identity or of a guarantor. These things can be challenging for down-and-out-of-their-luck men to produce. Therefore, doya-gai may be an option.
Alternatively, you can go to a 24-hour インターネットカフェ or Internet café and spend the night in one of the cubicles.

At about 2000 yen (~ $20) per night (prices vary), you get a small cubicle, a couple of soft drinks, the use of a washing machine, and often, a shared washroom.
And of course, access to the Internet.

It's not the Ritz-Carlton, but it's certainly doable.
-------------------------------------------------------------------------------------

Conclusion:

Japan, like any other country, also has slum areas and homeless people and poverty.
You might not have seen it while you were in Japan, but it is there.
I hope this has been an educational article for you.

Thank you for making it this far!