Yup, I'm currently sitting in my living room with all my belongings that were on the floor elevated by 2 feet just in case water breaches my house. Looking out my front window, I cannot see my street anymore and my neighbors cars may go under soon. My heart goes out to those who were directly hit by the windy part of the storm on day one of Harvey, but here in Houston, we are literally dealing with rain and thunderstorms that absolutely have not stopped since late yesterday afternoon.
We have bayous that surround us in Houston meant to drain the rain away from homes and buildings during storms because Houston is a very flat city, but as every weather forecaster has said, this is just a storm that is sitting on us like Tropical Storm Allison did back in 2001. Just for perspective, I had just graduated like 2 days before that storm from high school before that hit and wrecked the city, and here we are again. This is just...well, most people at this point have no words.
Last night two very disturbing things happened. One, on one of the busiest freeways in the city, people were literally turning around and basically driving back into oncoming traffic because the bayous had flooded the freeways. Let me repeat that...the bayous had flooded the freeways, and they were basically going to be trapped. My friend and her husband spent the night on the roof of their car before just deciding to wade into the water chest deep to get to their apartment. Several friends have water seconds away from bursting into their house. Every bayou, creek, and river in this city has overflowed. The traffic map literally looks like someone dumped red paint on it, because there are so many closures due to high water.
The second disturbing thing was the police chief tweeting out that if you have to get into your attic to avoid high water, you need to take your tools or an axe or something, so you can bust through your roof so that they may rescue you, and people have had to do that. Everyone is trying their best to stay calm, to try and help their neighbors, and to basically just survive. I'm exhausted because I volunteered to take the night shift and just basically set an alarm to go off every 45 minutes so that I could wake up and check on the street flooding and in case there were more tornado warnings. At around 4am, I was woken up by the sound of the weather alert for our 3rd tornado warning, and had to dash into the bathroom with my family and after that, I just couldn't even take naps anymore. I'm exhausted, but to the point now where I'm weirdly too exhausted to sleep.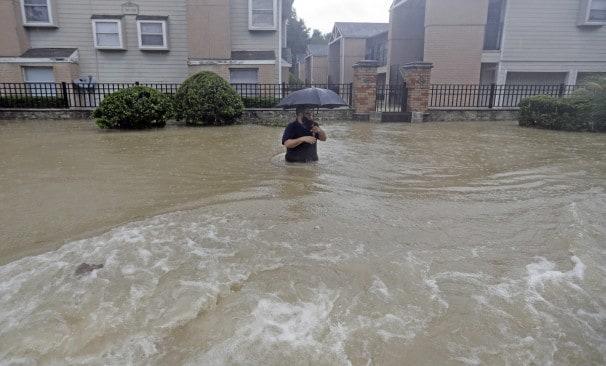 Our biggest school districts including the local colleges have cancelled the first and second days of what should have been their first day of school on Monday for K-12, and even if places of business wanted to open, very few would have any sort of access at this point to get there. At a certain point last night, the weather forecasters, all had this depressed tone in their voices, like there was no hope and we felt it because there just was no hope of this thing stopping and everything being okay. Now we still supposedly have 2-3 more days of rain.