So many people luv to make Valentine special sweets. Here are the top ten best sweets.
10. Heart shaped fudge w/ sprinkles
Sweet bites of fudge with bits of pretty sprinkles. To top it off shaped like hearts. Chocolate goodness. So soft, and dreamy.
9. Valentine Muffins
Sweet, and fluffy. Shaped like ruffled hearts. So delectably yummy. You can't just have one.
8. Cookies frosted & w/ sprinkles
So soft, and chewy. Shaped with luv. Frosted with creamy sweet frosting. Decored with luving sprinkles.
7. Cheesecake pops
Oh my gosh!!! Who doesn't like a spin on traditional yummies. Personally I do. Plus you can use anything for the filling. They are made of twisted tradition, and lots of luv.
6. Hand pies shapes like hearts
Traditionally made to express gratitude, and your stomach. But when you change the shape. It tells people, and your significant other you luv them.
5. Custard luv bites
Frozen custard bites shaped like hearts or whatever. Creamy, sweet, and airy. But when you cover it with chocolate. It says Yum me!!!
4. Red velvet cake
True tradition never dies. So sweet, and very... very... very Yummy. You can coat it w/ whateve. You can add your signature luv in it. Cuz it say's hello, come on in.
3. Chocolate truffles
Another tradition. Everyone or most luv truffles. Their are hundreds of combo's to put together. And there in everyone's dream's....
2. Luv Sundae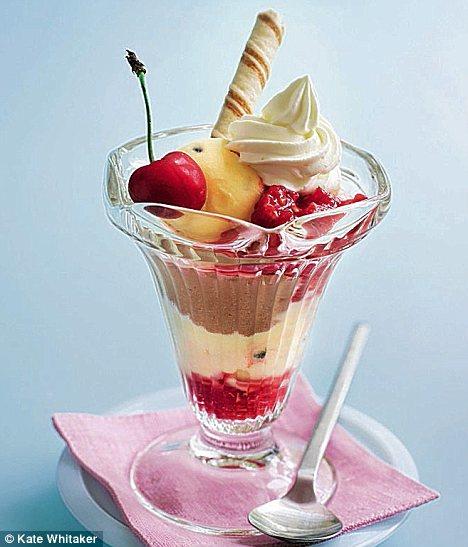 You can have just any ye olde sundae.
But if you luv in it, you have to first put it in a parfait glass. Than add lot's of Valentine in it.
1. Pink velvet truffle cream pops
Now the number one on the list. Filled with truffle cream before you bake. Batter is pink velvet. Not red. Coated with more truffle cream. Dunked in chocolate. Sprinkled with luv. So sweet, and yummy.
---