#ValentinesDay #WTF
Have you ever received a Valentines Day gift and thought to yourself "WTF was he/she thinking giving me this?!?" Sure, traditional Valentines Day gifts such as a cliché bouquet of roses and heart-shaped box of chocolates isn't for everyone. But there are some gifts that are just so horrible, no one in their right mind would ever dream of giving their beloved Valentine one of these... unless you and your Valentine are both sick and twisted individuals (which in that case, no judgment!). After doing some searching on the deep, dark corners of the web, I present to you a list of 12 Valentines Day Gifts That Will Make You Say "WTF?"
1. Edible Anus Chocolates
This gift is literally chocolate for a-holes. You can now give your lover chocolate casted in the shape of an anus (because nothing says "I love you" more than chocolate shaped like someone's butthole). You can order your own box of edible anus chocolates at EdibleAnus.com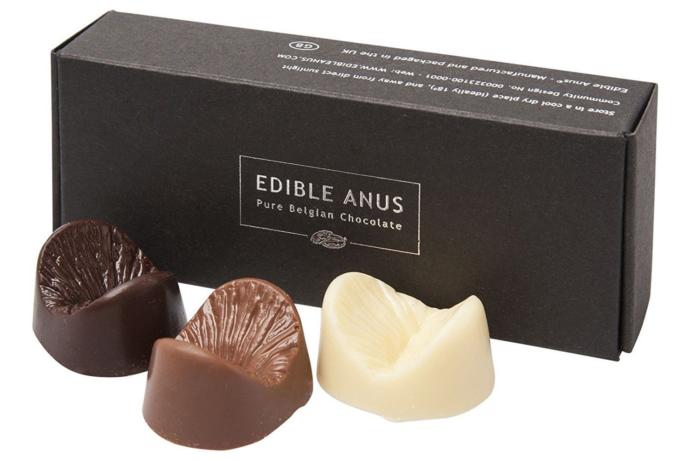 2. His & Hers Tongue Scrapers
They say that a couple that practices oral hygiene together, stays together...because nobody wants to French kiss a furry tongue. It may be just a gag-gift, but you may be sending your Valentine the wrong kind of message with this one. You can order you His & Hers Tongue Scrapers on Amazon here.
3. Human Teeth Jewelry
While on the topic of oral hygiene, why not consider giving your sweetheart a fine piece of jewellery made from teeth? Australian artist Polly van der Glas makes jewellery out of real human body parts, such as teeth and hair. A diamond may last forever, but jewellery made of teeth is definitely unique. You can check out Polly's fine selection of teeth/hair jewellery at her website, here.
4. Name A Cockroach
Want to seal your love with a "hiss"? For only $15 you can name a Madagascar Hissing Cockroach after your sweet Valentine (you even get a digital certificate as well!). Check out this original offer, as well as pricier packages, at the official Bronx Zoo website.
5. Edible Brief Jerky
Don't have such a sweet-tooth? Candy thongs are a thing of the past when you can have edible meat underwear! I mean, what man doesn't like meat? If you are interested in purchasing a pair of your own, it will cost you over $200. Alternatively, you can make your own DIY version here.
6. Bacon Lube
Why not go all-out on the meat-related theme, and get some bacon lube to go with your brief jerky? Now you and your lover can smell and taste like you bathed in a vat of bacon grease....sexy. You can order your own bottle of baconlube here.
7. Make-out Pillow
Does your Valentine need practice kissing or often feel lonely? Now they can have the cuddliness of a soft pillow and the creepy plastic face of a CPR doll all in one! You can purchase a make-out pillow here.
8. Willi Warmers
Remember that childish knitted sweater that your grandmother gave you for your 10th birthday that you hated wearing? Now your man can have their very own knitted pair of boxers! I mean, what grown-ass man wouldn't want to dress-up their package as a cute elephant? You can order your willi warmers here.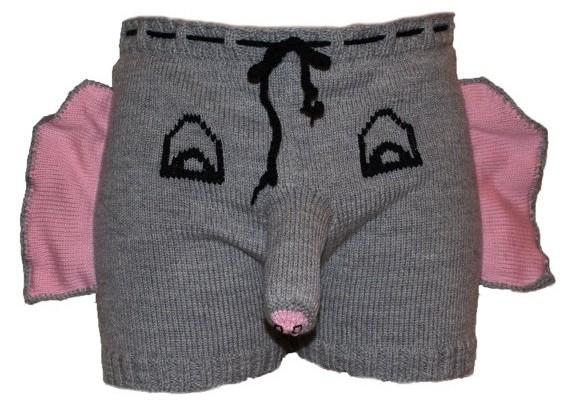 9. Undead Teds
Sure, traditional teddy bears are cute and cuddly, but they are rather cliché. Why not get her a teddy bear that will give her nightmares? Undead Teds are zombie teddy bears for that special someone with a morbid, sadistic dark side (okay, I admit, I kind of want one). Check out their creepy collection of bears at UndeadTeds.com.
10. Anthropomorphic Mice
Undead teddy bears not your thing? Brooklyn tattoo and taxidermy artist, Sue Jeiven, creates one-of-a-kind pieces of art with dead mice (she even offers taxidermy classes to make your own morbid creation!). You can purchase your very own mouse taxidermy kit here.
11. Karma Sutra Cookie Cutters
What do you get when you cross gingerbread men with 50 Shades of Grey? Why, karma sutra cookie cutters of course! The idea behind this gift may be cute, but lets be honest, these cookies look creepy AF! Karma Sutra Cookie Cutter sets are available on Etsy.
12. Poop Soap
Last but not least, there is poop soap, the "shittiest" gift of all (no pun intended). The set includes 2-peices of handmade soap that look totally disgusting, but apparently smell delicious. Poop soap is available on Amazon.
Have you received weird Valentine's Day gifts that make you say "WTF?!?". Feel free to share them below!
---