Get your hopes up, gentlemen! There are plenty of nice places to meet women that aren't the bar, the club, or the gym. Here in this article I will provide five of the best fast-food and fast-casual restaurants to meet a woman, and a few restaurants to stay away from if you want to save yourself from any trouble.
Here is one that really stands out:
Chick-fil-A
If you are not morbidly obese (very important!) and you are a frequent customer at your local Chick-fil-A, consider yourself lucky. I highly encourage my fellow straight men to order at Chick-fil-A.
Not only is Chick-fil-A considered the best place to meet women, but it is one of the very few big-name chains without a "woke" agenda and other postmodern nonsense. Unlike most other chains, you'll know the girls working at Chick-fil-A are high-value females.
Another thing too, Chick-fil-A is basically a church. 56% of Chick-fil-A's employees are women. 99.9999% of the time, you will never find a "worldly" woman at Chick-fil-A.
Here's the catch: Never spend less than $7.00 at Chick-fil-A per order. Trust me, those girls will think you are nothing more than a cheap beta male, a needy simp, and if they think you're "broke" they'll never want to conversate with you further. I highly encourage you spend more than $10.00 because these chicks at Chick-fil-A don't fool around. The more you spend, the longer it will take for them to prep an item/combo. The longer it takes for them to cook, the more these hot chicks will remember your name (they always ask).
Interestingly, Chick-fil-A's female employees show more interest in their male customers than their male co-workers and male managers. But only if those guys are considered "hot" to them.
By the way, here's something that Chick-fil-A has kept a secret from the general public: since 2001 (the year of the Mac OS X and Windows XP computers) the Christian American fast-food chain requires that all of its franchises train females to become artificial intelligence users for the first two days of their employment; here's how the rating scale works, and it only works on males:
A potential male guest rated an average of up to 4.5 out of 10 (by either 20 or 40 female employees) will be greeted, but not with a flirty or even a moderately friendly tone.
A potential male guest rated an average of between 4.6 and 6.0 out of 10 (by either 20 or 40 female employees) will be greeted, but will be required to introduce himself and pay more than $10 in order to show interest in the female employee.
A potential male guest rated an average of between 6.1 and 7.5 out of 10 (by either 20 or 40 female employees) will be given a subtle sign of platonic or romantic interest.
A potential male guest rated an average of between 7.6 and 9.0 out of 10 (by either 20 or 40 female employees) will be given an obvious sign of platonic or romantic interest.
Contrary to popular belief, there are no 9.5s or 10s. Even the "hottest" millennial celebrities (like Justin Bieber, Morgan Wallen, Drake, Playboi Carti) are only 8.5-9.0s at best. The "hottest" Gen Z celebrities (like Bryce Hall, Jacob Sartorius, Playboi Carti, Kodak Black) have it theroetically even worse.
I'm telling you man, Chick-fil-A does not mess around. They're looking for high-value male customers who frequent their franchises, and if you are one of them, consider yourself lucky, because for every Chick-fil-A on this planet there are at least two, sometimes three really cute female employees. Don't get your hopes up if you are just "average" or ugly, though; you need to be really hygienic (and that includes your diet and lifestyle).
Here is another one that stands out, albeit a more inclusive candidate:
Starbucks / Target-Starbucks
Actually, coffee shops in general (including Dunkin, Krispy Kreme, and depending on your political views, Black Rifle Coffee Company) are some of the best places to meet a woman. Starbucks and Target-Starbucks are the ones that stand out the most. Why?
Starbucks and Target-Starbucks have literally every type of barista you can select from. Consider yourself lucky if you ever get approached by a very-pretty or very-sexy female, especially if the other barista even happens to be a male or a plus-size female. It's like winning the lottery!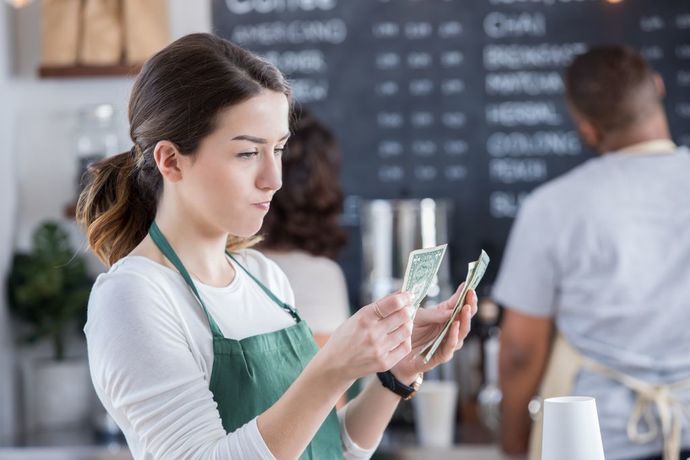 Make sure to request TWO "special order/secret" items that aren't on the menu. This will instantly make the hottie remember YOU, even if you think she's "out of your league" or she's a "10". Here's the greatest thing about Starbucks/Target-Starbucks...they're nowhere as strict (or snobby) with female employees approaching male customers as Chick-fil-A is.
If you subconsciously see yourself as "average" or "above average" (which is likely what most females see you as), it's considered "proper etiquette" to give her a tip (+10-30% of how much you paid for your order). If you're super-duper-attractive however (like Justin Bieber or Bryce Hall), you likely can get away with not tipping her.
There's really only two types of dudes most ladies (especially the "hot" female baristas and customers) are into these days: providers and players. That's because the gender ratio of the Starbucks workforce is overwhelmingly (at 69-70%) female! So if you plan on dining in and especially if you're obviously nowhere as handsome as the top 10% (like Justin Bieber or Bryce Hall), please be sure to bring something that's considered "cool", "trendy", or "materialistic" with you.
Any sushi or Thai restaurant
Most white/Hispanic men (and even some black men) have a thing for Asian girls, and those girls work alongside Asian guys (and the irony is that most Asian girls in America prefer someone "exotic", as if the white man's a Ferrari and the Asian man's a Camry). C'mon, we've all been to sushi and Thai restaurants. To check out the girls more than to eat the food they provided. You're literally lying if you swear you've not seen a cute girl over there each time you visit.
Obviously you're not there to flirt with them, unlike at Chick-fil-A or at Hooters, they're always "strictly" business (and fancy business at that). But if you give them a "humorous" tip on a little piece of paper they give you and write down something creative, instantly they will remember you and keep you in mind!
Here's a secret about MOST of those sushi and Thai-restaurant employees, they're on Tinder way more often than your typical college or postgraduate girl is.
Just be careful not to approach the female customers (unless they 'talk to/smile at' you first). The employees are literally the only ones you need to deal with.
If you're at a sushi place, PLEASE don't order just a "cheap" California Roll. Get the Las Vegas Roll and combine it with a mussel if you have to; these girls will instantly be turned on by your taste.
If you're at a Thai place, order a milk tea (of any flavor you prefer) with boba. It will boost your energy, your ego, and your confidence even better than any of those so-called "energy" drinks ever will.
El Pollo Loco

I know you're thinking - I'm crazy for saying this, but El Pollo Loco is a good place to meet up the spicy Latinas (or really just any girl frequenting the spot). For better or for worse, you'll have a much higher chance meeting a single at the dining table than at the cashier front. As with sushi and Thai restaurants, El Pollo Loco employees are "strictly business" people and often don't have the time or energy to hit on customers. The environment at El Pollo Loco is far too strict and professional for that situation to happen.
Unlike at Chick-fil-A where you need to spend more to impress, at El Pollo Loco you only need to spend less to impress - it's basically a polar opposite. If (and only if) you catch a cute girl glancing at you, order a street taco for her and tell the girl that you originally ordered it for your"self".
Make sure to dress nice if you want to impress a girl. Sweats, shorts, light denim jeans, t-shirts are OK if you're not looking for a partner right now, but if you really want to "dress to impress", you gotta dress like a pro. Polos, v-necks, collared shirts, dark denim jeans, khakis are what attract the ladies - especially those of Latin and/or Hispanic descent.
Not many people do this, but please tip the El Pollo Loco cashier, even if it's a dude. You will stand out and the female employees (and customers alike) will see that in you. If you don't tip, you come off as either a high school jock or a complete chicken, and no mature woman looking for a serious relationship wants to date such a boy (because I use the term "man" very lightly).
Arby's
If you "like" or "love" Chick-fil-A, you will LOVE Arby's 110%! Arby's is nowhere half as commonplace as Chick-fil-A, yet it still relies on the same old-school traditions without being as "overrated".
Wendy's fruition in the young-female demographic and workforce has kind of died out (not to mention how overwhelmingly pro-LGBTQ+ they have become, and they're prioritizing them over straight women); now Arby's is taking over that (cisgender straight woman) market Wendy's left a "long" time ago. Unlike any other chain, these "bossy" men that Arby's franchises have are pretty darn cool for their age and/or experience.
Almost like the girls at Chick-fil-A, many of these women at Arby's have father figures - only better. These men are the fathers the girls wish they had, lowkey teaching them advice on how to be high-value women. They're not as looks- and money-focused, and they'd rather prioritize the personal experience of a male guest like you.
Now that I have completed the list of restaurants to meet up the cute girls, now here I'm going to go over the five that you should definitely stay away from!
McDonald's
Aside from being overrated, I wouldn't ever want to be caught dead flirting with even the "hottest" girl that works or dines at McDonald's. Sure, she might make you a delicious coffee, snack, or sandwich. That doesn't mean the environment is good. As a matter of fact, McDonald's doesn't pay its employees well and it literally prioritizes child labor.
Please NEVER EVER donate to "Ronald McDonald House Charities". If you make that mistake, you are screwed. There's a reason why those little-box donations have more room for pennies than dollars. It's because McDonald's exploits those children that are supposed to be in need. It's exactly why McDonald's went downhill by removing those playgrounds many of us used to play on.
DO NOT TRY AND PICK UP A HUMAN CHICK AT MCDONALD'S. The only chicks worth picking up are the McNuggets, and those are hella bland and hella soggy.
Hooters
No, old man, you are not impressing all those young chicks. Or at least not without all that money in your pockets. If you think they're all attracted to you, you've fooled yourself 1,024 times more than Barney convinced his kiddie viewers that dinosaurs are real.
Hooters is the Purple Dinosaur of adulthood. It's retains all that juvenile mentality with even more useless bullcrap and narcissistic chuckles. It's literally a laughing stock of the American exceptionalist-capitalist industry. It seems cool on paper, but truth be told, these female waitresses get hit on 24/7.
I'm not saying you should hit on hostesses and waitresses at places like Twin Peaks, Applebee's, Olive Garden, The Cheesecake Factory, or Dave & Buster's either. But absolutely nothing beats Hooters in trying to make sure women sexualize themselves without even a proper minimum wage.
Hooters' restaurant staff literally get paid less than Chick-fil-A's restaurant staff. Besides, the girls at Chick-fil-A are sexier by default (naturally instead of artificially with all of the pointless makeup, surgery, high-following "social" platforms).
Hooters is a joke - a wolf in sheep's clothing, and the opposite of what it seems to promote. I trust gas station "sushi" more than I do Hooters.
Any quasi-"Mexican" chain
Another wolf-in-sheep's-clothing mentality is the dreaded quasi-"Mexican" chain. Yes, that includes your local Taco Bell and Chipotle. I'd argue that these two are even worse than Hooters since they claim to be exactly what they are not. Neither of the two companies ever properly prided in Mexican heritage, and none of their founders nor their CEOs ever were Mexican.
Just land yourself a high-paying job and pay at the taco truck or a small mom-'n-pop shop for some spicy little wrapped up burritos and street tacos. Neither of these two companies can ever intersect their postmodern western culture with actual Mexican culture. No wonder the female employees working there these days often are Gen Zers who cope with stress, fake "depression", and often have no father figures.
KFC / Popeyes
KFC's macaroni and cheese individual side is very cheap due to its low quality and nearly burnt out taste.
Popeyes is not as popular as it was several years ago, and for good reason. There have been hundreds of reports in crime incidents involving employees at Popeyes. Its environment is very "ratchet".
No wonder most people prefer the classiness of Chick-fil-A more.