I personally feel anime is a grossly underrated genre in the movies category in general. It also sucks that Disney animated fare waaaay better than these gems. There are so many good anime's out there. So many to choose and none would disappoint. So reluctantly, I'm gonna choose MY list of top 10 anime movies. I'd like whoevers reading to post the the top five anime movies they've seen so that I can watch the ones I haven't, review them and update this take. Right, so without further ado.
10. Howl's Moving Castle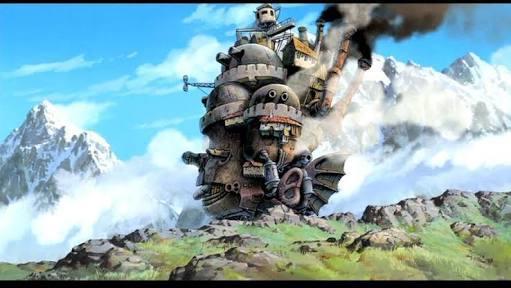 Yes! This list starts with a bang. Howl's Moving Castle is one of finest pieces of anime I've ever seen. Hayao Miyazaki is amongst the greatest anime directors of all time and this movie illustrates exactly why. This fantasy romance is worth a watch for any anime lover out there. Without giving away too much, the story blends on the adventures of a girl and a wizard caught in middle of a war. Words do not give it justice. A picture is worth a thousand words. This anime is worth millions. Literally.
9. Neon Genesis: Rebuild Of Evangelion
Neon Genisis.... What can I say? I haven't seen a more crazed after and controversial anime. Along with high tension drama, fan reaction and a few death threats. This anime perhaps catapulted the mecha genre to new highs. Also know for its reflections on humanity. Realistic protagonists and its ruthlessly oppressive atmosphere. This anime cemented its legacy in a variety manga, anime series, spin offs and movies(ofcourse). I'm giving this spot for the Rebuild Of Evangelion tetralogy. The last movie is supposed to come out this year. But based on what I've seen. It will not disappoint.
8. Spirited Away
Spirited Away! Yes another Miyazaki masterpiece. What can I say? I cannot recommend a better first anime movie than this. The subtlety, innocence and resolve of this adorable protagonist will steal your heart. This is an excellent addition to your anime list if you haven't watched it. So watch it, watch it and.... Yeah, watch it.
7. Ghost In The Shell
So... This anime is difficult to recommend just because its awesome. So awesome. Badass protagonists. Badass antagonists. Cyberpunk done right. Yes. Exactly, makes Blade Runner look like Sesame Street. This sprawling anime will leave your jaw open while you watch what the beautifully directed animation cut lines in your head. Hell yeah. Even if not for the story, this is a must watch for its aesthetics. The story is awesome by the way. AWESOME!!! Phew, sorry. Also there's supposed to be a 2017 Scarlett Johansson starter based on this movie. Hope they do it right.
6. Samurai X: Trust And Betrayal
Sob. Strictly speaking this is an OVA. BUT.... All the four episodes strike together to make a movie about two hours long. This is anime greatness. I wish that I'd placed it higher on the list but as a fan of the series I'd admit to being biased. This masterpiece will move you to tears. There hasn't been a single person that I've showed it to who hasn't shed a tear. The soundtracks, the story, the swordplay, the animation, the characters, what the hell, the whole bloody package. This is my personal recommendation for a mature touching anime. Watch it, absorb it and you will wonder why the west doesn't make stuff like this.
5. Dragonball Z: Resurrection 'F'
Its Dragonball Z.... Need I say more? Sigh. Ok. Now, if you haven't watched Toonami. I'm sorry. You've missed out on your childhood. This anime is the reason why most people turn to anime in the first place. Now talking about the movie. I was fortunate enough to enjoy a theatrical screening of the movie and I was blown away. That should not mean you shouldn't catch it on the small screen though. This is the perfect way to get your adrenaline pumping. So.. Put on your power readers and go Kame Hame...
4. Grave Of The Fireflies
Yes. This movie... One word. Haunting. It will haunt you. So I will tell you in the very beginning, if you do not do tragedies. Do not go for this. This isn't for everyone. After this movie ended, I sat and wept for a full twenty minutes. Its so beautifully done. This movie manages to do a Schindler's List. Its rare for a movie to potray war like that. Even rarer for an anime. If you can steel your heart, this movie is definitely a must watch.
3. The Girl Who Leapt Through Time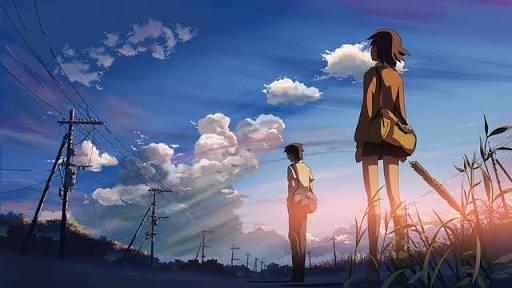 Yep, this is probably the top romance anime movie on this list. If time travel is your thing, hell yeah. This movie is so refreshing. The humor, the scientific explanations, the romance, the characters and the visuals. They're all excellent. Pick this up for a romantic afternoon with your partner. You will not regret it.
2. Steam Boy
Yep. Before you go hating me, pure anime lovers. In this anime's defense. Its a technical masterpiece. Its grand, probably the most expensive anime made here. This is soooo good. You will lose yourself to the visual. Not to mention it has a good story to boot too.
And dumdumdumdum
1. Akira
Yes! Hell yes! This is the greatest anime movie of all time. The godfather of anime films. This movie perhaps changed the way people saw animes. The outstanding visuals, plot, characters, mad science, philosophy of this movie is unrivaled. So, this is my must watch anime film for any of you, anime fans or non anime fans, it deserves your attention.
Afterword:
So, before you bust my balls. This is my list. If you disagree, please post. I'd actually be happy to view the movies you think deserve the best spot and I shall edit it accordingly.
Honorable Mentions:
Cowboy Bebop: The Movie, Princess Mononoke, My Neighbor Totoro, The Animatrix and several more really.
Top 10 Anime Movies List - Part II
---