So it was confirmed a long time ago that the movie will be similar to Planet Hulk and that Thor and Hulk would be fighting. The first promotional art has just surfaced online.
I originally thought this was fake but turns out it's official. We have Thor wielding dual swords and Hulk in his gladiator armor. I was placing my bets on Thor earlier but I think Hulk might win now (especially since Thor won't have his hammer Mjolnir). Hulk even has the red spikes on his helmet, just like I wanted him to. Hulk's story in this is being adapted from the Planet Hulk storyline, but Thor's story isn't from a Marvel comic. It's directly from Norse mythology. There were rumors that Thor would go bald just like in the original story, but they confirmed that he'll just be having short hair instead. Ragnarok literally means "The death and rebirth of everything", but that's a story for another day.
Their fight is not what I'm most excited about, though. They said that this will be more of a buddy-cop movie, so I want to see the interaction between them. And for those of you that get most of your knowledge from the live action movies, here's a fun fact... Hulk can actually talk in the comics. It's not a skill that acquired either. He's been able to do it since his first appearance.
If you've watched the first two Thor films, half of each was set on Earth. They did this to make the movies more relatable so the average movie-goer would enjoy it. They're considered two of the weaker movies in the MCU though. Marvel decided to change their plan after the success of Guardians of the Galaxy. They were taking a big risk by making that movie. It was almost entirely set in space and also featured a talking raccoon and a walking tree. But since it was successful, they're not afraid to go full comic-book. They've confirmed that almost none of the next Thor movie will be set on Earth and Natalie Portman isn't even in it.
But that brings up an interesting question... I know what Thor's story will be about in this movie (and it's pretty darn interesting), but what about the Hulk? How are they planning to make Hulk more interesting in the MCU?
The movie rights for Hulk's character isn't owned by Marvel but by Universal. Marvel wants to make another solo film about him, and they would have done it if they could. They've been using the character in crossovers for this reason. I'm glad he's finally getting a movie where he'll be getting more attention since they don't have as many characters to focus on, but it's probably not by much since the movie is going to be mostly about Thor. They did reveal that it'll have elements from Planet Hulk, but to what extent?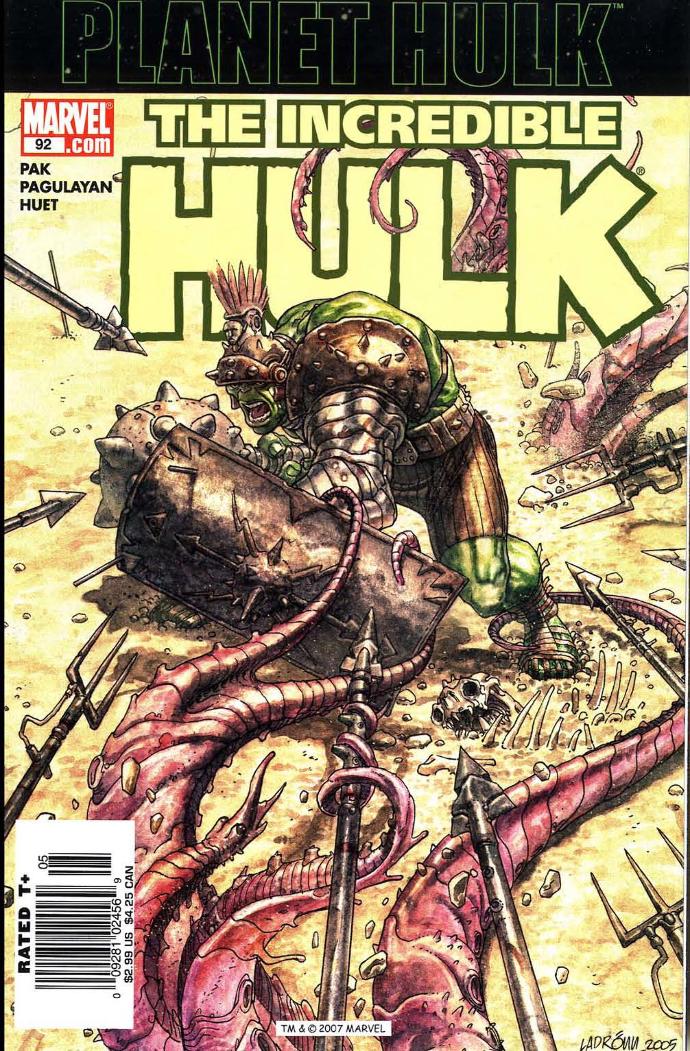 The MCU has shown us what Bruce Banner's personality is like, but we've only seen Hulk when the camera required him to fight. One of the things I liked about Planet Hulk is that the story was not about Bruce Banner but about the Hulk. We get to know more about the Hulk; why he hates humans, why he wants to be alone, and why he hates Banner more than anyone else. You see more of the inner struggle between Bruce Banner and Hulk. But for once, you actually see Hulk winning their battle. It wasn't because he was stronger, but he was more determined to get what he wants... Peace and riddance from humans.
There's an animated movie adaptation of Planet Hulk too. I personally enjoyed it but thought it could have been better. They did cut out a lot of scenes from the movie in order to make it more family-friendly. The plot was pretty much the same, but they did change some minor details. But since they cut out parts of the story in a movie about Hulk, how much could they possibly have in a movie about another character? All they've revealed till now is his gladiator armor during SDCC.
He uses this armor to fight Silver Surfer in the comics and Beta Ray Bill in the animated movie. It would make complete sense that he'll be fighting Thor in the upcoming film. Thor is the only character that this version of Hulk often interacts with who's actually been in space. Rumors suggest that Thor will find him on another planet in the movie before they team up to eventually fight the real villain. Here's a question for you, though... How do you think MCU Hulk would act on another planet? We've never seen him in space before. Do you think he'll like it there or would he want to find his way back? The last time we saw him was in Avengers: Age of Ultron when he boards a ship and leaves for an unknown location (possibly away from Earth).
One of the best parts of Planet Hulk was when he reveals to Silver Surfer how he really felt after spending all of that time on Earth. I was pretty surprised while reading it and didn't expect this, but it makes complete sense.
He admitted that he was jealous since unlike him, Surfer wasn't stuck with humans. You could replace Silver Surfer with Thor here, and it would still make sense. The bottom line is that he saw a man from the stars who could travel the universe swiftly and it made him want to be away from Earth. I think this idea really works, but I doubt if it's going to happen. MCU Hulk isn't developed enough as a character for this to take place.
Keep in mind that they're not afraid to go full comic book this time. Marvel actually revealed that Thor: Ragnarok is going to be the biggest movie of Phase 3 and will set up Avengers: Infinity War. Even Doctor Strange is confirmed to be in the movie. The movie will probably reveal the final infinity stone and I wouldn't be surprised if Thanos himself makes an appearance. I've got pretty high expectations from this movie and I'm hoping it doesn't disappoint.
So do you think Marvel should focus more on Hulk's character? If you're excited for this movie, what do you want to see the most?
---