I love saving money, and that extends to the wonderful world of beauty products. I love to experiment and try new things, but I also like coming back from those adventures with some spare change left in my pockets. (All items were purchased from Amazon.com unless otherwise stated.)
1. The Brush Egg $2<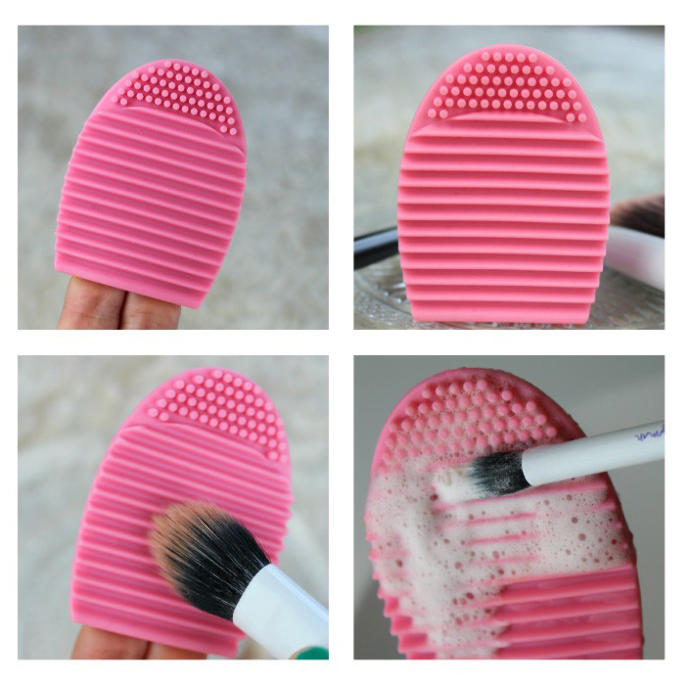 This item is a godsend if you want a hygenic make-up brush set. I have some 15 different make-up brushes that I use and cleaning them used to take FOREVER until I found this little baby. It's plastic, comes in Pink, purple, or mint. You slip it on your pointer and middle finger, put a dab of soap of your choice on it, get your brush(es) wet, and then scrub until clean. The ridges get into the center of the brushes where it seemed previously I could never get fully clean.
2. SHANY eyeshadow palettes $20<
I'm always ultra leery of make-up purchases online from brands I'm not familiar with, but this one was recommended to me by a friend, and I've been a total convert. The palettes are ultra pigmented, come in a range from 88-120 shades (or more, or less depending on what you're looking for). The colors are bold and true on both light and dark skin. It's great if you really like to experiment with colors or color blending and they last quite a while.
3. E.L.F. Kabuki Brushes $6 (Target/Amazon/Walmart)
Kabuki brushes are all the rage in make-up. I think by now everyone has either heard of them or has one. I'm not really a fan of E.L.F. (eyes lips face) products in general because most of the line (to me) is cheap and horrible including other brushes and make-up I've tried in the line, but this one is a keeper. I've had my face brush for over a year now, and it is still holding up quite well. It is super soft, blends really evenly, and it doesn't shed even after hundreds of washes now.
4. Nu Pore Make-up Remover Towelettes $1 (99 Cent Store)
These little babies are fantastic for taking your war paint off at the end of the day, lol! I generally wear a full face of foundation and I just felt like I was always having to scrub way too long and hard to get it all off at the end of the day with other products, many of them much more expensive. Found these towelettes at the dollar store one day, decided to give them a try and have been a convert ever since. Leaves your face light and refreshed afterwards and the cheapness means you can stock up.
5. Covergirl Clump Crusher Mascara $6
I'm not a fan of spider eyes. That look when your mascara is just piled on and thick and ugh, the humanity. I have to hand it to this wand for letting me layer on the darkness as much as I want without getting that heavy, 'am I supposed to kill it and burn it,' look.
---