@LongSchlongSilvr you asked for it bud 😉
Beyonce & Jennifer Lopez
For starters, these two had to come first! They got my dream bodies!!
Ladies love to hate her, for some reason, some men wouldn't date her... but I look up to her all the more! I love Beyonce. I had to start this thing off with the Queen Bey! I've looked up to her since her Destinys Child days. I didn't want to be Kelly, Michelle, Latoya, and whoever else. I wanted to be the star, just like Ms. Knowles!! She's not that great at acting (Pink Panther and Fighting Temptations) but i did like her in Carmen: A Hip Hopera as well as Dream Girls and Obsessed. And she was hot in Austin Powers. She is one of my fave entertainers/dancers. Ciara is a great dancer too but im more TeamBey. Also she's not the best singer but she's just so darn entertaining
So she's not the best singer nor dancer but she is soo beautiful! I love Jennifer Lopez. she's a great actress in my opinion. I loved her in Maid in Manhattan, The Backup Plan, The Cell, Anaconda, Monster in Law, Enough, Selena, and the Wedding Planner. I think the Boy Next Door was a good movie but her acting wasn't. Same with Parker. I still love her though. This woman does not age!
Hillary Duff & Amanda Bynes
Now she's hockey wife and soccer mom, but back then she was one of every teen boys dream! I wasn't a big fan of the Lizzie McGuire show but i loved her character in A Cinderella Story, Agent Cody Banks, and Raise Your Voice. She annoyed me a bit in Cheaper by the Dozen. I adored her in Casper Meets Wendy. Material Girls was also a funny movie. I wasn't a fan of brunette on her but I loved this song by her.
Amanda Please! Before the drugs, she was the bomb diggity! I loved her in All That and The Amanda Show! And omg her movies: she's The Man, What a Girl Wants, Love Wrecked, and Big Fat Liar. I wasn't really a fan of Sydney White.
Raven Symone & Zendaya
I've loved Raven since Thats So Raven. She was adorable but badass in The Cosby Show. I don't like the path she's gone down these days but I loved her in Cheetah Girls, College Road Trip, and Kim Possible. She annoyed me in Dr Doolittle
Zendaya is so gorgeous! she's a great model, actress, and dancer. I loved her in Shake It Up. I wasn't a fan of her in Spiderman Homecoming. She did amazing in Dancing with the Stars. KC Undercover is a great show!
Vivica Fox & Lisa Raye McCoy
Someone say POWERFUL! These two women were bad azz vixens back in the day...
Vivica A. Fox was awesome in Independence Day, Kill Bill, Set It Off, Two Can Play a Game, Ella Enchanted, Juwanna Mann, Idle Hands, Getting Played, Motives, Little Secrets, and Ride or Die
I also loved LisaRaye. She was great in the tv show All of Us. So strong! I also liked her in Single Ladies. She was good in movies like Players Club, The Wood, Civil Brand, and Gang of Roses
Kristen Kreuk & Sophia Bush
I love Kristen in Smallville and Beauty & Beast. She was also good in Street Fighter and Snow White. She was so pretty there. she's always sweet and adorbs minus the villain side of her in Smallville.
I often rooted for Lucas & Peyton but I still had Brooks back after she stopped hoeing. Sophia Bush was more likeable when she took in Sam and started dating Julian on One Tree Hill. However, I was her biggest fan on The Hitcher. She was okay in John Tucker Must Die.
Mary Kate Olsen & Tia Mowry
I grew up watching Mary Kate & Ashley movies. And if it wasn't that, I was watching Full House, So Little Time, and Two of a Kind. she's was tomboyish and my fave twin.
I also loved Tia Mowry. She was my fave twin in Sister Sister and I liked her in The Game. She did some great movies like Twitches, Seventeen Again, and Double Wedding.
Cameron Diaz & Lucy Liu
First they were Charlies Angels, but they've done so much more!
I love Carmen Diaz! she's so goofy just like me! She was awesome in Shrek, The Mask, Charlies Angels, there's Something About Mary, What Happens in Vegas, and Knight And Day
I also liked Lucy Liu in Charlies Angels and Code Name the Cleaner as well as Kill Bill. Her freckles are adorable. I wanna check out Rise: Blood Hunter.
Maggie Q & Priyanka Chopra
I haven't watched Nikita but now I wanna give it a try. I love Maggie in Stalker and she was good in Divergent. Her scene in Die Hard GO HARD!
Priyanka Chopra in Quantico! Nuff said... But bet you didn't know she was Miss World 2000
Sandra Bullock & Jen Anniston
I loved Sandra in the Blindside, The Proposal, Miss Congeniality, Speed, Premonition, Practical Magic, Hope Floats, and The Vanishing. she's always so bubbly. Love her characters.
I still dont get how Brad left Jen for Angelina. she's awesome. I loved her in Friends. She also did good movies like Just Go With It, We're the Millers, The Bounty Hunter, and Marley & Me
Gabrielle Union & Halle Berry
She used to play such strong characters. I don't know what was happening with Gabrielle in Think Like a Man and Being Mary Jane. She was much better in Bring It On, Deliver Us From Eva, Bad Boys, Cradle 2 Da Grave, Love & Basketball and The Perfect Holiday.
I wouldve been crazy not to include Halle on this list. I mean come on! she's my fave Catwoman no matter what critics say. I loved her in Kidnap, The Call, Die Another Day, Gothika, Xmen, and even Losing Isaiah.
Tyra Banks & Jasmine Guy
Not only was she a Victoria Secret Angel but she became Americas Next Top Model! I love Tyra Banks! I really enjoyed her character in Life Size and Higher Learning. And she's just so goofy ha
Jasmine Guy made up one of my fave tv couples as Whitley and Dwayne. I loved her personality on A Different World. She also played Bonnies grandma on Vampire Diaries.
Kat Heigl and Reese Witherspoon
She may have been hated in Greys Anatomy but I love Katherines movies like 27 Dresses, Romy & Michelle, Life As We Know It, Killers, Valentine, and Bride of Chucky. She knows when to be goofy and serious.
I also like Reese Witherspoon. Thats my girl! When Hillary went MIA, i turned to Reese. I like her characters in Fear, Legally Blonde, This Means War, Just Like Heaven, The Man in the Moon, Pleasantville, Monsters Vs Aliens, and Sweet Home Alabama.
Gina Rodriguez & Alexa Vega
I love Gina as Jane the Virgin! Amazing actress. She also did good in Deepwater Horizon. I can't wait to see more from her.
I've loved Alexa Vega since Spy Kids. I also enjoyed her movies Sleepover, The Remaining, and Odd Girl Out. Her character in Machete Kills looked pretty badass too.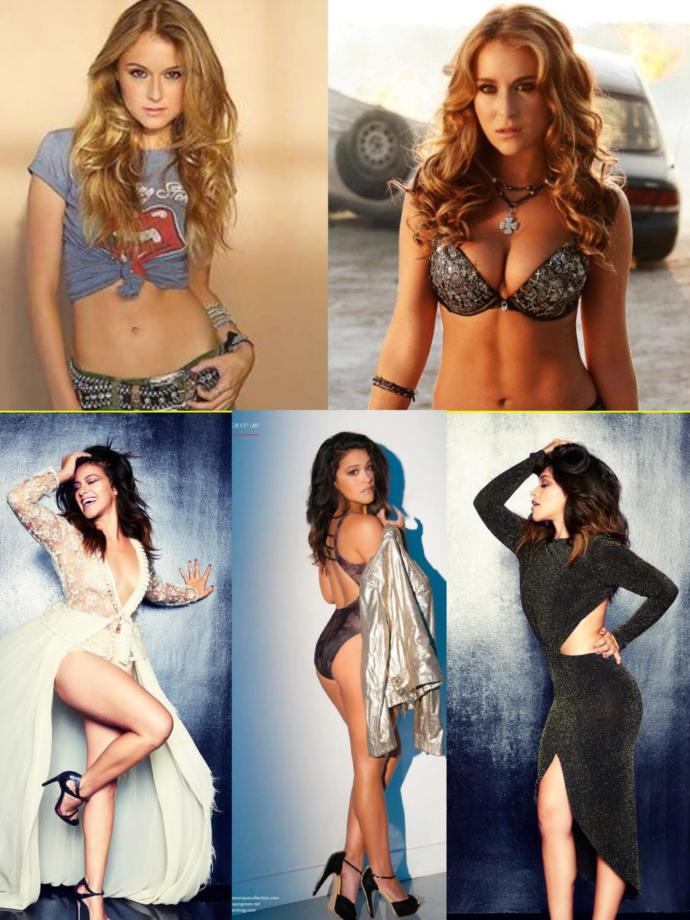 Nicki Minaj & Tae Heckard
Yes, I'm sure I'll get criticized for this... but along with little Kim, Trina, Eve, and Missy Elliot, Nicki came to be one of my fave female
rappers. I hate her butt is fake among other things but she's still a beauty to me.
Along with the rapper came the music video girl. Tae is a blasian beauty who I've watched since a kid and lol i actually used to wanna be just like her haha. You can see her in many music videos as well as on The Game.
Jessica Alba & Roselyn Sanchez
These two are so beautiful. I love Jessica in movies like Fantastic Four, Idle Hands, & Honey.
Rose is great in shows like Devious Maids and movies like The Game Plan, Rush Hour 2, Boat Trip, Chasing Papi, and Held Up.
Milla Jovovich & Catherine Zeta
As for more strong women... Who doesn't love Milla!? she's soooo badazz! I love her in Ultraviolet, A Perfet Getaway, and of course Resident Evil series.
I also love Catherine Zeta Jones in movies like the Legend of Zorro, Entrapment, The Haunting, Sinbad, and No Reservations.
BritneySpears & ChristinaAguilera
These two have been two of my fave pop singers since childhood.
Lindsey Lohan & Ashley Tisdale
Before the drugs, Lindsey was the shiznit. I loved her movies: The Parent Trap, Mean Girls, Just My Luck, Freaky Friday, Herbie, and Lifesizs. I know Who Killed Me was meh. She and Amanda needs to come back with more movies.
Ashley Tisdale annoyed me in HS Musical but i liked her in Suite Life of Zach and Cody. I also liked her songs like He Said, She Said and Be Good To Me and Not Like That.

Keshia Knight & Jodie Sweeten
Anyone remember little Rudy from Cosby Show and Stephanie from Full House. They were my fave characters on those shows but theyre far from little now lol...
P.S. If i didn't name someone, its probably because I didn't like them...
#FeelFreeToList #CelebNostalgia #LovelyLadies
---