Although I am the biggest fan of learning to cook for yourself, not everyone cares to learn or wants to...which is unfortunate. However, you can still put together an impressive meal with little to no cooking skills that doesn't involve you calling for take-out.
1. Course One: Sumptuous Salads
Salads generally are the easiest course to make because most of the stuff you can buy these days in a pre-packaged bag ready to go, but ditch the bag and make these super simple salads that look more impressive then dumping some lettuce with some carrot shards out on a plate.
Cut in season seedless watermelon into 2x2 inch squares. Then stack one slice with an equally sized slice of feta cheese, followed by another slice of watermelon, then top with arugula, the best aged balsamic vinegar you can afford, and a bit of sea salt.
This classic Caprese salad is as basic as you can get. Slices of tomato with a pinch of salt on the tomatoes, followed by slices of mozzarella, followed by fresh basil, drizzled with aged balsamic and olive oil.
Another basic beauty, take an in season green pear and slice it thinly. Layer it with goat cheese, dried cranberries, and hazelnuts, and arugala. Drizzle the whole thing with organic honey.
2. Course Two: Simple Soups
Soups are really easy to make, but if you are never going to put fourth the effort to try, in your grocery aisle, find a nice organic bisque or chowder soup. Heat it up on the stove top or microwave, and then top with a garnish like fresh basil, a nice crisp piece of bacon, lump crab meat, shave some fresh parm on top, garnish with a few chives, or drop some cream in and use a toothpick to swirl it around to make an interesting pattern. Be sure and serve it with a nice slice of toasted bread. This should be a small course, in a multi-course dinner, so there is no need to have an entire giant bowl of soup. A one cup serving should suffice.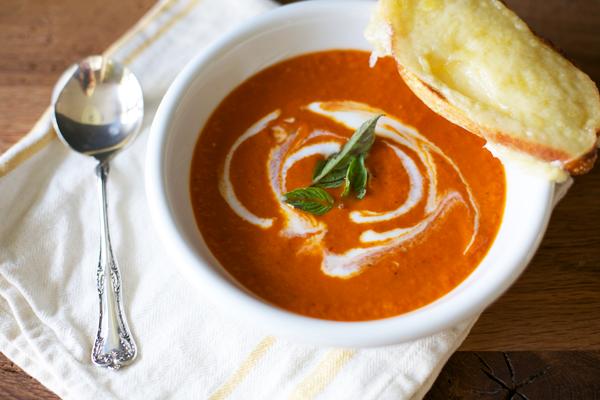 3. Course Three: Magnificent Main Course
Four words...either "slow cooker" or "sheet pan." Slow cooking is so damn easy. Most if not all the veg you add into a slow cooker can be found pre-chopped at the grocery store, and everything else is just dumping cans and sauces and spices into it and then letting it cook for you. This is a life saver for the time strapped or the lazy because you don't need to do anything while the food cooks, just let it do it's thing.
Sheet pan meals are the oven's answer to the slow cooker and typically require less time to make them. A sheet pan meal can be as simple as a little seasoning and sauce on some chicken or fish, put that in a pan over top or next to some veg with a little oil, and let the oven do it's thing. Make absolutely certain you set some kind of timer so you don't allow your masterpiece to burn.
https://www.familyfreshmeals.com/2017/04/easy-sheet-pan-dinners.html
4. Course Four: Delightful Desserts
Always end a meal with a good dessert. Sure you could buy a pie or cake, but you could also make a beautiful dessert with little effort.One of my favs, is the dessert cup trio. You can find tiny dessert cups, plastic or glass, at dollar stores, grocery stores, or places like Ross or Walmart. In a pinch, just use shot glasses. They are easy to cobble together. For example, take some strawberry pie filling in a can, add a little to the bottom of the cup, top with graham cracker crumbs, another layer of pie filling, whipped cream, and then on top, one fresh strawberry. Another would be to do a S'mores cup. Graham cracker crumbs, marshmallow fluff, melted chocolate, whipped cream, top with chocolate candy bar crumbles and a mini piece of chocolate. Apple pie cup with graham crackers crumbled on bottom, apple pie filling, top with whipped cream. The sky is the limit.
No bake cheese cakes are another easy one. Here's an easy no fuss recipe:
http://www.geniuskitchen.com/recipe/no-bake-cheesecake-120755
And for a nice little healthier option, dip a store bought cone in some melted cocoa nibs, let it set, and then fill the cone with whipped cream, pudding, pre-made custard, and some fruit, or just fill with fruit which you can buy pre-chopped.
---