The eyes are the window to the soul.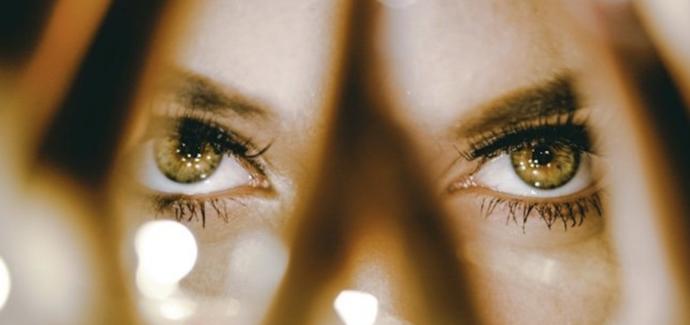 It's not just poetry, there's something almost mind-reading about staring into someone's eyes. It''s very open and intimate.
While the research does come across as coming to accurate conclusions, it seems like it is only a part of the picture. It focuses on pupil response to aroused emotional states, but doesn't speak to the connection, nor the ease with which I (and others) can read someone's emotional state and intentions by looking deeply into their eyes, especially when their shields are down.
https://www.psychologytoday.com/us/blog/talking-apes/201512/your-eyes-really-are-the-window-your-soul
https://getpocket.com/explore/item/to-read-someone-s-mind-look-into-their-eyes
Though I don't experience hallucinations, the results of this study seem like it's closer to the reality of the experience. It's like the world fades away and all that exists is her. He eyes sparkle and seem to be looking into me. And they are, and I am looking into her. In those moments that seem like seconds and eternity at the same time, we are connected.
https://sorendreier.com/looking-deep-into-someones-eyes-can-induce-altered-state-of-consciousness/
Consider last night. I had just gotten to the bar. Outside there was a couple that I was talking to after they overheard me talking to someone else about being single. The woman was saying that she had lesbian friends who were having trouble finding a third. I wasn't as interested as she was expecting. I was guarded. Not only did I not believe her, I wondered why. Do they hate men? I asked if they don't like men. Then the conversation got into women who do and don't like men and feminism and I was saying that not all women and not all feminists, but yeah. I don't think I came across as hating women or anything (and I obviously don't) but probably as being cautious or damaged (which was accurate lol): my shields were up. Then, as the conversation lulled, maybe to determine whether I do in fact have mean-spirited intentions, she suddenly got right into my face with big open connect-y eyes and smiled and I instinctively dropped my shields completely and smiled and stared into her sparkly eyes and connected with her as the world disappeared around us.
I didn't take this as her hitting on me; rather, as getting to know the true me. This is a way that a woman can tell if a man has bad intentions (or the other way, I do this to women too), and if I did I wouldn't have been able to hide it. Since I don't, I connected and lost myself in her eyes. I like doing that. It's not just a way to gain information, but also it's a deep bonding experience.
An open window never lies 🤩