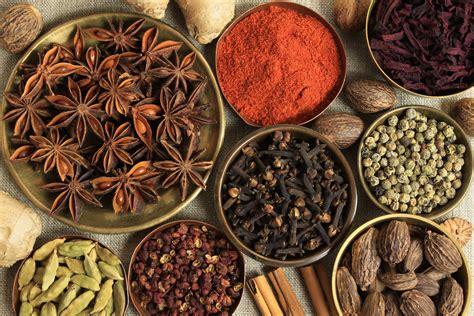 It's getting colder (in the Northern Hemisphere, at least ). I thought we could look in more detail at those Warming Spices I mentioned in my Herbal Tea series. (This started out as a take on cloves, but soon expanded to several spices.)
So, which ARE the Warming Spices?
Allspice, cardamon, cinnamon, clove, mace, nutmeg, star anise are generally considered the basic warming spices. They coordinate well with orange, berry, chocolate and even some "hot" spices when creating a flavor profile in your winter foods such as stews, chilies, and of course, mulled cider- regular or "hard". They are all somewhat interchangeable for each in cooking, but there ARE some subtle differences. As usual, when I mention any possible health benefits of these spices, this is NOT a medical recommendation and I urge you to see your doctor before making ANY dietary changes.
ALLSPICE
Allspice got its name by those who thought it had the combined smell and flavor of cloves, nutmeg, and cinnamon. (who would have thought!?) That being said, it is NOT a combination of ANY of these spices. And THAT Being said, it IS in the same botanical myrtle family as cloves! Allspice berries are dried in the sun, and then ground to release their unique aroma. Allspice is reputed to have a number of health benefits, mostly relating to digestive problems. Allspice is also a decent culinary substitute for cloves. Mace, which I did not separately list, is really the outer red covering of the nutmeg seed. Add it near the end of cooking since it can become bitter if overheated.
CARDAMON
Cardamom is a spice made from the seed pods of plants in the ginger family. The pods hold several small, black seeds: the whole pod can also be used, whole or ground.
The spicy-citrus flavor of cardamom is spicier and not as sweet as cloves. Combine it with cinnamon to achieve a flavor profile similar to cloves. Reported health benefits of cardamon include help with immune and digestive issues, including IBS.
CINNAMON
Cinnamon is actually the ground bark of the cassia tree! Cinnamon is best known as a spice, sprinkled on French toast and lattes. Bark extracts, however, have also been used in traditional medicine around the world. Cinnamon "shows promise" as an antioxidant, antibiotic, and anti-inflammatory, but there aren't enough studies to make any claims for now. Just enjoy the tasty cinnamon buns with sugary icing (and forget about the health stuff, right?) Some cooks use cinnamon with a small amount of vanilla as a substitute for cloves. Remember that cinnamon will NOT dissolve directly in water the way that salt or sugar do, so add it to your recipes once the emulsion of other ingredients has been formed.
CLOVES
Tiny but flavorful, these aromatic dried flower buds of the clove tree- a type of myrtle- provide a warm, spicy, edge to stews, soups, sauces, meat marinades, rice dishes, and beverages, and a decorative touch to Easter hams and studded orange pomanders.
Cloves are a perfect combination of pungent, sweet, strong, bitter and warm, mostly created from the terpene eugenol.
That major terpene- eugenol, as mentioned in my prior Take- is also a potent anesthetic, widely used in the dental profession.
NUTMEG
Nutmeg is dried the seed of the nutmeg tree. It is usually pre-ground or grated fresh from the seed in cooking. Nutmeg has a flavor and smell similar to both cloves and cinnamon, and is a decent substitute for either in your recipes.
STAR ANISE
As do cloves, Star anise also contains eugenol: this is why star anise can also be a substitute for cloves. However, star anise has a flavor that is slightly more bitter with a licorice edge to it. Both star anise and cloves also contain anethole, a proven antiseptic. Enjoy it for it's eye-catching eight-point-star aesthetic and licorice aroma when decorating for the fall holidays!
Hopefully, these similar, complementary Warming Spices will give you a nice, toasty feeling this fall and winter. If not - - -