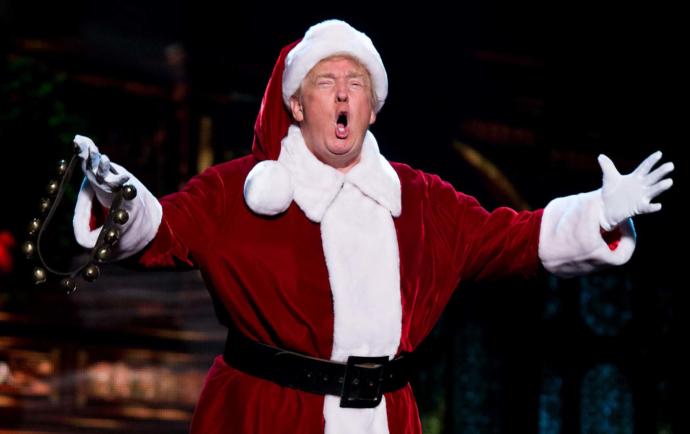 https://www.yahoo.com/entertainment/trump-people-saying-merry-christmas-214223949.html President Donald Trump saved America's right to speak the words "Merry Christmas."
HO-HO-HO...
So today is Christmas, and not to sound like John Lennon - What have you done, another year over....
but I digress. There is a War On Christmas if you didn't know. People wishing everyone a "Happy Holidays" not "Merry Christmas..

https://www.merriam-webster.com/dictionary/holiday
a day on which one is exempt from work specifically : a day marked by a general suspension of work in commemoration of an event
https://www.thefreedictionary.com/holiday
In American English, a holiday is a single day or group of days when people do not work, often to commemorate an important event.
As per custom.. the season begins on Thanksgiving. A HOLIDAY. Where people are OFF FROM WORK. To GATHER WITH FAMILY From November 28 to December 25 is a total of 3 weeks and 5 days, a total of 26 days, PLUS another 7 days for New Years Eve / New Years Day.
In regards to Thanksgiving, people take a HOLIDAY normally from the November 28 to December 1st for this calendar year to be with FAMILY.
Today being Christmas, is a Holiday. People are OFF from WORK to GATHER WITH FAMILY. Sometimes until the 30th depending and if allowed.
Now we do forget one detail. We got Hanukkah
And we got Kwanzaa
So "IF" you see someone walking on the street.. And you dont know who or what religion they follow..
You will walk up to them and wish them "Merry Christmas" when its not their holiday (I know some would....)
To those who want it.. MERRY Christmas...
To those who dont.. HAPPY HOLIDAYS!