When Summer arrives, travel is one of the first things that comes to mind. The great weather makes us all come out of our duvet cocoons and discover the beauty the earth has to offer. If you're planning to travel somewhere, here are some of the world's most beautiful places.
Cappadocia, Turkey
Their cities and towns have been entirely carved out of the rock!
Mù Cang Chải, Vietnam
Mù Cang Chải is considered to be one of the most beautiful areas in Vietnam.
Benagil Sea Cave, Portugal
A totally instagrammable place to spend your summer.
Ashikaga Flower Park, Japan
These breathtaking trees bloom for a few weeks every Spring time.
Brecon Beacons National Park, Wales, UK
Obviously, my lovely country had to be included. ;) Winding roads and incredible history makes this whole country, as well as the Brecon Beacons, a memorable visit.
Milford Sound, New Zealand
This place must be amazing to see in real life.
Bryce Canyon, Utah
It looks like something out of a Sci-Fi film! Our world has so much to offer.
Isle of Skye, Scotland
Scotland is where your dreams are based.
Keukenhof Park, Holland: The Netherlands
To see this spectacle, you'd have to visit in the month of April, where hundreds of thousands of tulips are planted.
Bagan, Myanmar
Something out of a fairy tale.
Santorini, Greece
It's no wonder that Santorni is one of the best islands in the world.
Lake Louise, Canada
Who wants to go for a swim?
Torres del Paine National Park, Chile
Wulingyuan Scenic Area, China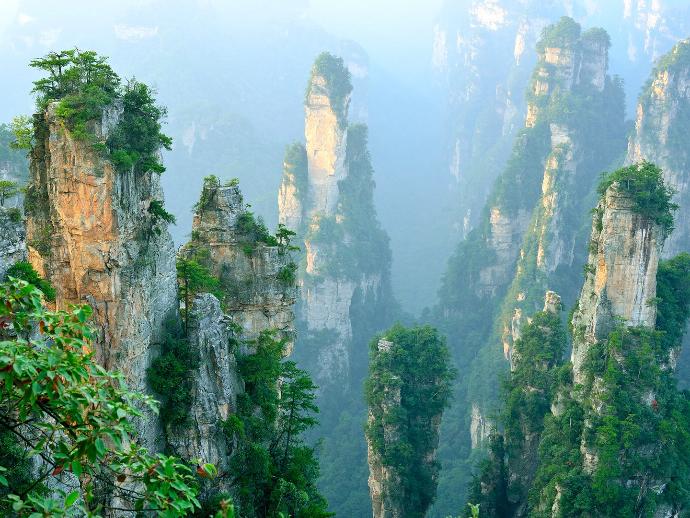 This looks like something out of Avatar!
Petra, Jordan
A world famous (thanks to Indiana Jones) ancient city with buildings carved into the rock face.
Which place is your favourite? Have you been lucky enough to visit some of these places?
---