The next thing I need to tell you all about farming meat rabbits is how you cage them. We build our own cages ourselves.
1. You stack 'em high. This is way healthier than allowing them to be on the ground, where they pick up all kinds of problems.

2. Each shitter has his own cage. That way they can't fight or otherwise mess around with each other.

3. The cages need a wire floor. That's so waste products such as shit and piss fall through into the receptacles below, where they can be cleanly collected. You do not want your shitters literally wallowing in shit. They're not pigs.

4. You need to protect them from the elements. Shade and shelter are needs to have. Shitters don't do all that well in high temperatures either, so you need to make sure they don't get too hot in the summer months. I find frozen water bottles seem to keep 'em cool, and gives 'em something refreshing to drink.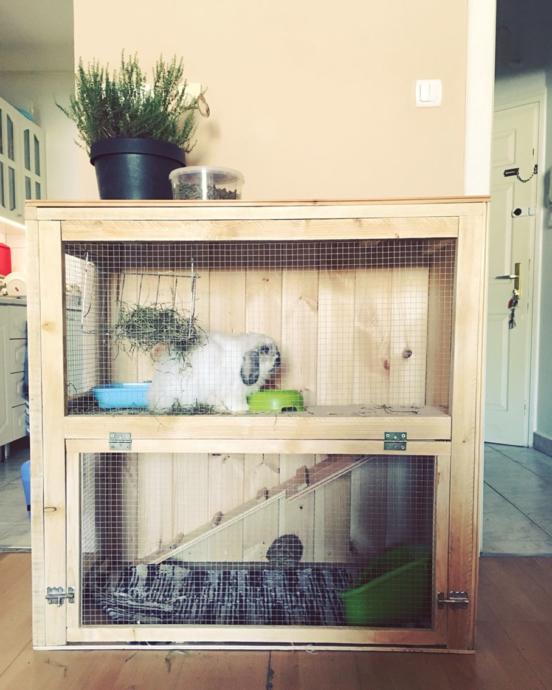 5. Obviosly, your rabbits need plenty of food, which I provide to them in the form of pellets and hay, and occasional green treats, too. They're cheap to feed, but they do eat a lot, so you need to bear in mind how much time you can spend making sure they're all well fed.

6. Each of them needs his cage cleaning thoroughly every week. Take him out, check his ears, his ass and his feet, trimming his claws if you need to. Any mites in his ears or soiled fur around his ass, you got a problem.

Which breed is right?
The beauty of rabbits is that ANY breed will work fine as a shitter.

It is really down to what YOU prefer. Think about it. You want them to sell as pets? You go for one of the cute types. Want them for meat? Go for a big meat rabbit like Californians. For fur? I recommend Rex rabbits.

All of them can be put to work as shitters in addition to whatever else it is YOU want.

I also need to talk about their behavior.

De-ballsing a shitter is good for his health, makes him behave better, and gives you an easier life. Nine times out of ten, if you have a problem rabbit, it's either a female, or a male who still has balls.

Problem behaviors include biting you, chewing, spraying piss all over the place, fighting, mothers killing babies and all of that kind of stuff. I would recommend any of your rabbits who does this buys him or herself a one way ticket to the freezer. Either that or you can make them into dog food.