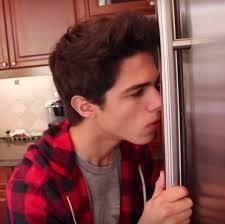 Trying to turn off the fridge light without fully closing the door... yeah.. haven't we all? I'm guilty of doing this many times in the past. People are so fascinated doing so, like we are going too see some rare species of animal in the fridge when we accomplish it. plastering your face on the fridge just too get a gimps of the light turning off.. Ultimate bragging rights.



Are you guilty? I', m curious. If so leave a poll. Comment if you'd like... yeah.. (:


17%(2)12%(3)

Vote

8%(1)

75%(9)72%(18)

Vote

69%(9)

8%(1)12%(3)

Vote

15%(2)

0%(0)4%(1)

Vote

8%(1)
Select age and gender to cast your vote:
Updates:
---
Most Helpful Guy
Yeah, I've done that.
The less fun game is "OK, I shut the fridge door, why isn't the light out?" because you can see some light spilling around the edges, and so you spend an hour trying to make sure everything is as closed as can be so your food doesn't spoil!
Most Helpful Girl
lol i have never done that. i actually like the light :P