I buy Precious Metals, I have Gold, Silver, Rhodium, Platinum, and Palladium.
My favorite is Silver. Why Silver? It has the most potential. Currently at $15.03 ounce and it's high was $49 an ounce twice. Once in 1980 and 2011. Everyday there are more usages for silver, cameras, mirrors, electronics, solar panels, cars, Jewelry, and it is critical in medical devises. It could be first metal to go extinct. Less mining, actually silver is mostly mined in copper mines. The price is too low to go very deep. So, you have less new silver and more usages. Silver is set to explode in the future. It is a long time hold for now, but it will be worth your time. I have bars, coins, antique candles sticks, Silverware and jewelry.
Gold Is mostly an investment to insure your other assets. It is up to near $1400 an ounce. Its high was $1900 an ounce. Unlike silver everyday there is more gold than day before. It will never go extinct. It is used mostly in Jewelry, Bullion coins and bars. I am not a big fan of Gold. Most of my Gold is in the form of Jewelry, because the Gov't won't confiscate Jewelry. The Gov't did confiscate Gold coins and bars in 1933. If they did it once, they could again. So, if you buy Gold coins or bars, I would get Canadian. I think 10K , 14K, 18K or 22K Jewelry is the safe way to go. You can buy broken gold Jewelry at spot or below. 10Kt is 42% gold, 14Kt is 58.5%, 18kt gold is 75%, and 22Kt gold is 90% pure gold.
Platinum is around $850 an ounce and reached $2100 an ounce. Bars and coins are probably the best form to buy. Jewelry in Platinum is harder to find .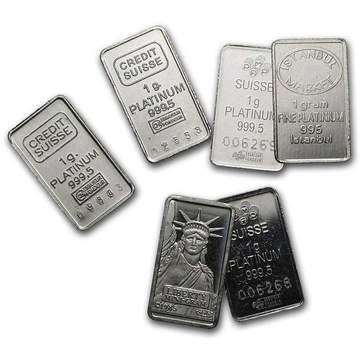 Palladium is near all time high prices now, not a good investment, as it will drop by 50% soon, especially if economy comes to a halt.
Rhodium is a great investment at current $3250 per ounce price. It is used in almost everything silver is used for. Its all time high was $10,100.00 an ounce. Rhodium is rare and mostly comes from one source, South Africa. A strike or accident at their mines and it skyrockets.
These metals are for insurance for depressions, recessions, and economical collapses. Platinum, Palladium and Rhodium are best when economies are booming and product production is highest.
Gold is best for Depressions, as everything's value drops, but Gold will drop the least. Silver is good for High Inflation periods.
The rule of thumb is have 10% to 15% of your net worth in Gold and Silver. Like 10% Silver and 5% Gold.