"Foodies" are regular people passionate about food! There's nothing wrong with being a little food obsessed, but there are some things you need to be aware of when dating a food lover.


1. They Are Food Paparazzi!
"Don't eat it yet! Let me take a photo first!" They won't let you grab a french fry or take a bite to eat until they snap photos and document photos of the plates at every angle. By the time you take a bite your food is cold.


2. They Are Food Truck Chasers
Storm chasers have NOTHING on food truck chasers. Food truck chasers track their favorite food trucks on social media and plan their social calendars around food truck festivals.


3. No More Chain Restaurants
Forget chain restaurants you both will always hit the hole in the wall restaurants or the dive bar with a good Yelp rating.

4. Chef/Food TV Shows
He or she has all food or chef programs in their DVR. They know their food game like sports statistics.


5. "You need to eat it like this..."
Whether you know it or not, almost every dish has a specific way of how its eaten. Your partner might scold you and say "that's not how you eat that..." but when you eat the dish the correct way, you'll be able to savor the flavor.


6. Writing/Reading Food Reviews
Yelp is a foodie's bible. Foodies hold each other accountable for posting honest reviews and delicious photos. Food and restaurant reviews can save you from wasting your time on an expensive tasteless dish.


7. Vacations And Trips Are Planned Around Food
You're passport will be stamped with the country with the best food. You will stay at a particular bed and breakfast if they have tasty muffins and you might stand in line at the local spot for 30 minutes for a hot dog.


8. "Who Eats More?"
Whether your partner is a fitness freak or a foodie, you'll hear the question, "Do I eat more than you?" Take a mental note that this question is not meant to be offensive.


9. You'll Never Go Hungry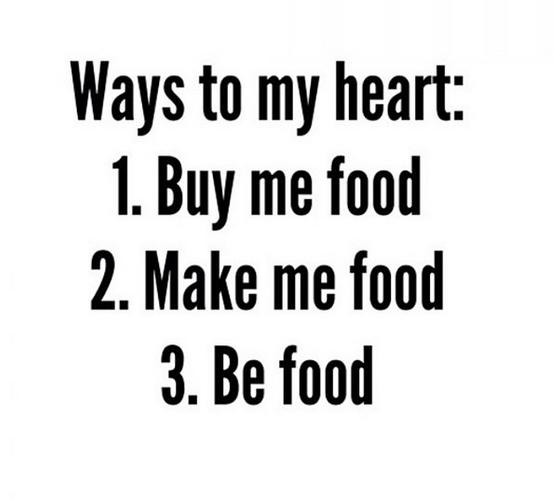 Your foodie partner will make sure you will never go hungry. Whether they are bringing you home tasty leftovers or whipping something up in the kitchen, he or she will win your heart by winning over your stomach.


10. He Or She Spends Their Money On Food
He or she will rather spend their money on food than shoes or clothes.


11. His Or Her Eyes Are Bigger Than Their Stomach
You might think someone else is joining you when your date is ordering, but it's just you two for dinner! Don't worry if he or she can't finish the smorgasbord of food because y'all will be taking it in a doggy bag to go!
Cooking food, grocery shopping, and delectable dining are all things you will get to experience when you are dating a foodie. You might gain a few pounds, but at least you'll never go hungry. Don't assume that the foodie you're falling for cares more about food. In actuality, he or she enjoys food not only because of what it does to your tastebuds, but also because food brings people together and those memories and moments are full of flavor!
---