After a titillating, and rather lengthy, conversation with a certain person here on GAG. I realized something: misogyny is alive and well. By the way, I am certainly going to mess up the spelling at some point in this MyTake.
First off. I realize reactions are going to be mixed, and many men, if not women, are going to say "you just throw that word out whenever you don't like what someone is saying," which is actually true, but only when the shoe fits. Misogyny obviously means something though, and can be used in certain situations, so suggesting you can never use the word is an obvious attempt to diminish its meaning.
Misogyny: dislike of, contempt for, or ingrained prejudice against women.
This is quite literally the definition of the word. So to put this in perspective, and to show you that I'm a practical person, and quite handsome according to my mother:) I will give you a brief indicator of what misogyny is not:
Misogyny is Not:
-Calling a particular women a name
or otherwise insulting her, as long as the insult has nothing to do with her gender or the female gender as a whole. -Probably an ass hole move in many contexts, but not misogynistic
-Flirting, sleeping, or even using women for your own selfish desires
Again, the last one is probably an ass hole move, but makes you more of a jerk than a misogynist.
-Approaching girls in bars, or most other social settings
-Stating differences between the genders
They will exist until we are all hermaphrodites, ignoring them is idiotic.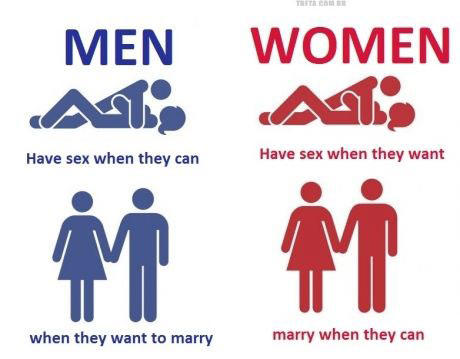 -Taking note of double standards
Again, there will always be double standards. As long as those double standards do not materially damage anyone's ability to seek opportunity, or to be taken respectfully, than just deal with it.
-Liking women's bodies
There is a difference between liking and objectifying (more on that later).
Misogyny Is:
-Cat Calling
(and this made me write this in the first place) Let's keep it real here, every guy, unless he has the IQ of Forest Gump, knows Cat calling will not make a girl come over and talk to you, nor will it impress her in literally any way. So why do it? Even if you don't realize it, it's a power dynamic. Cat Calling is a way of explaining, in rather loud and profane language, that you can have her if you want, even if you probably know you can't. It makes women feel objectified, frightened, and like second class citizens.
-Blaming women for your personality defects.
So women reject you, and your mother, like my own, told you that you are handsome, charming, and everybody loves you! So what gives? If they don't want to talk to you, they must just be a "Bitch" right? Wrong. Good looking women get hit on more times in one bar outing, than a Nickelback concert has empty seats; it gets exhausting. And honestly, they want men to approach them. Sort of like how companies want to interview and hire people. But they can't hire everyone, so they pick the best resumes and go from there.
This means, if you are unfortunately not all that attractive, (that's just natural selection guys, suck it up) and walk up to a women with a simple "hello, can I buy you a drink?" you'll likely get rejected. Be creative, set yourself apart, simple as that. We are the approachers; I don't know if that will change someday, but it's the way things are now. So quit your bitching; it's not helping you or anyone else.
And, I'd like to add, that this is not a double standard. If a ton of unfortunate looking girls approached you over and over again, and said the same bland thing every time, you'd get annoyed and probably a bit rude as well. It's just the way things are, so deal.
-Blaming women for shit you did period.
What made me want to write this, is the guy I had the aforementioned titillating convo with (I love that word by the way), quite literally said that women are to blame for being cat called because they dress a certain way. Grow the hell up! If YOU do something, it's on YOU. Is she wearing clothes? Than you don't have a right to yell things about her body, period.
-Slut Shaming
I agree creep shaming exists, although I don't think, or as far as I know have experienced it myself, I've seen it happen. But Slut shaming is just as bad. If a girl doesn't want to sleep with you, but sleeps with someone else. She's not a slut. If a girl sleeps with a few men in a year, she's not a slut. If a girl lives her sexual life the way she chooses, she's not a slut. You know what... just don't call anyone a slut.
-Viewing women as sexual objects
Would you comment on your male co-worker's ass while you are discussing the monthly expenditures of printing supplies? No, then don't do it with women. Best practice is not to even consider a relationship or anything else with your co-worker, but I'm not saying being attracted is wrong, just that there is more social red tape you just have to go through. If you are into a woman you work with, and you feel she may be into you, ask her out on a date. That's it fellas, that simple. If she says no, and you are taking this risk, move on and try to forget it happened.
There are numerous other examples that I don't believe are as prominent with our generation. But these are some that won't seem to die, and guys doing them don't seem to want to admit they are sexist.
---