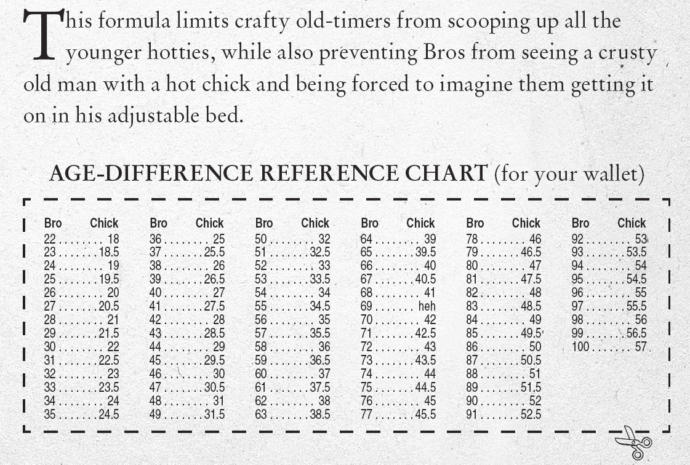 What is the acceptable
minimum age
for your own dating partners? When this question comes up in conversation, someone inevitably cites the "
half your age plus seven
" rule. This rules states that by dividing your own age by two and then adding seven you can find the socially-acceptable minimum age of anyone you want to date. So if you're a 24 year-old, you can feel free to be with anyone who is at least 19 (i. e., 12 + 7) but not someone who is 18.1
The other side of the rule
defines a
maximum age
boundary: Take your age, subtract 7, and double it. So for a 24-year old, the upper age limit would be 34 (i. e., 17 * 2). With some quick math, the rule provides a minimum and maximum partner age based on your actual age that, if you choose to follow it, you can use to guide your dating decisions.
This is the first I've heard of it.
Select age and gender to cast your vote:
Updates:
---
Most Helpful Girl
I've never heard of this before, but according to this "rule", my minimum should be 16 and my maximum should be 24 and that's ridiculous.
In reality, my minimum is 1 year younger than me, for obvious reasons, and my maximum is probably around 13 years older than me, while my boyfriend is 9 years older than me.
Anyway, a happy relationship is a happy relationship and age shouldn't be such a big deal in that case. Love isn't measured by age gaps.
Most Helpful Guy
It's not really an issue for me. I would go 24ish. It's close enough to 25, it's after college, usually working (starting out, anyway)

But is there a similar rule for dating older women? Double your age, and subtract 7? Not my bag, but for those who love the grannies... ;)