Some acts like Bon Jovi or Poison were leaning on the poppy side from the start, so I don't include them. But others, like those listed below, they made their sound poppier -mostly in order to survive in the music business during the second half of the 80s-.
1) 1987 by Whitesnake (1987)
This was the album that made Whitesnake really huge in the US –they were already big in their homeland UK-, particularly the songs Here I Go Again and Is This Love? hit #1 and #2 in the US charts respectively. Generally it's considered their most successful album (and their biggest sellout for the fans of their rawer Hard Rock sound of their previous works).
2) Cold Lake by Celtic Frost (1988)
Unfortunately this album is disliked by both fans and the members of the band themselves, but I disagree. It's a very good record in my opinion. Sure it's their most accessible album, but don't expect another Poison here, it's not as poppy as it's been described. Yet for Black/Death Metal standards it might be, I think.
3) Crazy Nights by Kiss (1987)
If you were a Hard Rock band from the 70s, and you wanted to survive in the music business during the second half of the 80s, then your only solution was to follow a Glam Metal direction. Of course there were other genres popular during that era, but if you were a Hard Rock band, you couldn't go for a Pet Shop Boys sound, because that would require to start a new band from the scratch. So Glam Metal was your best solution. Surprisingly this album fared better in the UK than in the US, if we consider the fact, that Glam Metal was never a big thing in the UK, like it was in the US.
4) Destiny by Saxon (1988)
Destiny was Saxon's last attempt to crack America. All their British metal pals (Def Leppard, and Whitesnake especially, but Judas Priest and Iron Maiden by a good degree also) were big names in America already. Already big in the UK and in continental Europe, America was the only place where they lacked success. You could say they copied Whitesnake's 1987 here, or Def Leppard's Hysteria, but that's hardly a bad thing. All three albums are excellent.
5) Fighting The World by Manowar (1987)
Definitely not what would you call Glam Metal, but sure it was the most accessible album of theirs for the general public, and also their most successful album of their 80s stuff, till they met bigger success during the 90s.
6) Holy Water by Bad Company (1990)

The majority of Bad Company fans love to hate this album, because they tend to stick to their mid 70s traditional Hard Rock stuff. But hey, changing your sound isn't bad. I might be biased, but personally I prefer stuff like Fame And Fortune or Holy Water, than the Self-Titled or Straight Shooter!
7) Invasion Of Your Privacy by Ratt (1985)
Generally, Ratt were considered Glam Metal, but still I believe they were heavier than the likes of Bon Jovi and Europe. But this album is definitely less heavy than Out Of The Cellar or Dancing Undercover.
8. Lita by Lita Ford (1988)
Lita was perhaps the second woman who tried to break into the Metal world (after Wendy O. Williams from The Plasmatics), with her two albums Out For Blood and Dancin' On The Edge. The latter was a bit more successful than her debut, but still she didn't make it big unlike she did with her third album, Lita, following a Glam Metal direction. Especially with the Power Ballad Close My Eyes Forever ( duet with Ozzy Osbourne), which was her biggest hit in her career. The album Lita is the most commercially successful album from the 80s, coming from a female Metal vocalist.
9) Little Miss Dangerous by Ted Nugent (1986)
Known for his heavy Hard Rock sound from the 70s…well this is one guy that you'd never expect to go for Glam Metal, judging by his general views. Even the album cover is too…metro, for his standards. But not only that, he joined also the supergroup Damn Yankees in the early 90s, which was essentially a Radio Friendly AOR band. With Damn Yankees he met his biggest commercial success in the early 90s. But ultimately, he embraced the whole trend in 1986 and this album was a great effort, even if it lacked commercial success.
10) Love Is For Suckers by Twisted Sister (1987)
Sure their biggest hits, I Wanna Rock and We're Not Gonna Take It were poppy already, but overall Love Is For Suckers is their poppiest record , sounding more like a record by Poison, and also their least successful one that even managed to break up the band for more than a decade.
11) Metallica (aka The Black Album) by Metallica (1991)
Ah, how many pages have been wrote about this album being the ultimate sellout in the music business. Many people love Nothing Else Matters and The Unforgiven, but for the hardcore Metallica fans, of their Thrash Metal years, these songs and this album in general is their biggest nightmare. This wasn't Glam Metal though (it would be a stupid move from a commercial point of view, to go Glam Metal, because it was a dead genre by 1991), but it was more like mainstream Hard Rock. Much similar to Use Your Illussion by Guns 'n Roses from the same year.
12) Permanent Vacation by Aerosmith (1987)
Sure this one was their comeback album, since Aerosmith weren't in the spotlight anymore for about a decade. This put them back to the spotlight, and in order to do that, you had to go Glam Metal. But luckily for them, unlike Kiss I mentioned above, the album sold way more than Crazy Nights from Kiss, producing two US Top 20 Hits (Dude (Looks Like A Lady) and Rag Doll), and a US Top 5 hit, Angel, peaking at #3. In the UK it wasn't such a success though, unlike Crazy Nights.
13) QR III by Quiet Riot (1986)
Like Ratt, Quiet Riot were considered a Glam Metal band. But here Quiet Riot are nothing like the Quiet Riot of the Metal Health and Condition Critical eras. This was clearly an AOR record. Here they made drastic changes, not only by making their sound more synthesized, but even also adding…female backing vocals (see Slave In Love)! They even had a song that was set for the dancefloor, particularly The Wild And The Young. A good record indeed, and it would sell much more if it came from another band. Guess both fans and critics, got disappointed that this was nothing like their previous efforts.
14) Savage Amusement by Scorpions (1988)
Although since the album Lovedrive from 1979, Scorpions have already made their sound more accessible to the masses, but they were never synthy truth is. Here in Savage Amusement, synthesizer use becomes visible, but the results were positive. This album actually was their most successful in the US albums charts (#5), surpassing even Love At First Sting and Crazy World! Yet, their biggest hit was Wind Of Change, on an international level.
15) Somewhere In Time by Iron Maiden (1986)
Not what you would call poppy exactly. Iron Maiden never became the other Def Leppard (their rivals in the early 80s NWOBHM scene). Sure it was their most accessible album, for the general public and also their first album that they made use of Synths. A move not much embraced by their hardcore fans.
16) Tell No Tales by TNT (1987)
I believe this was their attempt to make it into the American market, hench the change of direction, following a more Glam Metal route. It was only a minor success in the US though, and nothing more.
17) The Blitz by Krokus (1984)
Much more Synthesized than their previous albums, and much more commercial sounding, this is maybe considered an AOR record. Both fans and the band members themselves disliked it (they said it's a record it shouldn't have happened). I gotta disagree, because this album gave them their biggest hit in their career (Midnight Maniac), but it was also a record, more accessible to non-Metal fans, hench they could keep building up the momentum they started to build since Metal Rendezvous, if they saw some more appreciation to it.
18. The Sport Of Kings by Triumph (1986)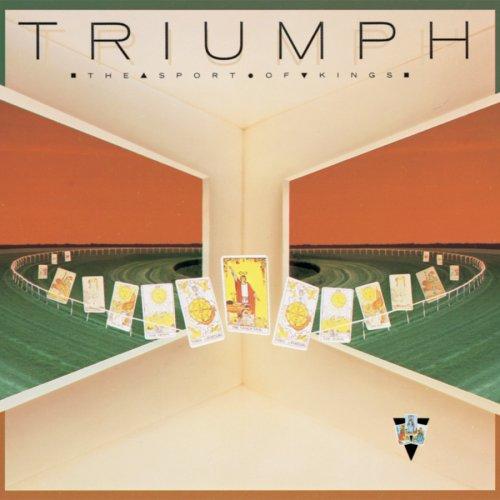 If you are a fan of AOR stuff like Survivor, Robert Tepper or John Parr, then you would embrace this album. But for people who want the heavier stuff, then they will get disappointed. Triumph chose an AOR direction instead of a Glam Metal direction, which made things even more shocking for their hardcore fans, and the album didn't sell so well as a result.
19) Turbo by Judas Priest (1986)

Turbo was way more synthesized that anything Judas Priest did before, something that shocked their fans. Not as shocking as the notorious interview of Rob Halford a decade later…well you know the story!
20) You Boyz Make Big Noize by Slade (1987)


Quiet Riot were known for following Slade's footsteps, but this time it happened…the other way round! Not so different than the QR III album released a year earlier (see above), but it was their least successful one, and the one that put the band on a hiatus mode for a while, but most importantly ending their discography. Same story with Twisted Sister's Love Is For Suckers, released the same year.
---