Rizzo, played by Stockard Channing
Rizzo the leader of the Pink Ladies brought to life the character's sassy side. She was sarcastic and outspoken,and used her tough-girl image to hide self-doubt and insecurity.
I got so many hickeys people will think I'm a leper -Rizzo
Stockard Channing became an award-winning actress after Grease, and was most notable for her role as Abbey Bartlet in The West Wing .She is now aged 73
Frenchy ,played by Didi Conn
The character Frenchy was a dreamer. Good natured but a little dumb. Heavily made-up, fussy about her appearance – particularly her hair.
Men are rats, listen to me, they're fleas on rats, worse than that, they're amoebas on fleas on rats. I mean, they're too low for even the dogs to bite. The only man a girl can depend on is her daddy - Frenchy
Didi Conn has over 40 film and television credits. Her son Daniel was diagnosed with the Autism ,and on November 13, 2008, she was named "national celebrity spokesperson" for Autism Speaks. She has made several appearances, educating the masses on the disorder .She is now aged 65
Marty, played Dinah Manoff,
Marty was the goofy pink lady ,and tries to act sophisticated and sexy
Do you think these glasses make me look smarter. - Marty
Manoff made appearances in several TV-movies. She branched out into writing and producing with the 1991 NBC TV-movie "Maid for Each Other. She also adapted her father's novel, "A Telegram From Heaven" into both a radio drama and stage play, winning critical acclaim in Los Angeles for her efforts.She is now aged 59
Jan, played by Jamie Donnelly
Jan was energetic and bubbly, and ate all the time! Loud and pushy with the girls, but shy with the boys.
Brusha, Brusha, Brusha its a new ipana with a brand new flavor Its healthy for your teeth Brusha, Brusha, Brusha- Jan
A veteran actress of stage, television, and movies. Jamie spent years on a ranch in Montana riding horses and writing screenplays for Hollywood. While her kids were growing up Jamie became the beloved acting coach of some of the best actors and actresses in Hollywood today.She is now aged 69
Sonny, played by Michael Tucci,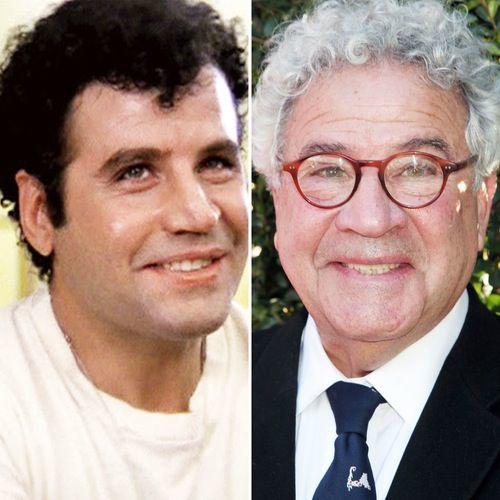 Sonny is the wisecracking wannabe tough guy who thinks he's a real lady killer.
I just ain't gonna take any of her crap that's all. I don't take no crap from nobody. Sonny
Michael Tucci, played "Amos Hart" in national touring company of "Chicago".From September 2000 to present, he's teaching theatre arts class at a private high school in Southern California .He is now aged 71
Kenickie ,played by Jeff Conaway
Kenickie is Second-in-command of the "T-Birds". Tough looking,tattooed, surly, avoids any show of softness. Has an off-beat sense of humour.
A hickie from Kenickie is like a Hallmark card, when you only care enough to send the very best—Kenickie
Conaway also developed a serious addiction to cocaine, alcohol, and painkillers that was fueled by a back injury he suffered on the set of Grease. On May 11, 2011, Conaway died from pneumonia and sepsis
Putzie, played by Kelly Ward
Putzie the 'anything for a laugh' stocky type. Full of mischief,half-baked schemes and ideas. A clown who enjoys putting other people on.
I think there's more to you than just fat- Putzie
For the past several years, Kelly has been teaching musical theatre courses at the University of southern California .He also directs the Spring musical there along with Parmer Fuller. He is now aged 60
Doody, played by Barry Pearl
Doody is the youngest of the guys. Small, boyish, open, with a disarming smile and a hero worshipping attitude toward the other guys.
you look like a beautiful blonde... pineapple- Doody
.Barry directed a second production of 13 The Musical for Palos Verdes Performing Arts (February 19, 2016) as well as the west coast premier of the youth production of School Of Rock for Panic Productions (May 6, 2016).He is teaches film arts across the U.S.to kids with special needs. He is now aged 67
Danny & Sandy, played by John Travolta & Olivia Newton - John
Sandy ,played by Olivia Newton - John
Danny's love interest. Sweet, wholesome, naïve, and cute. However,became sassy and sultry after her transformation.
What happened to the Danny Zuko I met at the beach? You're a fake and a phony and I wish I never laid eyes on you - Sandy
In 1992 Olivia underwent surgery for breast cancer, she declared bankruptcy, and her father died of liver cancer. She was awarded the A.O.(Officer of the Order of Australia) the 2006 Queen's Birthday Honours List for her services to the entertainment industry as a singer and actor, and to the community through organizations supporting breast cancer treatment, education, training and research, and the environment.She is now aged 68
Danny ,played by John Travolta
Danny the leader of the "T-Birds". Well built, good looking,with an air of cool, easy going charm. Strong and confident.
Uh, I'm not very hungry; just gimme a double Polar Burger wit' everything and a cherry soda wit' chocolate ice cream.- Danny
Travolta has starred in a number of monumental films ,winning many awards for his acting . He
holds 11 jet licenses: 747, 707, Gulfstream II, Lear 24, Hawker 1251A, Eclipse Jet, Vampire Jet, Canadair CL-141 Jet, Soko Jet, Citation ISP and Challenger. John is also a business aircraft brand ambassador for Learjet, Challenger and Global jets for the world's leading business aircraft manufacturer, Bombardier. John, is also very involved in his charity, The Jett Travolta Foundation, which raises money for children with educational needs. He is now aged 63
---