My Pet Monster Is One Of The Most Popular Toys In The 1980s!
My Pet Monster Was Created In The Late 1980s
My Pet Monster Is a incredibly popular toy that was created in the late 1980s in 1986. It was a toy that both guys and girls could play with. It looked really incredible and the toy had a couple adaptations to try and make it even more popular. Both these adaptations weren't as popular as My Pet Monster the toy which is really sad because the adaptations should've been really awesome. Especially since the toy was really cool and many people do love playing with the toy. But anyway some people did get some enjoyment out of the adaptations of the My Pet Monster when they were around.
The Video Movie For My Pet Monster Came Out In 1986
The home made movie of My Pet Monster movie was made in 1986. It wasn't a theatrical release which for a lot of people it was good that it wasn't. But they were made for getting on VHS which were everywhere in the 1980s. The movie starts off like a video game which My Pet Monster was everything but a video game. But that was probably the intro because that was the time Nintendo came out. In the video game intro had the enemy of My Pet Monster called Beastor which is not in the movie at all. The animatronic wasn't exactly the best special effect they could've used but I don't think its so bad. Many will say the ending to My Pet Monster Is pretty creepy especially since theirs no sequel or spin off show so that's the only thing we got.
In 1987 Their Was A Show Of My Pet Monster
My Pet Monster was made into a short lived Cartoon that was an adaptation that year of the toy of My Pet Monster, it was really short lived into one season. It was made in 1987 and unfortunately for many who liked or loved the toy. Its easy to see why someone would enjoy the toy or show the My Pet Monster Is very cool to look at and practically everybody likes monsters and its kind of disappointing the show didn't do well.
My Pet Monster Only Lasted One Season (13 Episodes)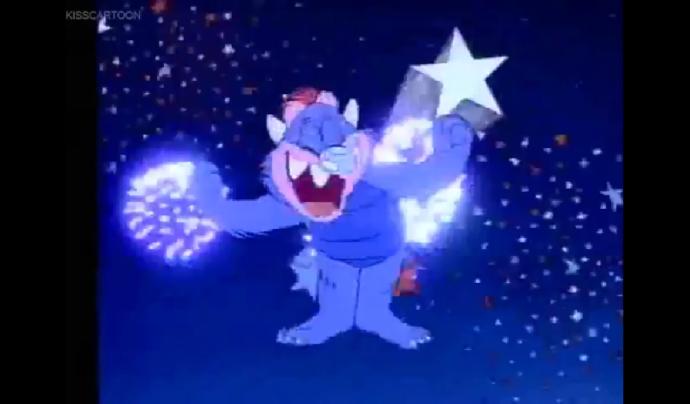 The show consisted of Monster and his friends Max, Chuckie, and Jill. His enemy Beastor was in most of the episodes of My Pet Monster. Beastor's goal was to make Monster return to his home in Monster Land through the portal. Max had to hide Monster from Max's neighbor Mr Hinkle and a lot of how they did it was putting the cuffs on Monster to make him appear like a toy but when they unlock the cuffs Monster returns back to himself. And when the cuffs unlock he always yells. Monster Epic! I watched all 13 episodes of My Pet Monster and its a pretty good show. Maybe the writers couldn't think of any more episodes of this show. Many can consider Monster to be adorable. The show definitely has a good plot and creative ideas of the episodes they did. The show always started with the title card and the guy saying. "And now My Pet Monster"
Capitalizing On Nostalgia In Children Of The 1980s In 2001
To capture Nostalgia for 1980s kids they released a 22 inch tall talking My Pet Monster in 2001. Many 80s kids were very excited when they heard that.
The My Pet Monster was very enjoyable for boys and girls of the 80s. Mainly because it was the only doll that was meant for boys and girls. People who saw the movie think it was pretty bad with its animatronic monster. The fact that a boy turns into a monster instead of having a pet monster was disappointing to many. And I don't see how the show only had 13 episodes. I think that disappointed many kids. The toy everyone liked, the movie everyone didn't like, and the show didn't really get much of a chance.
So tell me what do you think of the toy, the adaptations or both.