I LOVE this Novella, its not really a Novel as its too short and today if published it would definitely be called a Novella. In my personal opinion its probably one of the most underrated Horror Stories of the last 50 years and definitely one of Stephen Kings most underrated works.
The premise is actually rather simple, there is a werewolf in the town of Tarker's Mills, a Town in Maine. Now of course there are people who are going to make the obligitory Stephen King only sets things in Maine joke, A. He also sets a decent amount of stuff in Colorado and has plenty of other places covered in books. B. Northern New England and Western Massachusetts are perfect horror settings.
Now the way the story is done is actually rather cool, the cycle refers to the fact it only comes out on the full moon, and that is when its set, 12 full moons, twelve days. Though one day is the day after the full moon covering the aftermath of the night before. He openly admits he takes liberty with the lunar cycle but he wanted to put days that set in our minds a certain month so no, there couldn't be a full moon on those all those days in a year, including 4th of July, Valentines Day, New Years. However if you honestly care, you shouldn't be reading a werewolf book.
The book is rather short, a hundred and twenty some odd pages and a bunch of it is illustrated and rather well.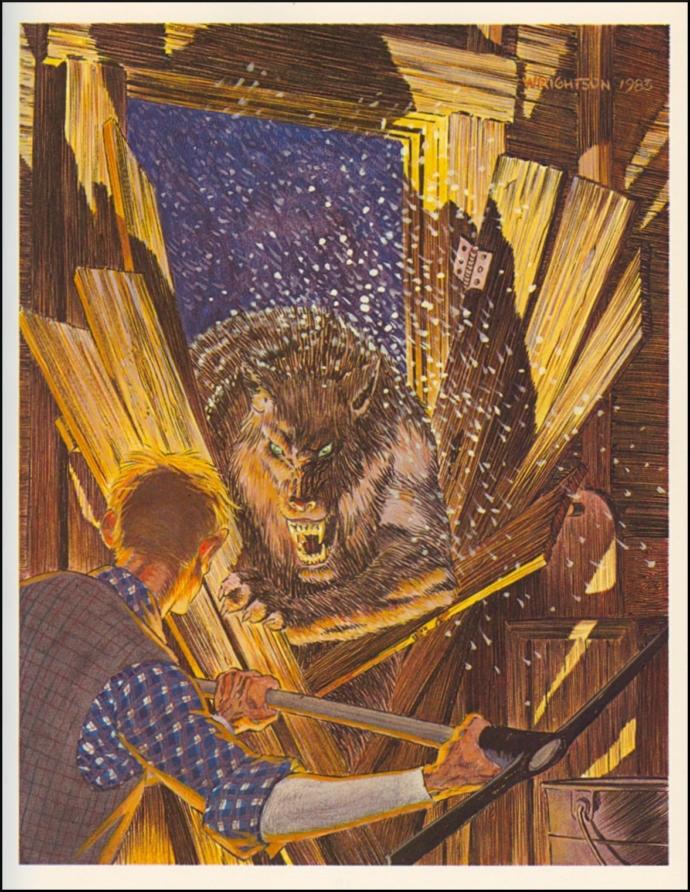 The book is also a Fair Play Mystery, a person who knows their werewolf lore and more than I do mean more than the silver and full moon things, and isn't blind will spot the werewolf. I absolutely love this novella and I don't think I'm doing it justice, but what do you expect when Waffles starts gushing about a book he loves.
---