The new Tay Tay's album "Reputation" is selling like hot cakes!
We've all expected this, right? A famous singer who is a favorite of so many young kids these days - who would've thought her album, however good or bad, would sell amazingly regardless of quality?

I think we all could've seen this one coming!
The album, in the biggest part, is her view on the big lie she told and the scandal she made about Kanye's song...which Kim Kardashian-West exposed on Snapchat, hence exposing Taylor as a manipulative liar.
Since her brand of being an innocent little 'ugly duckling' (although, who among us actually ever believed that was even half true) she had to get rid of all those 'roles' and had to show her new image to the world.
A snake-like image which seems to be a theme of her new album altogether.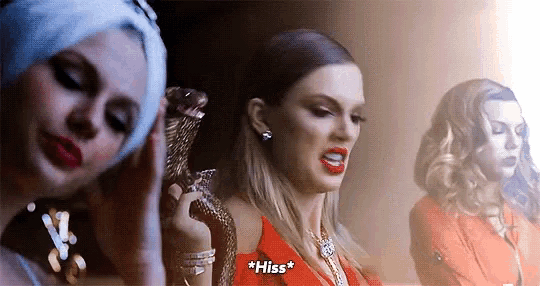 The quality of the music itself is sub-par to say the least.
Now, the predictable thing about the album isn't the bad quality, but the fact she took these snake Twitter attacks and 'made them her own'... She took that to mean she should be a snake from now on...and present herself accordingly, which, it seems, her videos exempt, she still can't do in real life interviews or appearences because she knows that isn't going to sell.
REVENGE - the word most strongly used in this entire album!
Her first hit single was so bad...I almost couldn't believe she had the guts to put that out there. The melody is so standardly bad that it turns to catchy in a few listening sessions and then you see why people buy this stuff. For the sheer brainwashing effect!
Yes, all bad, but very popular music nowadays is made this way, and Taylor is becoming more of a conformist with each passing day - and with this album, she's entirely moved on to that side!

Whatever people throw at her she'll try to make her own - like a child trying to imitate the person taunting her so she's feel she won...
In any case - the album is filled with songs about how misunderstood she is (and about her discarded boyfriends she really never cares about) and how she doesn't care what anyone thinks of her...which, in fact, is so very far from the truth.
Should she not have evolved by now?
Shouldn't she be a grown up at the age of 27?!
Still writing songs about using and abusing past boyfriends, about revenge on people who outed her as the person she really is?
Aren't your late 20's about finally realizing what kind of a person you are and focusing on yourself instead of how people perceive you?
When people see who you truly are, don't try to accentuate it and try to sell it as a gimmick... Embrace who you really are inside and let the chips fall where they may.
---