Kimi No Na Wa, a successful Japanese animated movie, is about a high school guy and girl who don't know each other and sometimes switch bodies without their own will.
Gender confusion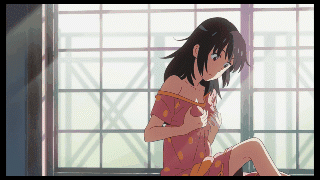 At the beginning of the movie, you see a girl who is stranger to her body and environment. Next day, you learn that she is a country girl named Mitsuha. When she goes to school, all her friends tell about the strange things that she did the day before.
You learn later that the person in her body was a guy named Taki, living in Tokyo. They have an opportunity to observe the opposite sex through that body switching.
Shinkai, the writer of this story, wants to emphasize that both gender completes each other, with their feminen and maculine sides.
After getting rid of the shock of the first days, they both get used to their new bodies. They communicate through their phones and leaves notes to each other. Mitsuha even arranges a date with the girl that Taki likes.
Well written story
I get bored easily while watching anime but this one is really well written. Not too long and have a different story related to dreams.
IMDb rating: 8,5
Here are some comment shared on IMDb;
It's a journey in a world breathing with atmosphere, mystery, and visual wonder.
This 1.5 hours was one of the most well spent time in my life.
This may sound like your typical body-swap romantic comedy situation, but you may find yourself on the wrong side of the spectrum as this movie takes you into an incredible journey.