THIS IS NOT A TOP 20, it is just 20 of my favorite romantic comedies that I have selected there are many more favorites I have besides these I figure it's worth noting that these would have been listed, A Walk to Remember (2002) and Sixteen Candles (1984) here if they weren't listed in my other movie list.
20 of My Favorite Movies With a Female Lead

I wanted to start out with a Deadpool Reference
I forgot my ammo bag!!!
Wait...19! "Ugh, stupid, stupid. Worth it!" Alright "Maximum effort"!
Since we are bringing up Deadpool (2016) it counts as a bonus!
It's a love story. You know how I know. Because Deadpool said so...

"the best love stories start with a murder. And that's exactly what this is, a love story."
Let's get started, "Maximum effort"!

The Cutting Edge (1992)
This spawned numerous sequels but none can compare to the first. It is witty, emotional and has heart. It is a great sports movie for date night.
Wild Hearts Can't Be Broken (1991)


This really surprised me. It is a fun Disney movie but it has a lot of emotion behind it. It is about a stubborn girl that follows what she wants but she finds that big dreams don't come easy.
The Duff (2015)

Jimmy Fallon liked the Duff, I liked the Duff the actress Mae Whitman is so cute and funny. It just makes me fall in love with the movie. I honestly need to watch it again but I remember really enjoying it because of her.
Serving Sara (2002)
This is so fun because you got comedy power houses Matthew Perry, Elizabeth Hurley, Cedric the Entertainer, Amy Adams..? and the appearance of the legendary Bruce Campbell, one of favorite comedians! There are many funny scenes and wonderful witty remarks between Matthew Perry and Elizabeth Hurley. It is fun to watch and I laugh everytime I do.
Overnight Delivery (1998)


This is an early movie for Reese Witherspoon, I believe before Legally Blonde and I think it is a great and fun movie. Basically a guy, Paul Rudd sends a letter to break up with his girlfriend to realize that he does not want to send the letter so he goes to chase it down and Reese Witherspoon joins him for the ride
Excess Baggage (1997)
This is a later movie for Alicia Silverstone after Clueless. It is about a brat that gets mixed up in a money making scheme and falls in love with Benicio Del Toro
Trojan War (1997)
This is not a history lesson, This is a movie about a guy Will Friedle, from boy meets world that wants to have sex with the the girl of his dreams but finds out that she wants a condom first and it is about all the trouble of just trying to find a condom, you kind of feel sorry the guy. Fun part is his friend is Jennifer Love Hewitt and she takes the role of a strong female friend, which is kind of a fun role for her.
Some Kind of Wonderful (1987)
Another John Hughes film to go with Sixteen Candles (1984). This is a movie about a guy that falls in love with a girl only to find that his tomboy friend is better fit for him. It is funny, witty and has a little drama to it.
13 going on 30 (2004)
I love a romantic movie with a twist and there are a number on here that are. This one I a pretty sure most of you know. The reason I like it, is it reminds me of Big (1988) with Tom Hanks which could also be another good one for this list. But Jennifer Garner is really fun in this role and it is fun to see her act like a kid and bring back memories of the 80's by comparing them to modern times. wait is that the Hulk?
Mallrats (1995)


This is a great comedy classic. A lot of swearing and some nudity but it is a lot of fun. This made me fall in love with Jason Lee, I just have not seen him able to top the role he had in this movie but I always keep my eyes on him in hopes that might. However, was pretty good in My Name is Earl tv series. This has so many fun characters and an appearance by Stan Lee. It involves two guys that get dumped and try to win both of their girlfriends back and crazy wackiness ensues
Bus Stop (1956)
I figured it might be fun to list a classic. Some Like It Hot (1959) is a really good one but lesser known is bus stop. It is a Marilyn Monroe movie but it is the chemistry between her and the Don Murray that really makes the movie fun to watch. It is funny to watch the guy because he is super hyper and Marilyn is super chill.
Absolutely Anything (2015)

This has an amazing cast and is the last movie that Robin Williams did before he died as a voice over for a hilarious dog. Simon Pegg, star of Shawn of the dead (2004) stars as a man that likes a love interest that happens to be Kate Beckinsale with a jealous rival that happens to be Rob Riggle and a group of aliens all voiced by Monty Python alumni that give him powers to do anything he wants and madness ensures
Ready Player One (2018)
Ok, i know what you are thinking, this not a romantic movie. Yes it is. It is about the creator and getting the egg but it is also about wade and Samantha and the finale has them making out. I really just the love the chemstry they have together it is a delight to watch
Passengers (2016)

The girl from Hunger Games (2012) Jennifer Lawrence and the guy from Guardians of the Galaxy (2014) Chris Pratt star in this sci-fi movie that has funny moments and a little action but really brings you the drama and the uniqueness of these two characters. The story really pulls you in and it is interesting to watch their characters progress.
Just Like Heaven (2005)
Hey it's Reese Witherspoon again and hey...it's the Hulk again, what is it with the Hulk and romantic movies! This is a fun one about Reese Witherspoon passing on and trying to connect with Mark Ruffalo in her spirit form kind of a like a modern version of Ghost (1990) which is another good one.
It is a movie about understanding sometimes the best way you can love someone is to let go
John Tucker Must Die (2006)


It's been a while since I have seen this but I remember it being really funny. It is about a bunch of girls that get wronged by this one jerk Jesse Metcalfe aka John Tucker and all go for his weaknesses through his latest main squeeze Brittany Snow. It is funny to watch how they mess with him and how the girls compare themselves to each other.
Mannequin (1987)


This a fun movie, honestly I enjoyed and grew up with the second one more but that one is way more corny and less polished than this first installment. This movie features an early role for Kim Cattrall from Sex in the City (1998) and makes you enjoy it a little more. it is about a guy Andrew McCarthy that magically has a mannequin come to life and falls in love with her.
Scrooged (1988)


I already used Happy Death Day (2017) in my last set of movies so I feel like it would be cheating to use Groundhogs Day (1993) (which is my birthday btw) so I decided to use another Bill Murray classic Scrooged which is a fun and fresh take on a Christmas Carol. It is about a tv executive that is in charge of a live action televised Christmas Carol and clearly does not know the spirit of Christmas but with the help of some wacky fresh takes and on the ghosts of Christmas and his former girlfriend from this past he finally gets the true meaning of Christmas
Game Night (2018)
This is a pretty new one and it is a fun one. It is like a date night with board games. I love the chemistry of Jason Bateman and Rachel McAdams. It also has a great comedic supporting cast. It is about a couple that loves games and gets married then during one game night Jason Bateman's brother shows up and offers a radical game where the winner gets a classic brand new sports car. and it goes from an interesting game to actually being a fight for his brothers life. It is fun and has a lot of great unexpected turns
Superman (1978)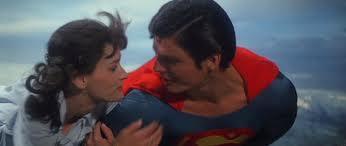 again, I know what you are thinking, this is not a romantic movie but it is. It is between Superman, Christopher Reeve and Lois Lane, Margot Kidder. They have a strong bond together and you just can't help but get caught in the moment when Superman is carrying Lois while flying, imagine how many guys would get the girls with a power like that
Please post at the bottom, if you have any romantic favorites you like and post lists you have made on gag, i'd love to see them. Thanks for reading!
---