THIS IS NOT MY TOP 20. These are just the ones that come to my head, there are so many and I could probably list another 20, but my goal here is to bring focus on some of classics and some of the movies that stood out to me.
So, let's get started, I've got 20 pictures let's use em and only 15 videos...well got to make them special then......Maximum effort!
Antisocial


This was a fishing for a good indie movie and I found one. This really surprised me! It is one that catches you off guard and is clever and fun throughout. To sum up the movie, what happens if you spend too much time on facebook? You turn into zombies!
The Final Girls

This was another surprise. It did not have a great following but after watching the trailer. I really wanted to see it and I thought it was going to disappoint me but it was so good. They did such a good job capturing and romanticizing the slasher film genre and it had a story with heart to boot. It was really fun to watch and also very funny.
Happy Death Day

I watched the trailer for this and I went oh, a brat is going to get killed. At least I get to see justice served. As I was getting ready for this killer to carve this turkey, then I found out that it was actually ground hogs day! It was a girl that found out what a terrible person she was and through finding out how to survive/stop reliving the same day became a better person and fell in love. I was dumbfounded. Such a great movie!
Tomb Raider
I watched the trailer for this and was like, wow! they are just pulling this straight out of the video game, lame. My friend kind of forced me to watch it with him. I was surprised at Alicia Vikander's portrayal of the character. I fell in love with her. She was real, she was strong and she was witty. I connected with her because she was a normal person, facing problems and chose to do the right thing. She was not a hollywood show, she reminded me of the girl next door and that I felt was the most clever part of how she apporched her role.
Resident Evil: Apocalypse

The first one was good but the second one was so much better. It reminded me the video game much more and it turned Milla Jovovich as alice into into a female Indiana Jones that kicked zombie as*! The other girls such as Sienna Guillory as Jill Valentine in the movie were also pretty bad as* too.
Labyrinth

This movie is a classic. and it is fun to see Jennifer Connelly in one of her younger roles. It is also a blast to see this with the mastery of Jim Hensons puppets. It is fun a journey of growing up and understanding what it means to take the role of a big sister.
The Breakfast Club

I know this is not a female role movie per say but it has strong female characters. You really connect with them and they have unique views that are challenged and sometimes surprise the other boys.
A Walk to Remember

This one is a tear jerker but I love it so much. It is such an inspiring movie and has a great heart behind it. It really makes me fall in love with Mandy Moore. and the awesome part is her music is barely featured and the one song she has is memorable. She is such a great actress and clearly proves it in this movie that she can both sing and act.
The Watcher in the Woods

This is a great disney classic and I need to watch it again to get the full scope of it but i remember just enjoying the girls character. The movie also is pretty dark for a disney film but really fun to watch.

Alien
This is the one of the most, if not the most kick a** female role ever. Jamie Lee Curtis is up there in Halloween (which would be good on for another 20 list) but Sigourney Weaver is bad a** and does not take any crap from that alien bi*ch!
Jennifer's Body

This is one of Megan Fox's first showcased movies and she may not play a fantatic role but she is smoking hot and knows how to show/use it.
Sixteen Candles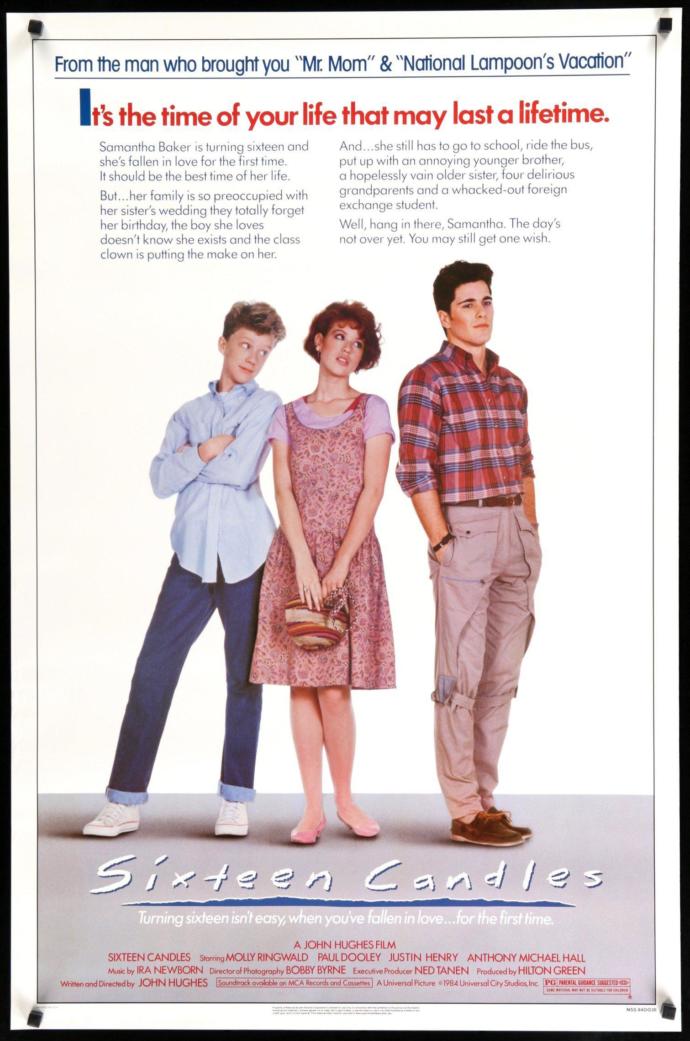 This is another John Hughes classic. This one does a main female role. You really connect with Samantha's character. She is the next girl door but she is the girl that nobody notices. and it is fun to see what real girls go through, not the ones that are the center of attention. The sweet part to this is that it does have a fairy tale ending.
Legally Blonde

Ah Reese Witherspoon! The fun thing about this movie, is Reese knows she can be sexy but she also shows that she can be smart. And while she plays a ditzy blonde character she still proves that she is a smart actress in the role. Her character is unique, has real emotion and drive.
A Nightmare on Elm Street 4: The Dream Master

I'm highlighting this movie because of Lisa Wilcox as Alice Johnson, although there are other stronger girls that get killed Alice absorbs of all their special qualities and becomes the perfect warrior to fight Freddy, I believe a figure is made in her honor with the final Freddy as* kicking costume.
The Princess Diaries
Anne Hathaway in one of her first roles. It is fun to dream you are something bigger than you are. and this movie helps foster that. What if you were broke and then found out you were rich? It really just helps one to dream and hope for better things in life. But the story itself is cute and fun. It is also
great to see the final transformation. This was based on a book by Meg Cabot and really want to see a movie done for Airhead!
Ice Princess

I wonder whatever happened to Michelle Trachtenberg? But I really liked this movie. I saw it in the theaters, I remember little of it now but I remember really enjoying the emotion of the movie and its inspiring ending.
Clueless

A comedy classic! It is so much fun and yes Mean Girls is another movie, I know what you guys are thinking. but Clueless is the one that came to my head first. I really enjoyed all the moments of the movie. Alicia Silverstone is perfect in this role! Everyone of them was classic! But a personal favorite was the tarty speech.
10 Things I Hate About You

This was such a fun concept for a movie, to have to match make you sister so you could date but it is such a fun movie and features the late great Heath Ledger.
Buffy the Vampire Slayer

Yes, there was a movie before the tv show. I in ways liked the movie a little better because it was a cheerleader with no experience learning how to fight vampires. I thought it was hilarious and clever and i still do. This takes a more light hearted and funny spin at buffy's character and I think still holds up over time. I also thought Kristy Swanson was really sexy in it.
Supergirl

Yes, there was a movie before the tv show (I am noticing a pattern here), this is a movie featuring Helen Slater and I really think she is super cute and fun as Supergirl and it has decent effects and an interesting story. It is a notch above a tv movie and it feels like it was made by the same people that made the superman movies.
Hope you enjoyed my list! Please list your own favorite picks I would love to hear them!
---