I had always been curious about North Korea, having heard about it in the news, and I thought this book would be interesting. I remember learning about North Korea in Government class my senior year of high school. I always feel we didn't deep enough into it. It has vivid descriptions of life in North Korea, it's also suspenseful and emotionally engaging. She is also very realistic and doesn't hold back in her book, thus giving this book an R rating. Once I started reading this book, I did not want to stop until I was done.
The book is divided into parts, describing the author's life in North Korea, then her life in China (an entire decade), escape to South Korea, and finally, the ordeal of getting her mother and brother out of North Korea. I won't bother to summarize everything other than to say that her life was in significant danger in every place except for South Korea. In China, she makes a life while barely avoiding deportation, suffers acts of racism, being captured by human traffickers, and an arranged marriage to a complete zero. I don't even want to say what happened to her father because that upset me.
The biggest surprise for me was maybe how hard it is for North Koreans to adjust to life outside of their country. Of course, it is very different, and despite knowing that they will likely be tortured and killed if they go back, some want to return anyway. The author's own brother almost goes back in a moment of weakness.
Thinking back on this story, it seems almost unbelievable that a person could have lived this life. It took huge amounts of courage, intelligence, and luck, all of which the author has.
Hyeonseo Lee was born in North Korea under a different name, to a family with good songbun (NK's caste system). But even being one of the fortunate people in North Korea means that Lee witnessed her first public execution at seven years old. Like all citizens, starting in elementary school, she was forced to partake in weekly tattletale sessions, where one has to confess to a "crime" or accuse someone else of one.
This weekly tattle session carries well into adulthood because with the heavy amount of propaganda, citizens have a huge mob mentality. An easy explanation is that the North Korea government have brain washed their citizens into acting as a Gestapo. Tattling could be saying something as "I didn't think about the Dear Leader enough times during the day" and that turns deadly serious. While her family had food, in part because of her industrious and money-savvy mother, her family didn't have clean running water and places they lived had black mold. She also witnessed others starving to death during the 1990s famine that killed hundreds of thousands.
Even under these conditions, when Lee escapes, it's purely a matter of curiosity. Also, she escapes at the age of seventeen! Her family lives in a town directly across from China, along the narrowest part of the river that separates the two countries. She plans to turn around and come right back, but things don't work out that way.
But it's not freedom that necessarily waits for her beyond the border. The Chinese government is dogged about tracking down illegal North Koreans and returning them to a fate worse than death. In many ways, Lee's life in China is as arduous as her life in North Korea. Yes, South Korea gives citizenship for all NK asylum seekers, but getting there isn't easy. When Lee finally makes it and without suffering abuse in a Laotian prison like so many others-- women, particularly-- desperately trying to get to Seoul. And even if you get to South Korea, life is still hard for North Korean asylum seekers since propaganda is all they've ever known.
Yup, Hyeonseo Lee is one of the "lucky ones." And I've never felt so damn privileged in my life. I'm listening to War Pigs by Black Sabbath right now and I feel privileged to even be able to play that song.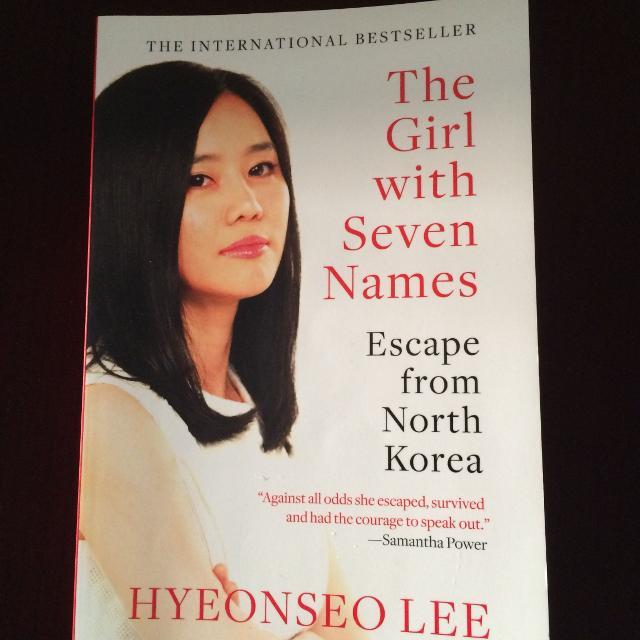 I think as tensions between the U.S. and North Korea escalate, I cannot fathom a more pertinent story to inform the rest of the world of the plight of North Koreans...in their own country as well as much of Asia, and the rest of the world really. A very intimate and honest reflection regarding self-discovery, human rights and the experiences that have shaped her own attitudes towards others. I honestly cannot think of a single thing I would change (with the exception of only a couple minor typos...inconsequential really).
Not only is the story incredible and all-consuming but it is so totally well written from start to finish. Thoroughly engaging and easy to follow. Absolutely void of ANY lulls which, for me anyway, is almost unheard of! I did not endeavor to read this in one sitting but it pretty much turned out that way because I literally could NOT tear myself away. The only breaks I took were self-enforced so that I could take a breather from the intense storyline.
And no, it was not lost on me that this brave young woman and her family could not just stop to take a breather while living this gut-wrenching saga. I cannot recommend this book highly enough! I almost NEVER give a book a 5-star review because, let's face it, there's always room for improvement, right? Not so with this one.
---