Tornado chasers, or storm chasers, do exactly what the name implies – they chase severe storms. The purpose of storm chasing is to gather data in order to better understand severe weather patterns and to send live data to weather channels/weather alert systems.
This is what happens when you don't have the proper equipment or proper protected vehicles such as shown in this post, when you are Storm/Tornado chasing.
Three storm chasers died in an EF-3 tornado in El Reno, Oklahoma.
Crews hauled away their white truck , it had been crushed like a tin can, its metal frame violently twisted and its windows smashed.
The Tornado Intercept Vehicle 1 (TIV 1)
is a heavily modified 1997 Ford F-Super Duty cab & chassis truck used as a storm chasing platform and built by Sean Casey. This heavily armored vehicle can drive into a weak to relatively strong tornado (EF0 to EF3) to film it and take measurements.
Tornado Intercept Vehicle 2 (TIV 2)
is a vehicle used to film with an IMAX camera from very close to or within a tornado, and to also gather Weather data.
Watch how the Tornado Intercept Vehicle 2 (TIV 2) works!Watch The Tornado Intercept Vehicle 2 (TIV 2) Survive a terrifying EF-4 tornado!

The Dominator
was modified from a 2007 Chevrolet Tahoe, The modifications included adding bulletproof sheet metal and transparent Lexan armor to protect against flying debris near tornadoes, and an external roll cage and racing-style safety harnesses in case of a vehicle roll.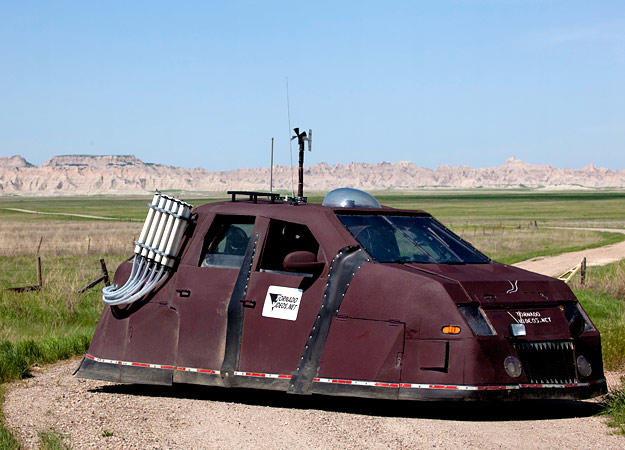 Dominator 2
winds measured by radar exceeding 290 mph (470 km/h) (at about 100 m (330 ft) above the surface), making this the largest and strongest tornado ever intercepted by any of the Dominator vehicles.
Dominator 3
is a Ford Armored vehicle features an electric winch, hydraulic anchoring spikes, and gull-wing doors
Select age and gender to cast your vote:
Updates: