Petite and Petite Plus: Fashion Woes: "The Rules": Styling Petite: Styling Petite Plus
In the US Fashion Industry, any adult woman between 4'11 and 5'4 is considered to be petite. Petite does not mean thin or skinny, it is simply addressing your height so you can be petite or petite plus. Here is the thing about being either petite or petite plus: you are the size you are. There is no sense Gag'ing questions everyday about how can you grow taller or should I wear heels all the time because I'm short. I am absolutely 100% NO believer in short girls having to wear heels all the time or plus sized anybody being made to just cover up in a jacket all day long. Life is too short (yes, lame pun intended) to live this way and to be miserable in 100 degree weather because you're afraid to show an arm. Learn to love your inches, your widths, your height, your curves, your lack of curves, etc. from now until forever. You CAN'T be someone else, because the only person you can be is you. (Steps off soap box).
FASHION WOES
The irony of being a petite size is that a whopping 70% of US women are considred petite and yet the fashion industry seemingly ignores this sizing group altogether opting for 6' foot models on runways, more "average" sizing, and clothing that might not necessarily reflect your styling needs and wants. It also unfortunately only tends to get worse when you address those women who do have fuller hips and/or a full busts or who are petite plus. These women do often have a harder time trying to compete with being plus and petite. Being of shorter stature does not mean everyone in this sizing group looks like a straight up and down pencil. You all are much more than that, or you're that, and well, lucky you, you can probably find something that works a little easier.
"THE RULES"
1. Rules were made to be broken
2. Adding bulk in any form to your petite frame tends to overwelm you and make you look, well, like a kid in her mom's clothes. Opt for clothes that are tailored and fit closer to your body whether you are Petite or P+.
3A. Heels are not the only way to make you look taller. Create a vertical line visually using your clothing. Look for clothes with...yup...vertical lines, vertical piping, vertical prints, the word vertical running up and down your body (only kidding about that last one)(sort of).
3B.Another way to do this is to rock a monochromatic look. When you wear all one color, the eye can freely flow up and down without resting on any part of you verticalling you up and down.
3C. Another way to do this in general is to avoid cutting your body into sections. You want a nice vertical flow, so putting on a choker neclace, wearing a belt, and wearing an ankle strap, and then horizontal lines, all chop the body up and make you appear shorter...or in the case of horizontal stripes, wider than you are.
4. Pay attention to your waistline. A tunic top is your worst enemy becuase it tends to be loose and flowy around your middle and ends below your waist. Visually this drags the eye downward. Belt things at your natural waist or have looser tops tailored in towards your actual waistline.
5. Legs. The more of them we see (uh...within reason, hooker!), the better. Again, your worst enemy is something like a midcalf boot with an midi skirt. Chopping up those legs will make you appear shorter. Take full advantage of a mini, a shorter above the knee skirt, and some nude color heels (even with an ankle strap) so as not to break the line of the leg.
6. With prints and accessories, keep them proportionate to your smaller frame. A giant print, much like a giant ball gown can completely swallow you up. The same goes with huge purses, big old cowboy sized belt buckles, big clunky shoes, and big oversized chunky jewelry. Of course, if you are P+, because of your lovely size, you CAN rock bigger sized accessories and prints because they match your frame and help to showcase you in the best way rather than overwhelm your frame.
7. Draw the eye up, up, and up towards your lovely face. Do a messy top bun, or afro puff, or mop of curls, with your hair. Wear a stunning necklace, put on a dramatic scarf, wear a pair of amazing earrings.
8. Life is so not fair...that's why tailoring was invented. Whether you need to bring in a bulky waist, hem a pant, or raise a hem, you should invest in tailoring. Even more so if you are P+. Buy clothing that fits the largest parts of you and tailor the rest until fashion designers get an F'ing clue that you exist.
Now that you know the rules AND you know that you can totally break them because rules were made to be broken, let's see the rules in action below.
PETITE STYLING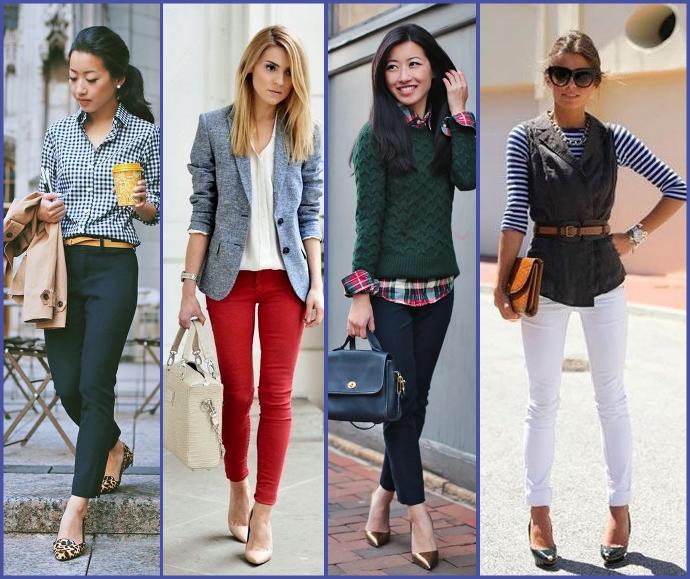 PETITE PLUS STYLING