Ah yes, as the saying goes, what was once old, is new again, and never is that more true than in fashion. Resurrecting styles from the past and bringing them into the modern age is something that will continue to occur over and over again. However, you don't have to wait until something is declared by the fashion industry or a department store to be in again for you to wear it, nor do you have to literally style yourself from one particular decade just the way they did it. Don't be afraid to mix and match different eras or decades of clothing to suit your more modern tastes. It's definitely not about putting on or creating a costume. It's about taking bits and pieces and inspiration from a particular time period an mixing it up with modern fabrics, accessories, tailoring, make-up, hair, and styling.
THE FIFTIES
In the 40's, due to WWII, rationing was in full effect and limited fabrics and amounts women could buy, but with the war over in the 50's, women's dresses exploded with excess fabric, showing off intricate gatherings, a multitude of pleats, poofy petticoats, and fabulous collars, all made of the best taffeta, nylon, rayon, wool and leather in the brightest and boldest patterns and colors. Fashion of this time period involved a-line skirts/dresses, halter dresses/tops, pencil skirts/dresses, high waisted/natural waist everything, capes, swing coats, tulle, polka dots, gingham, checks, belted outfits, pedal pushers (modern day capris) wool, hats, high heels, flats, and sharp tailoring,This also began a more conformist era where women were guided into conforming to a singular body type; shapely bust, small waist, and shapely hips. Most outfits were helped underneath by tight corsets, crinolines, conical bras, shape wear, and garters. However, this shape is most similar to that of a woman's natural body and continues to this day to flatter from petite to plus.

THE SIXTIES
Goodbye conformity, welcome civil unrest and rebellion. Young people in particular no longer wanted to play their part in the natural order of things as they always were and should have been. War both at home and abroad was on the horizon, and fashion began to take a bold turn. Fashion of this era was helped by the fact that clothing was made more accessible to those beyond the wealthy class who often employed someone to make their clothes or made them themselves in previous decades. Television, models, and music greatly influence this decade. There were variations of the Hippie Style style featuring long maxi skirts, bell-bottomed jeans, flowing fabric tops, peasant blouses, paisleys, florals, bright tie-dyes, colorful tights, and Eastern, Indian, Native American, and African motifs. There was also what came to be known as the London Look featuring bright, bold patterns and colors, Go-Go boots. Gone were the natural curves of the 50s. The female shape most associated with this time is that of Model Twiggy who was very thin and had a more boyish frame.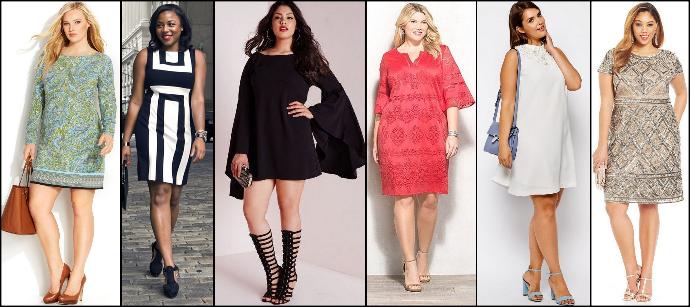 THE SEVENTIES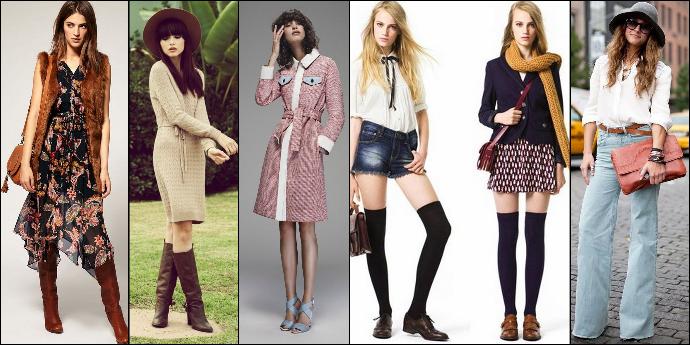 This may be the fashion era described by many as almost the anything goes decade. Coming off the tail end of the 60s, many of the fabrics and styles bled into the 70s in a cacophonous mixing and matching of styles.The new trends of this decade included flared or "bell-bottom" pants, tunics, pant sets, leisure suits, and overalls along with exotic prints, polyester fabrics, checks, bright colors, embroidered details, and satin, corduroy, faux or real fur and velvet textures. This era was also highlighted by disco fashions, slinky spaghetti strap curve hugging dresses and one shouldered pieces and jumpsuits. It is the brave who try their hands and re-creating fashion from this era as most do not think upon it fondly. Perhaps too much of a good thing?

THE EIGHTIES
The emergence of rap culture, the influence of Madonna, and movies like Annie Hall and tv shows like Dynasty had a huge influence on fashion of this era. This was also the time in which many women began to enter into the workplace and the board room. As a result, the shape for women became strangely triangular. Big bold linebacker shoulder pads pulled in at the waist and wearing more male influenced fashion suits, but baggier and slouchier. Hip-Hop style included track suits, sportswear brands like ADIDAS and Nike, Kangol hats, and gold chains and rings. Hair metal style included ripped jeans and shirts, tight spandex jump suits, acid wash denim, band T-shirts, and insanely BIG hair. Yuppie fashion also emerged (think Hipster or Preppy styles). Also big trends were neon colors, geometric shapes, slogan t-shirts, lace, lots of bangles and headbands, and oversized everything with a lot of distortion of the natural female shape.

THE NINETIES
If you didn't get MTV in the 80s, you got it now. It's where most young people lived and breathed in new trends. Grunge via the new Seattle sound dominated fashion as did the idea of being Heroin chic. You were meant to dress as if you literally didn't care as a middle finger to society. This decade was about acid-washed jeans, biker shorts, jellies, chokers, velvet and velour, slip dresses, baby doll dresses, scrunchies, "The Blossom" hat, vests, Looney Toons inspired clothing, baseball caps, Doc Martins, Big flat platform shoes or big chunky shoes, urban street wear, short skirts, designer gear, labels, metallics, camo, crop tops, tapered 'mom' jeans, and plaid...there was never enough plaid. This was the age of the Supermodel. She was tall, thin, and toned. Most women wanted to have that shape or were busy rebelling against the age of conformity...by of course immediately conforming to what all their friends and favorite musicians were wearing.
---