I was thinking about some of the differences between male and female fashion the other day, and I thought I would share some of my thoughts on the topic. My views below represent the fashion of an average male and female, and are not meant to represent the beliefs held by all individuals, which is why there is room for discussion here. I am simply stating some of the opinions I feel to be true based on what I have visually observed in our culture. Below are some of my thoughts on various types of clothing.
Underwear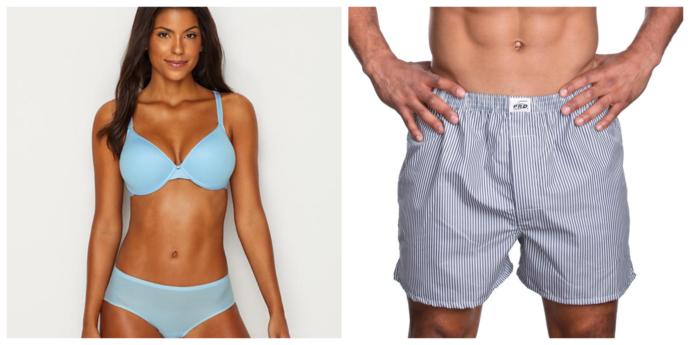 When it comes to underwear in the traditional sense of the word, a male (and I'm talking about the average Joe, not someone willing to break gender barriers) will typically only wear boxers of briefs, which are usually made of cotton, spandex or silk. This underwear is typically functional, in that it keeps a male's groin in control, and there isn't much in the way of design appeal. Male boxers and briefs are generally very plain, and typically lack the bows, vibrant colours, and lace seen in women's panties. There is male lingerie, but it is far less worn and considered, and won't be discussed for the sake of this opinion.
For women, they may wear bras, panties, as well as a range of lingerie. There is simply more options even in terms of underwear. Bras serve a functional role, which is to support a woman's boobs, but for an article that isn't seen by many in the public eye, they also have a lot of design appeal and multiple options. Bra styles include: full coverage, push-up, balconette, convertible, strapless, demi, bralette, sports bra, and longline, amongst others. They may be cotton or a blend of spandex and several other textiles, and feature bow details, cute straps (which may be convertible to fit with any top), lace, and vibrant colours. In addition, push up bras are designed to enhance a women's cleavage and complement low V-neck shirts, which boosts female confidence and is visually appealing to males. Similarly, panties are available in G-string, thong, tanga, hipster, and bikini styles, as well as boyshort panties that are very similar to male boxers. Again, the difference with panties are the bow details, the lace, and the vibrant colours that you won't typically see in male underwear. Lastly lingerie (such as babydolls, bustiers, and corsets) are meant to enhance the sexual appeal of a woman, and are usually portrayed as such in the media. There is a rich array of garter belts, corsets, bustiers, normal and crotchless panties, thigh highs, longline bras, and babydolls available to a woman, in a range of textiles such as silk, cotton, lace, spandex etc. Many of these are figure enhancing, while many enhance cleavage.
These arguments I have written help demonstrate why I feel even underwear goes above and beyond functional for a woman, even if it is never seen by anyone but herself and her significant other.
Outerwear
Wearing (or not wearing) underwear underneath your clothing is one thing, but outerwear is what is outwardly displayed. When it comes to outerwear clothing, the differences between male and female fashion aren't as drastically pronounced as with the underwear options, but there are still several differences, as well as dramatically reduced options for males.
Like underwear, I view male outwear as largely serving a functional role, though I also acknowledge that for many women, a nicely dressed male in clothes that match well can have just as much visual appeal as a nicely dressed female has for males. The differences in style can be demonstrated in the picture above, as the female's dress is very vibrant and has nice patterns, while her top is form fitting and accents her figure. The male on the other hand is wearing very neutral colours, and the outfit is rather bland and minimalistic. His shirt is a bit tighter, and his jeans are tighter fitting, so it does accent his figure, but not in the same way a dress flows down a female's body and over her hips. The traditional male is usually limited to t-shirts, long sleeve shirts, tank tops, coats, jeans, blazers, suits, and shorts.
Females have dresses, which the average male will never wear (due to gender differences and barriers, unless brave). Dresses are light, and available in a wide array of textiles, lengths, styles, and colours. Shorter dresses accent a women's legs, while longer dresses that cinch at the waist flow over the hips and accent her curves. Similarly, skirts are available in various lengths, and can similarly accent a woman's legs and curves. This is not to forget about there being no leg seams at all, so they are likely more highly comfortable than pants or shirts. I argue though that many skirts and dresses are for comfort, as well as visual appeal, moreso than male outerwear. Like with dresses, blouses are also made of a variety of textiles and colours, and are typically not worn by males. The clothing industry makes many more options available to women, with many designed to be visually appealing on top of comfortable. Many women also wear leggings as outerwear, and they may be undeniably the most comfortable form of pants, but there is also no denying what they do for a female's figure and bum from a male's perspective.
Active Wear
With active wear, the average male typically opts for a t-shirt/tank top, shorts, or track pants, designed by a variety of manufacturers such as Adidas or Nike. There is not much in the way of design appeal with any of this active wear.
For females on the other hand, the t-shirts, tank tops, and track pants are generally designed in a similar fashion as for males. The difference comes from leggings and strappy, aesthetic sports bras (made by brands such as LuLuLemon, La Senza, Victoria's Secret). Leggings hug the body, accentuating a female's legs and bum, while form fitting yoga pants also do the same thing. The appeal yoga pants and leggings have on a male is undeniable, although understandably they may also be the most comfortable pants in the world as briefly mentioned above. Such aesthetic active wear is not available to many males, which is why I argue the fashion industry designs female fashion to be both comfortable and aesthetically pleasing.
Conclusions
When I think of male and female fashion, I compare it to the colours of Cardinals, seen above. The female cardinal (right) is the more bland colour, while the male (left) is the more vibrant red. Across many species in the animal kingdom, the female is generally the more drab of the 2 sexes (though this is not always the case). But in terms of human fashion, the industry reverses this, and in this way the woman becomes the more vibrant bird. I appreciate that the market understands women spend more annually on fashion than males, and so they develop a broader range of styles, textiles, and colours than are available to males. I also understand that gender barriers and societal perspectives limit how much a male can wear (i.e. a male wearing leggings or a dress is frowned upon). Hopefully I have raised some points for discussion in this post. By no means am I a fashion expert, I just write as I see it and welcome any and all feedback and comments.
---