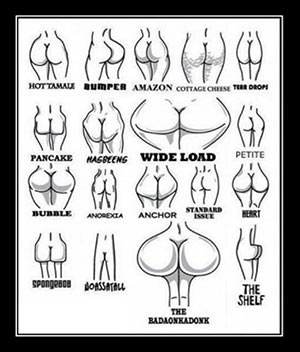 Butts, booty, bum, buttocks, ass, arse, junk in the trunk there are many things that we call our ''back sides'' Bums also come in all different shapes such as: teardrop shaped, the ''apple'' bottom, the ''ghetto'' booty the ''flat'' bum, the pigtail bum and many others.
Some butts have bumps and lumps some are naturally perky some look better in skirts and dresses some look better in trousers.
In this modern world right now, particurally in teenage girls and boys and young women and men butts are a major thing nowadays a lot of celebirities who have the ''bubble round butts'' are now starting to flaunt their curvalious behinds such as: Kim Kardashiam,jennifer lopez, Nicki Minaj, Iggy Azalea ( these three are so proud of their booties that they even have songs out about how big booties are the thing),Jen Selter who apparently is known for her perky peaches and Beyonce who's always been Bootylious from the start.
Not only have big butts started to get more ''out there'' but now the p*rn media has increased their videos, magazines, photo's to show more of the bigger butts in the world.
Big butts have become such a big thing that some people are actually injecting their butt cheeks with some solution that some don't even know what it actually is to make it bigger or even getting implants!(Like the famous Nicki Minaj) Now Butt shots are particually dangerous, deaths have even ecurred from these not so safe shots. People have been also been arrested that provided ''back street'' butt shots by illegally injecting peoples butts with e.g. concrete, cooking oil, chicken fat etc which often caused injections.
Another thing is that people have been insulted by their butts, mostly girls that do not fit in the ''big butt'' category maybe because they may have a smaller butt than others. It's super sad how girls are feeling depressed and insecure because they may not have a big butt. A lot of boys have seen edited, photoshopped, fake photo's of womens bodies with probably perkier and bigger butt's than they actually have and some boys stupidly believe that every girls body will be like this. There are a lot of women out there that have the flatter back side that are still very gorgeous attractive women. It's not right to judge and insult girls that have a bigger booty but at the same time it's not right to insult and hurt someone who doesn't have a big bootie feelings. Afterall we cannot help what we are born with some of us are luckier than others in what we were given.
---