1 ) Robot Dining
Rong Heng Seafood Restaurant, Singapore . The robots are designed to take orders,deliver meals ,take away dirty dishes as well as entertain the guests. One robot costs about $17,000, and they need four hours to charge their batteries, which can last six to eight hours.
2 ) Dinner In The Sky
Dine in the sky at the London edition. The table is suspended 100 feet in the air,and seats 22 guests ,who are securely fastened in by seatbelts. In the centre is a pop-up kitchen which serves Gourmet food ,as well as the Chefs signature dish
3) Dine Inside A Happy Meal Box
The World's Biggest Happy Meal Box. McDonald's restaurant in Dallas ,Texas is shaped like a giant happy meal box. Children can eat a happy meal inside this novelty happy meal box restaurant
4 ) Beach Dining
Take a stroll along the beach then enjoy dinner under the stars at a beachside restaurant , Mumayaz in the Maldives. Look out into the Indian Ocean as you taste food from the local cuisine menu - as well as lobster and other types of seafood
5 ) Treehouse Dining
The Redwoods Treehouse restaurant . The pod-shaped structure is built ten metres high in a Redwood tree , New Zealand . You can gain access to the Treehouse by an elevator . The pod itself holds 30 guests,but can only be booked for events such as weddings or parties
6 ) Cave Dining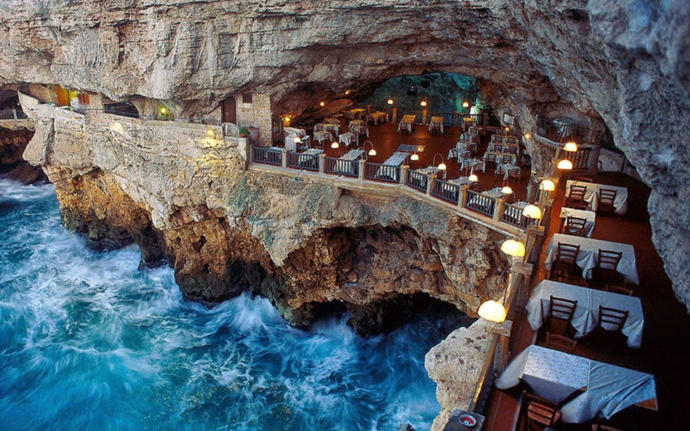 Grotta Palazzese restaurant is set on a cliff overlooking the Adriatic Sea , hidden within a limestone cave in Polignano a Mare , Italy.The restaurant juts out 74 feet above sea level, so diners can watch the waves lap the shores just beneath them. Seafood delicacies such as grilled Garlic Prawns and Thai Squid are served, as well as deep fried meatballs
7 ) Underwater Dining
Ithaa Undersea Restaurant,sits 16 ft below sea level in Maldives ,at the Conrad Rangali Island resort Offering 180-degree panoramic views of the vibrant coral reef .The panoramic view allows visitors to dine while watching thousands of fish swim around them. Ithaa serves caviar and Maldivian lobster, as well as contemporary European and Asian cuisine
8. ) Ice Restaurant
This Ice restaurant in Lainio Snow Village in Finland is entirely built with ice and snow. All interior decorations are also naturally made of ice and snow. . Temperature inside the ice restaurant is always between -2 and -5 Celsius degrees,and only serves cold meals.
9) Bird's Nest Restaurant
Bamboo pods that look like birds nest are hoisted 16 feet above the ground in the tropical foliage of Koh Kood's ancient rainforest in the Soneva Kiri Eco Resort, Thailand. It can only be accessed from a zip line. Enjoy your chosen gourmet delights surrounded by nature
10) Cable Car Dining
Watch the sunset and a stunning view while you eat dinner 330 feet above the sea on the Singapore 90-minute aerial cable car ride. Starting from Mount Faber then to Harbour Front Station - then Sentosa and back to Harbour Front and Mount Faber
---