There are other myTakes about the food of their country so I'm also giving it a shot.
Introduction
Just in my opinion, I just find Filipino food to be so good like no bias even if i'm not so proud living here. Influenced mostly by the Chinese and some from the Spaniards, just lacking the variant of spices because of the fact that we're so away from India and barely get any spice trades but with so much more complex cooking method learned by the Chinese.
Filipino cuisine is a fusion otherwise we would just season our food with coconut vinegar and salt like what the native tribes do. People can say it's a Chinese Spanish Filipino fusion to make it sound more appealing but really, that's just Filipino cuisine and that fusion had been a part of our culture and all really good paired with rice. The world had always been influencing each other not just the Philippines.
Criticisms
The problem is that a lot of Filipinos just don't really know to cook properly. Cooking skills got poorer since wars and corruptions kept going causing more more poverty which happened years ago also because we were always on the move. So a lot of home cooks, cafeterias cooks and cheap eateries make the food fast and using cheaper quality ingredients also because it's affordable. Food cooked ahead and not on the spot losing it's quality so that's why you get soggy spring rolls or fried food also due to the humid environment and cold soup, shortly marinated meat which makes them quite under seasoned, broth and seafood is not washed properly which gives it that "off and fishy" smell and not served properly with lack of colors and garnish, just adding "M S G" or "Magic Sarap" to "make up for it" making foreign hesitant to try it giving me a big facepalm as well. That's just a common criticism i've also heard but i gotta admit it's true but only if all you had is Filipino house cooked meal (Usually from a poor family) and cheap "carinderia" because you believe that's where the traditional food came from, it's easy to believe that all Filipino food are cooked like that which isn't actually true and that's why it sometimes have bad reviews. Other than that, Filipino cuisine isn't really a vegan friendly cuisine but that ain't my fault and not my problem :P
Those food from fancy Filipino restaurants in malls, buildings, squares, hotels or sometimes old antique houses that's turned into a restaurant are cooked like our true influencers and ancestors did it so that's why average class Filipinos still likes to eat there also because they're marketed for the average class Filipinos.
You see that brown atmosphere, it doesn't have to be air conditioned or exactly like that, that's where you get the best ones most of the time. But some foreigners believe they're just marketed for foreigners that's why there are foreigners that don't eat there. Most Filipinos can't afford eating there sadly. I'm not saying that all cheap cafeterias are like that. Some still have quality but generally, they don't and yes i'd still say there are street foods better as street food that doesn't taste as good when served in a fancy restaurant. Sure there are also "Balut" and Roasted Crocodiles but hey almost all countries have their own weird and really exotic food that isn't really a part of the regular menu that most natives don't even eat. So I'll give you the most popular ones that almost everyone here loves.
GET TO THE POINT!!
Fine!
Adobo
There are many variations of it, mostly pork and chicken and yes they're ALL traditional unless you add ingredients that isn't a common Filipino ingredient. But of course anyone can feel free to make a twist because it's main ingredients is only soy sauce and vinegar. The easiest one would be just dumping everything into the pot and simmer it and Tadahh! But i know everyone can do better than that. I like mine marinated, sauteed, fried and simmered then topped with spring onions and fried garlic. I think that's the best way to do it and chicken makes the best one in my opinion.
Sinigang
That is pork Sinigang and there's also beef, chicken, fish and prawn/shrimp version of it but I like the pork the best. It's sour because it's a tamarind based soup, rich and umami with a little sweetness from some of the vegetables. If your enjoying your meal then you feel you also have this, it's feels good to take a sip every time food gets too dry or heavy. It washes everything down and of course the vegetable to balance everything you eat.
Lechon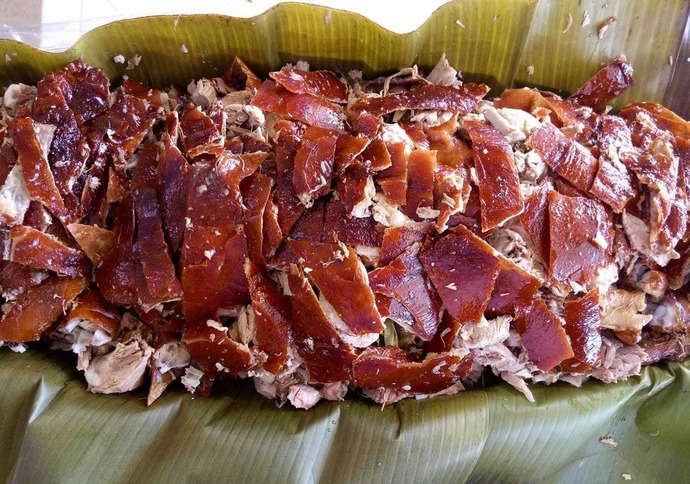 This was suppose to be the national dish until people form other province opposed that and wanted Adobo to be the one. There are 3 version. Chicken, Pork and Beef but the pork is the most popular one. Crispy on the outside, juicy on the inside, aromatic and smokey if roasted with charcoal. The pork is the only one that has that crunchiness to it which is why it's the most popular among the 3. If it's too fatty, you can always eat it with vinegar and also perfect with rice. Not all of those fancy restaurants sell those but you don't have to worry about where to get Lechon because all Lechons are made right including those made in small food stalls found in cheap markets.
So there's no such thing as a "cafeteria" Lechon.
Sisig
According to google, this is the best pork dish in the world. https://www.google.com/search?q=best+pork+dish+in+the+world&source=lmns&bih=757&biw=1440&hl=en&sa=X&ved=2ahUKEwiP89DXv-DyAhXCAqYKHd5xD0gQ_AUoAHoECAEQAA you don't have to believe it. Also a street food but the best ones came from cafeterias that specializes that and those fancy restaurants. Chicken and Bangus (Milk Fish) version of it is available too but pork is the original one which is the best one and made originally with pig's face including the ears and chicken liver. Doesn't sound so appetizing but the face is boiled with aromatics to tenderize it, grilled to give it that char and smoky flavor, chopped to pieces then sauteed. The perfect the small dice cut is, the better. The chicken liver is giving it that creamy and rich taste and the pig's face being the main ingredient has that soft crunch and unique texture. Served with Calamasi, Pepper and you can have to option to have eggs in there or not if you don't want.
Laing
Finally a native vegan dish i like! Most of us aren't really vegan so it usually has pork belly and shrimp paste or fish sauce tho but of course you can just use soy sauce and not put any meat in there. It's a savory dish made of dried taro leaves simmered in coconut cream. Looks like something you'd be hesitant to eat but really it's so aromatic, coconuty, gingery and herby from the Taro Leaves itself, garnished with fried garlic, coconut cream and peppers and of course best paired with rice.
Crispy Pata/Lechon Kawali
If fried chicken is popular somewhere else, fried pork is much more popular here. They're both seasoned and cooked similarly. Firstly boiled with aromatics to tenderize it, cooled down, somewhat dry then deep fry then rest then deep fry again. For the Lechon Kawali, there are 2 ways. It's chopped first then fried or fried whole then chopped. You'll be expecting a lot of hot oil splatter and it's quite explosive when making this so you have to be careful but then it's worth it! Also for the crispy pata, there's no cafeteria version of it. It's either done right or it's not "crispy pata". Served with spiced vinegar to balance it's fatiness and you can mix a little soy sauce and peppers with it in your ramekin.
Native Barbecue
Mostly pork and chicken, rarely beef. It's marinated with our native BBQ sauce and the main thing that flavors this dish is the charcoal smoke. It's a street food and that's where the best ones came from. Sometimes cheap cafeterias have them too but sometimes not as fresh. There is pork intestines, pork ears, chicken intestine, chicken liver and chicken gizzard skewers available too. Personally chicken intestine and liver is my favorite.
Silog Breakfast
Ok here's something simple. You can have sausage, bacon, corned beef, sisig, spinach or whatever viand you can think of, serve it with garlic rice and egg and boom. It's silog and that's it! It's just the simplicity I love in this. If it's too simple, I can just say that's our cereal.
Kare Kare
It translates to "curry curry" but really this isn't curry. It's far from curry but it just looks like it. That name is like an expression saying it's a "faux curry" but what it taste like is more on the beefy side. It's a really beefy stew with lots of beef cartilage and connective tissues from the tenderized beef that's really soft and fork tender because it had been simmering for so long and based with peanut butter and turmeric. It's really rich, slimy (In a good way in my opinion) and bland (not salty) but you have the shrimp paste served with it and you can always put citrus and peppers for some heat if if you want.
Bulalo
The beef cut is similar to Kare Kare but this is soup. A really beefy soup and also the beef is fork tender with a rich broth.
I'll make a part 2 and it's about the deserts since I can't upload more than 20 pictures. But i'll show you my favorite vlogs. They made the right choices.